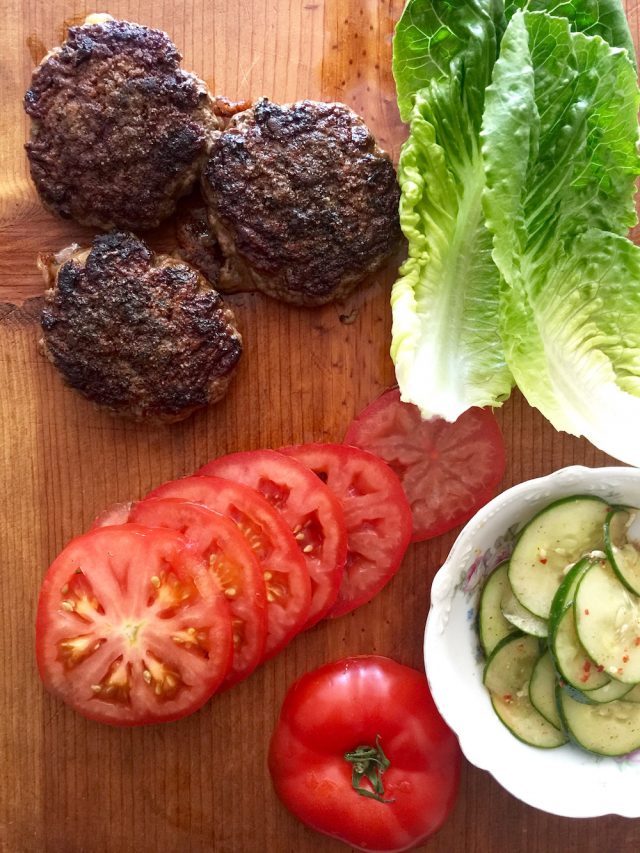 When I was pregnant, watching Food Network late at night was a dangerous habit. Why I tortured myself in such a way is beyond me since I couldn't satisfy those urges at 11:00pm, I'll never know. One craving that stuck with me was to make stuffed cheeseburgers. Guy Fieri highlighted a place that made an inside out cheeseburger, and I couldn't get it out of my mind. Instead of adding the cheese to the top of the burger, you make two thin patties, tuck the cheese in between, seal the edges shut, and cook. You can only imagine the goodness that awaits.
In a perfect world, this would be the ultimate cheeseburger experience. It took some tinkering to get the right ratio of patty to cheese, and then choosing the cheese is a whole other matter. The fact that I prefer burgers on the thinner side makes it all the more challenging. I didn't give up. Crumbly, soft cheeses like feta or gorgonzola work well, although in full disclosure I vehemently dislike stinky cheeses, so that rules out gorgonzola for me. Feta is a nice Greek spin on burgers.
So, what is a cheddar cheese lover to do? Chunks don't melt enough if you like your burgers rare or medium rare. Then it occurred to me to shred the cheddar cheese. Success!
In the past, I've only used cheddar cheese in my stuffed cheeseburgers.
I suggest you dream bigger when making your own. I intend to next time. Imagine how amazing it would be to slip some pickled jalapenos and tomato jam in with the cheese. Or caramelized onions. Or pizza burgers, stuffed with sauce and mozzarella cheese.
Lately, I've been skipping the bread on my burgers. It's an easy way to cut back on carbs. Ditching the bread also pushes the burger front and center. Bacon is a popular sidekick for cheeseburgers, but I decided to up the ante. I found some prosciutto in the fridge, and decided to fry it quickly to crisp it up. Oh, yes. You have to try this out.
Now that I'm back at my house in upstate NY, I can go out back and fire up the grill. When I was in Maryland, I didn't let not having a BBQ stop me from making burgers. In fact, a properly cooked pan-fried burger is what I sometimes crave.
A few key steps to keep in mind when cooking burgers.
Preheat your pan or outdoor grill. Cold meat on a cold surface means your burgers will never get a good sear. Heat up grills for 10 minutes to get them nice and hot. If cooking on the stove top, I suggest a cast iron skillet heated until just before it begins to smoke.
Season aggressively. Unless you have it on doctor's orders to watch the sodium, don't be shy about salting your shaped patties (on both sides, too).
Be patient. Don't poke and prod your burgers. You only want to turn them once, and only when the bottoms are nicely browned. And for heaven's sake DO NOT press your burgers down. You'll squeeze all the juices right out of them.
Some more burger inspiration from my friends for Food Network's Summer Soiree.
Feed Me Phoebe: Cauliflower Sweet Potato Burgers with Sriracha Aioli (Vegetarian Paleo)
Napa Farmhouse 1885: Six Hamburger Recipes To Get You Through Summer (Two Are Vegetarian!)
Healthy Eats: Our Definitive Healthy-Burger List
Elephants and the Coconut Trees: Beet and Oats Vegan Burger
Creative Culinary: Beef Burger with Homemade Guinness Irish Stout Ketchup
Taste with the Eyes: Open-Faced Swiss Burger with Flower Salad
FN Dish: 7 Surprising Ways to Better Your Burger Game This Summer