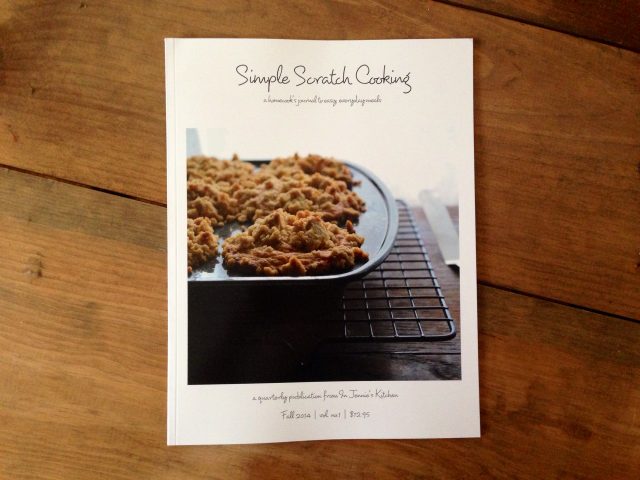 It is said that we're our own worst critics. I've always grappled with that thought. A healthy sense of self can only come with proper introspection. Seeking out our imperfections can be a fine line, though, and for me Mikey was always the one who helped balance the extreme standards to which I held myself. His belief and enthusiasm for my work was the wind my sail needed to keep going on, even when publishers and agents said I didn't have the numbers needed to sign a book.
And then he died. My numbers soared. I wrote a book.
I learned a lot in that process. A lot. The most important takeaway was reaffirming what I already knew—I can't put my heart into anything I don't believe in 110%. I am incredibly proud of the work that went into Homemade with Love. I had a team of people who believed in me beyond the numbers. The book designer, Amanda Richmond, had a personal connection, having been a longtime reader here. She captured my essence so perfectly in the look and layout. The photographs, well, when I look at them, I see more than just food. I see myself in them, and I think that is something only a friend could've captured. Penny is my friend; she knew me, knew the importance of the story being told.
And then came the second book. I could tell early on, in fact after handing in the first draft of the first 40 pages, that something didn't feel right. After a month of hard thinking, and trying to find a resolution that would satisfy both myself and my publisher, it became clear that the relationship had run its course. Better to leave on the high note with a beautiful book in hand.
My scheduled second book, a memoir, was one story that I couldn't compromise on. I'm still living. My girls may one day read it. It's about my life, and the only person capable of shaping that story is the person living it.
It left me in a quandry. How do I keep on doing what I love, and on my terms? Is it possible to straddle the line between the world of self-publishing, and traditional publishing, a toe in each one, to satisfy all the desires and needs I have as a writer? Just writing about this seems a bit taboo. What will other publishers think? We shall see. I've since signed with an incredible new agent, that makes me feel like Mikey's in my corner again, cheering me on. Katherine has an energy, and excitement, for my work that is infectious, in the best of ways. Together we're working on a proposal for a new cookbook that I know is one this world needs.
Before we met, and signed to work with each other, I had thrown all my energies into launching my own magazine-style journal. In a way, I think everything timed out perfectly. By time I met Katherine, my work on Simple Scratch Cooking: a homecook's journal for making easy, everyday meals was well on its way to fruition. There was no turning back. I had to take this leap of faith on myself. Yesterday was the moment of truth. As I looked at the proofs, I decided to jump. I placed the first printing order, and made a "soft" announcement about it.
What followed has truly humbled me.The orders have been steadily flowing in, and I wonder if I'll need to do a second printing. Could that really be possible? I felt a little guilty for not sharing it here first, but didn't want to inundate all of you on my subscription list with too many emails. The first issue is in final production now, and will arrive at my house for packing and shipping around October 15th. Provided there are no delays with shipping, I'll spend the 16th, the day that would've been our 10th wedding anniversary, stuffing, labeling, and sending out the first volume in what will be a quarterly journal filled with recipes,  essays, and a peek at the memoir.
Before Michael passed away, I always imagined we'd have a celebration to renew our vows. It's funny how the journal's production schedule just so happened to work out like this. I suppose in a way the 16th will be a renewal of vows, a renewal of promises to myself, and a reminder that I need to keep believing in my own worth, and work, as strongly as he did.
Right now the journal is available for sale online only. If you know of a local store that might like to carry it, please feel free to put them in touch me with at injennieskitchen@gmail.com. I can discuss it further with them. Here's the link to purchase it for yourself, and if you order before October 15th, I set up a special code to receive a 10% discount. Thank you. Thank you so very much for being the best readers ever.
Love,
Jennie
Music Pairing: Roar by Katy Perry
***UPDATE: Thank you to everyone who has pre-ordered the journal. The demand was so incredible that the first printing has SOLD OUT. A second printing has been ordered. All magazine orders placed after 10/5/14 will be sent out the first week of November. Thank you for patience, support, and enthusiasm for this new venture.***