spinach & pecorino latkes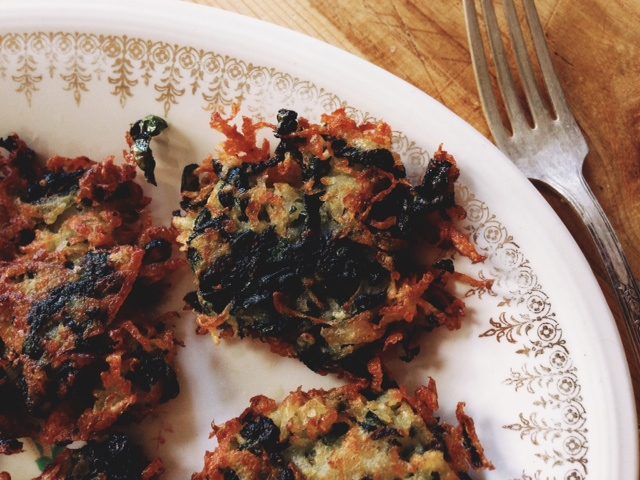 Once September hits, the rest of the year seems to fall into fast forward mode. It also feels like a quick succession of emotional hurdles, leaving me caught in a constant game of catch up. That means I've been spending more time in the kitchen than usual. I know, that seems hard to imagine, but it is true. The kitchen is where I retreat to when I need to find myself again. People often ask how I manage to stay in shape, and the answer is usually that I have incredible will power. That is until I started making these spinach & pecorino latkes. For those of you who haven't tasted latkes, I must warn you they're highly addictive crispy, potato pancakes.
A lot of things came to mind when I thought about what to make for this week's Fall Fest, but with Hanukkah just about a month away, latkes have been on my mind. I decided a pop of spinach would offset the decadence of frying them (in this case, ignorance is indeed bliss!). The resulting recipe is very reminiscent of the one I have in Homemade with Love. In fact, that's what I used as my base recipe. I just took out the ricotta, and upped the amount of Pecorino to give it a salty, sharp kick.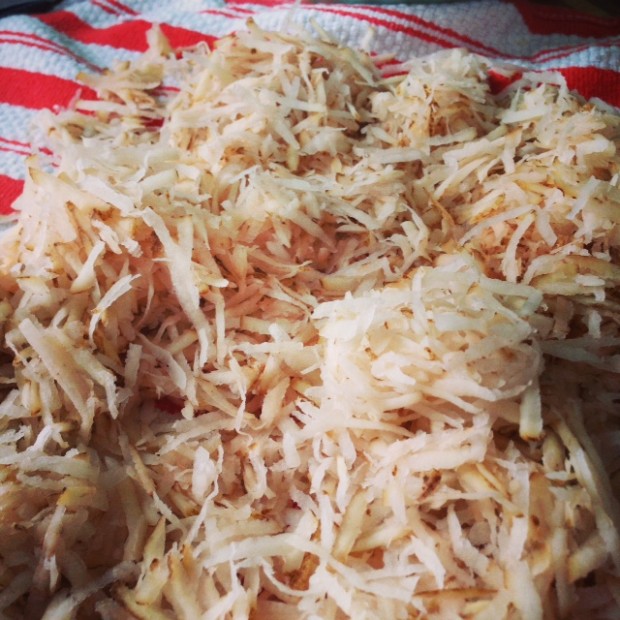 Okay, I'm going to jump down my rabbit hole of busyness again. When I resurface, I hope to share my new recipe for the best gingersnap cookies, ever. I've been searching my whole life for them, and the recipe came to me in a dream, sort of. No joke.
Spinach & Pecorino Latkes
Makes 20 to 22
Music Pairing: Roll With It by Oasis
Using a hand grater is key in making latkes, at least in this shiksa's humble opinion. It ensures thin, delicate strands of potatoes, and makes for the best crispy latkes recipe ever. You can totally swap in frozen, thawed, chopped spinach for the fresh, just be sure to drain it very well of any residual water (the amount you'll need is 1/3 cup or 68 grams).
I like to make my latkes on the smaller side, like a silver dollar pancake. You can make them larger, if you prefer, just keep in mind that they'll need to cook longer, and the yield will be less than noted in the recipe.
2 medium russet potatoes (10 ounces)
1 teaspoon (5 ml) grapeseed oil, plus more for frying
3 cups packed (138 grams), fresh spinach leaves, washed, patted dry & chopped
3/4 cup (60 grams) grated Pecorino Romano cheese
1 large egg, lightly beaten
Sea salt and freshly ground pepper, to taste
Fill a large bowl with cold water and a few ice cubes. Using a box grater, shred the potatoes into the bowl of ice water. When done, use a strainer or slotted spoon to transfer the potatoes onto a kitchen towel—do not discard the water in the bowl. Gently squeeze the towel to remove any excess water from the potatoes. Leave the potatoes wrapped until ready to use. Let the reserved liquid sit for 10 minutes, so the starch can settle to the bottom.
Meanwhile, heat 1 teaspoon of oil in a medium skillet. Add the spinach, and season with salt and pepper (remember the cheese will add a salty flavor, too, so go easy here). Cook until the spinach is completed wilted, 3 to 5 minutes; it will reduce to about 1/3 cup (68 grams). Remove the pan from the heat, and let the spinach cool 5 to 10 minutes. Once cooled, squeeze the spinach over a bowl to remove excess liquid; set aside.
Add the shredded potatoes, egg, cheese and spinach to a deep bowl. Carefully pour out the water from the reserved liquid bowl, making sure to save the starch that has collected at the bottom. Spoon the starch into the bowl with the potato mixture. Season with the salt and pepper. Stir with a fork to mix well.
Fill a skillet with 1/4-inch of oil, and heat over a medium flame. Carefully slide bundles of the potato mixture, about 2 teaspoons worth, into the heated oil, and press them down gently with a fork. Cook until golden around the edges, 4 to 5 minutes, then flip and cook for another 4 to 5 minutes until golden on other side. Transfer to a parchment or paper towel-lined baking sheet to drain. Serve warm.
Make Ahead: These also reheat with delicious results in a preheated 350º oven for about 6 minutes, turning halfway through cooking time. If you really want to plan ahead, make a double batch and freeze the cooled leftovers, stored in a zip-top plastic bag. I'd also suggest these for brunch parties instead of roasted potatoes or homefries since they're an easy dish to prep in advance.
Here's some more spinach inspiration from everyone sharing recipes on Food Network's Fall Fest this week. You can also follow the Fall Fest fun on Pinterest.
Feed Me Phoebe: Healthy Creamed Spinach
The Heritage Cook: Fresh Spinach with Maple Vinegar Vinaigrette
Big Girls, Small Kitchen: Za'atar Roasted Salmon with Greens
Blue Apron Blog: Saag Paneer at Home
Weelicious: Spinach Cake Muffins
Virtually Homemade: Creamy Spinach and Chicken Casserole
Haute Apple Pie: Parmesan Spinach, Broccoli and Chicken Bake
Red or Green: Spinach-Walnut Pesto on Bruschetta with Fried Egg
Napa Farmhouse 1885: Spinach with Sausage, Peppers and Tomatoes
The Sensitive Epicure: Spanakopita Minus the -Opita
Taste With The Eyes: Spinach and Chickpeas in a Bengali Mustard Sauce
Domesticate Me: Warm Spinach Salad with Bacon Vinaigrette and a Fried Egg
Devour: How to Make Spinach Gnocchi
Dishin & Dishes: Pear, Walnut and Blue Cheese Salad with Arugula and Baby Spinach
FN Dish: Eat Your Spinach Sides