I want to say it took me a full two weeks to get used to the back to school schedule, but truth is I'm not even close. I simply tolerate it, and consider the juggle associated with the school year to be one of those things in life I can't avoid (like death and taxes). After a lazy summer of no alarm clocks, the early morning routine has completely thrown off the girls' eating habits. They're simply not hungry for breakfast at 7:30am. Even their favorites, like pancakes and waffles, have been met with a lukewarm reception. The pep talks about needing their energy, and how it's not good to go to school on an empty stomach weren't cutting it either.
That's how these apple breakfast bars came to be. The girls love granola bars, so I started tinkering around making my own version of soft homemade cereal bars. They come together pretty quickly, are super easy to make, and filled with ingredients that don't require a dictionary to decipher. In a pinch, you can skip making the apple filling, and swap in store-bought jam or preserves (the photo below is a version I made with strawberry jam I canned this summer). The bars are pretty low in sugar, and flecked with bits of flax seeds and old-fashioned oats. They've been a big hit with my girls, and Virginia has already asked me to make them when it's her turn to share snack in her class.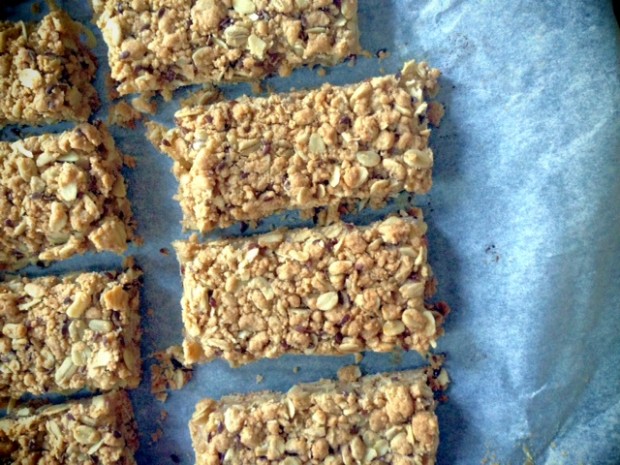 Here's some more apple inspiration from everyone sharing recipes on Food Network's Fall Fest this week. You can also follow the Fall Fest on Pinterest.
The Lemon Bowl: Whole Grain Pancakes with Warm Apple Topping
Jeanette's Healthy Living: Almost Crusted Cinnamon Apple Grilled Cheese
Dishing With Divya: Fresh Apple Salsa
Virtually Homemade: Potato Apple Gratin
Dishin & Dishes: Kale Waldorf Salad (A Healthy Recipe Redo)
Domesticate Me: Apple Cinnamon Baked Doughnut Holes
Napa Farmhouse 1885: Applesauce with Maple and Cinnamon
The Sensitive Epicure: Toaster Oven Cinnamon Apple and Walnut Muffins with Almond Flour and Maple Syrup
And Love It Too: Apple Pie Cookies
Taste With The Eyes: The Culinary Legend of Apple Tarte Tatin
The Heritage Cook: Gluten-Free Apple Crisp
FN Dish: Early Morning Apple RecipesRed or Green: Apple and Green Chile Crustless Pie
Apple Breakfast Bars
Makes 12
Music Pairing: Apple Suckling Tree by Bob Dylan

If you're pressed for time, or not crazy about apples, then skip making the filling and swap in 1/2 cup (132 grams) of pre-made jam or preserves. The last time I made these, I didn't realize I'd run out of flax seeds, so I swapped in sesame seeds. It's not the same nutritional value or health benefit, but they were still yummy.

Before you ask why there's no cinnamon in the filling, I'll cut to the chase and tell you. Most of the world thinks apples and cinnamon are a perfect marriage of flavors. I'm not in that camp. Decades went by before I realized this was also the reason I detested most apple pies. Virginia and I are in complete agreement on this, which doesn't surprise me since she's my mini-me. That said, everyone else who tasted the cinnamon version LOVED them, so if you feel inclined go ahead and add 1/4 to 1/2 teaspoon of cinnamon to the filling while it's cooking. Personally, I love the pure, bright flavors of the apple alone, but if I had to choose a spice to pair with the filling, then it would be allspice, so that's another option, too.

For the filling:
1 tablespoon (14 grams) butter
3 apples (345 grams), peeled, cored and thinly sliced
1 tablespoon (12 grams) granulated natural cane sugar
Pinch of fleur de sel
Wedge of lemon
For the crust & topping:
1 cup (150 grams) whole wheat pastry flour
1 cup (95 grams) old-fashioned oats
1/4 cup (54 grams) packed brown sugar
1 tablespoon (10 grams) flax seeds
Pinch of fleur de sel
8 tablespoons (112 grams) butter, melted
Preheat the oven to 350F. Line an 8-inch square pan with a piece of parchment paper large enough to cover the bottom and come up, over the sides.
To make the filling, melt the butter in a medium skillet over medium heat. Add the apples, sugar, and salt, and stir to make sure the apples are well coated. Squeeze the lemon over the pan to release it's juices into the filling; stir to combine. At this point the apple mixture should be bubbling. Reduce the heat to low, and let the apples simmer until they are very tender, and broken down (similar to a very chunky applesauce), 5 to 7 minutes. Remove from the heat and let cool slightly.
Meanwhile, get started on the crust and topping. Add the flour, oats, sugar, flax seeds and salt to a deep bowl. Whisk to combine. Pour in the melted butter, and using a fork, stir until it becomes a wet, sandy-looking mixture, and the dry ingredients have fully absorbed the butter. Divide the mixture in half.
Press half the flour and oat mixture into the bottom of the prepared pan. Spread the apple filling into an even layer on top. Sprinkle the remaining flour and oat mixture evenly over the filling. Use your fingers to gently press the topping into the filling.
Bake for 45 minutes, until the top is deep golden, and the filling is gently bubbling through cracks in the topping. Remove from the oven, and let cool completely in the pan set on a wire rack. If you left enough overhang on your parchment paper, you should be able to hold the ends of it to lift the bars from the pan. Cut them into 12 equal rectangles, or smaller bite-sized pieces if you prefer. Store bars in a covered container at room temperature for up to 5 days.