I know I say this often, but heavens to Betsy, my body can't keep up with my thoughts and ideas lately. Perhaps my brain operates at 27 hours a day, while my body is bound to the mere 24 hours we're allotted.
And then, there is the occassional sleep we need to keep forging ahead. I didn't get much of that this past weekend, sharing a bed with the girls at my uncle's summer house in Long Island.
I can sense this will be a busy week, not just for my personal schedule. I have so many recipes I've been wanting to share, so I'm going to keep this post short and sweet. Besides, do you really care what I have to say once you hear I'm sharing a recipe for homemade lowfat mayonnaise? You may have skipped to the recipe already anyway.
But if you're still holding on to each word, attentive as an honor student, then you should know I'm darn proud of that lowfat mayonnaise recipe. Remember I said a while back that packaged mayo scares me? Well, more so than regular mayo, lowfat or light mayos send a shiver down my spine from all the scientific jargon on the label.
Many recipes call for using a hand whisk when making mayonnaise. When I created these recipes a couple of years ago, switching to a food processor seemed like a natural and easy change, or one would think. My first attempt to use technology was a disaster, and so was my second, resulting in oily egg yolks that never emulsified. The key ingredients, egg yolk and oil are humble but oh so temperamental. The key is to slowly add the oil, so it still took about 20 minutes.
Then last year I had an eye-opening experience. I watched Chef John's video on making mayo with an immersion blender. It was a revelation, and I don't know why anyone would want to spend 20 minutes making something they can so easily do in just one. Yes, one minute is all it takes to enjoy creamy homemade mayonnaise.
last summer: roasted vegetable & ricotta cheese hand pies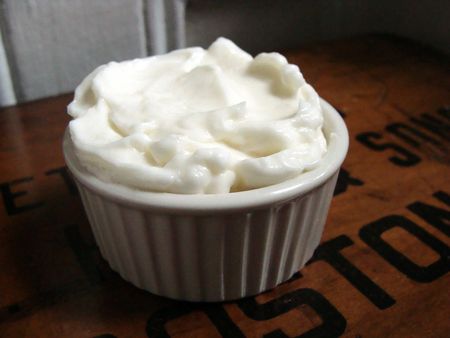 Homemade Mayonnaise
Makes about 3/4 cup
I decided to keep my original ingredients and simply use Chef John's technique. Don't tell him I said this, but he's a genius.
To Make Traditional Egg Yolk Mayonnaise:
1 large egg yolk, save white for later use
3 teaspoons freshly squeezed lemon juice
1/4 teaspoon salt, plus more to taste
1/2 teaspoon smooth dijon mustard (not whole grain)
3/4 cup canola oil
To Make Egg White Mayonnaise:
1 large egg white, save yolk for later use
3 teaspoons freshly squeezed lemon juice
1/4 teaspoon salt, plus more to taste
1/4 teaspoon dry mustard (like Colman's)
1/2 cup canola oil
In this exact order, add the egg yolk (or egg white, if making the lowfat version), lemon juice, salt, mustard and oil to a cup. Let the ingredients sit for one minute, as the egg yolk settles to the bottom.
Place the immersion blender into the cup and starting slowly pulsing the mixture. In a few seconds you will see the mayo begin to form at the bottom. You can move the immersion lightly up and down to finish. The whole process should take no more than one minute. Scrape mayonnaise into a container; cover tightly and store in refrigerator for up to one week.