Sour Cherry & Rosemary Conserves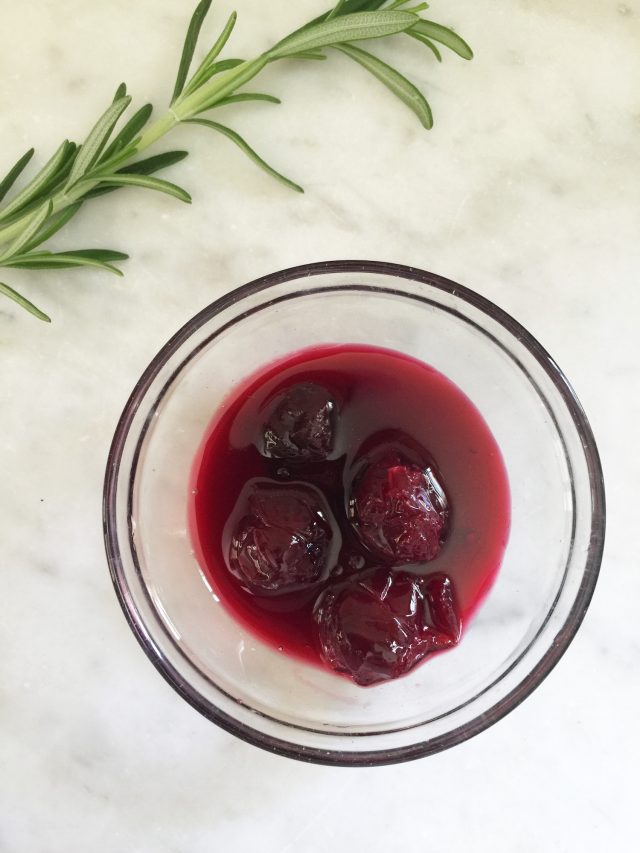 Remember last year I shared the little known fact that it was my first summer cooking with sour cherries? Well, the memories of the pie and jam I made stuck with me all.winter.long. The excitement for this year's sour cherry harvest was almost too much for me to contain.
Then that blasted cold front decided to come after many of the fruit bearing trees here in the Hudson Valley had begun to blossom. It's had a serious impact in local farm yields, some crops being lost all together. We managed to have a cherry season, though it's never as long as I wish. When I inquired about sour cherries, I was told there likely wouldn't be any this year.
And then my phone buzzed with a message from my friend Shay. "MPO has sour cherries, should I get you some?". It is the true measure of a friendship when you get surprises like that one. Shay loves Montgomery Place Orchards as much as I do. Perhaps even more as she used to work there.
Her message came to me on a Wednesday while I was still in Maryland for work. Thankfully, the crew at the farmstand held two quarts of cherries for me in the fridge until I could get there on Friday afternoon. Deciding what to do with my treasure felt a little overwhelming. I mean, we're talking about the only two pints of sour cherries I'd likely see this year. I would have to wait one whole year for this moment to come again.
After seeing a tip from Adeena Sussman on Instagram, I immediately threw one bag in the freezer, pits and all. She said they were surprisingly easy to pit while partially frozen. That took some of the pressure off from the pile of fruit I'd bought this week. It's prime jamming season here at Chez Perillo. A whole pie would've been too much for us to finish. I also wanted to do something different from last year's sour cherry jam. Plus, the clock seems to go faster than I can keep pace with these days.
That's where making conserves comes in handy.
Conserves are a good gateway recipe to trying your hand at preserving. It's not quite jam due to it's thinner consistency, and the fruit is left in larger chunks (great for garnishing cocktails!). It also doesn't require a lot of stirring over a hot stove, which is a big bonus. Conserves are incredibly versatile. You can spoon some on toast, stir it into seltzer for a homemade soda, drizzle it on ice cream, and if you go the savory route like I did, it's lovely on a cheeseboard.
Pairing fresh rosemary with sour cherries felt like a good calculated risk. Rosemary is wonderful in jams, and my experiments combining it with strawberries a few summers ago were amazing. Still, it wasn't until the taste test that I unclenched my shoulders. I mean, with such a short sour cherry season, any risk felt a little crazy. But that's what life should be about, right? Dreaming, leaping, and hoping we land without too many bruises.
Sour Cherry & Rosemary Conserves
Makes 1 pint (I like to use ½ pint jars)
Ingredients
1 1/2

pints

450 grams sour cherries, pitted

1

cup

+ 2 tablespoons

225 grams granulated natural cane sugar

2-

inch

5-cm sprig of fresh rosemary

3-

inch

by 2-inch piece of lemon rind

with the white pith
Instructions
Add the cherries, sugar, rosemary, and lemon rind to a deep pot. Stir together until cherries are well coated with the sugar. Cover, and let the mixture sit at room temperature for about 1 1/2 hours, until it looks slightly thickened and the sugar has mostly dissolved.

Place the pot on the stove over medium-high heat. Bring it to a boil.

Using a slotted spoon, strain out the cherries into clean, sterilized glass jars (one pint jar or two ½ pint jars). Discard the lemon rind and rosemary.

Cook the remaining liquid in the pot for 1 to 2 minutes more, until it thickens slightly. Spoon the liquid over the cherries. Cover, and screw on the lid tightly. Process in a hot water bath for 10 minutes for long term storage. You can alternately let the conserves cool, and store them in the fridge for up to 1 month.