The trip to the country this past weekend was a bit treacherous. The rain and fog made for a very slow drive, but I'm glad we went up on Friday night because this is what we woke up to on Saturday morning. Meet Olaf. He's our upstate mascot until the sun turns him into a puddle. As you might have guessed we saw Frozen recently, hence our snowman's name.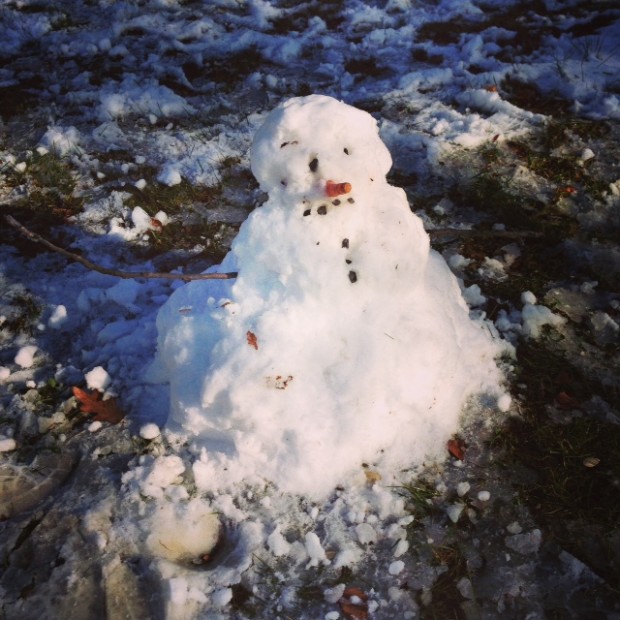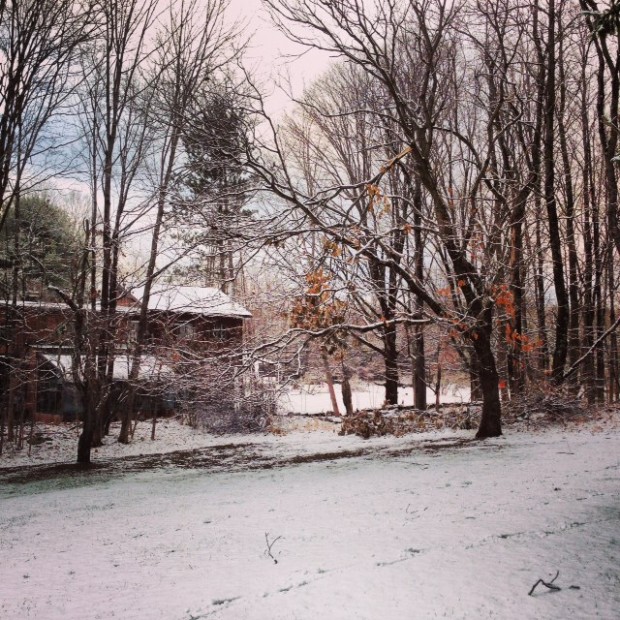 Every time I load us up into the car, I wonder if I'm crazy to clock 300 miles every weekened. The drives are most certainly taking their toll on me physically. And then I pull off the Thruway, and a peace washes over me. This house was a big step. A fresh start. While I have a few of M's things in the house, it is my house.
Not our house.
Or his apartment that I inherited by way of death.
No one knows my story. They just see a somewhat kooky single mom, trying to figure out the challenges of being a homeowner. I never did get to use the lawnmower this past summer. My neighbor mowed the lawn for me most of the time; I was shocked when he asked if I minded, so as to keep the neighborhood looking neat. By time I figured out the lawnmower needed gas to work (duh!), and then bought said gasoline, well, the seasons had changed. Colder days descended, leaves changed colors, and then fell from their branches.
And now this weekend, we had our first real snowfall. It flurried a bit a few weeks ago, but the flakes disappeared as quickly as they sprinkled from the sky. This snowfall was substantial enough to make Olaf. The crazy thing is that by Sunday afternoon, all the snow had melted, but Olaf was still intact. I was shocked a deer, raccoon, or some other critter didn't snatch his carrot nose!
A little housekeeping business before I get onto the recipe I've been wanting to share for weeks months. If anyone is giving Homemade with Love as a gift for the holidays, I'd be happy to send you a personalized bookplate (fancy publishing word for sticker). Just send me an email at injennieskitchen@gmail.com. I'll send it out by regular mail, and think if you get me a note by 12/17 it should get to you in time for Christmas, but can't promise with the United States Postal Service.
A friend mentioned recently that she couldn't find the book at Barnes & Noble. I've seen it at quite a few Anthropologie stores, and it's still available on Amazon, and if you want to support a local bookstore, then check out IndieBound. Brooklyn folks, a friend told me that 4Play in Park Slope has it, too! Okay, that's enough shop talk for one post. Let's talk about the cookies!
I first made these in early October. They came out so incredibly good the first time, I thought it had to be a fluke. I mean, I tweaked my recipe for these walnut cookies, and bam! I had created the best gingersnap cookie recipe, ever. I know that's a huge thing to brag about, but I'm not kidding here folks; at least not in my world. A gingersnap cookie that has a crisp edge, with a chewy center? I mean, that's cookie nirvana, right?
Well, I didn't believe it myself, so I proceeded to make about 10 dozen more. Every batch yielded one simple truth—this is the only gingersnap cookie recipe you'll ever need. I'm only sharing it under one condition. You have to promise not to relegate it to just the holiday baking season. That would be just awful. Need to make a gingersnap cookie crust? These are the cookies you want to use. Looking for texture in a sundae, trifle or parfait? Crumble a few of these into it.
After much testing with this recipe, I discovered a few weeks ago that you can make the whole thing in one bowl, and with just a whisk and wooden spoon. No need to whisk the dry ingredients in a separate bowl, and no need for a stand mixer, or even a hand mixer! I'll admit there's a slight difference using this method, but it's so faint, I'd never bother you with mussing two bowls when one will suffice.
And let's not gloss over that whole melted butter fact. You don't need to soften butter to make these cookies! In less than 30 minutes you can have two and a half dozen cookies baked because there's no waiting time to soften the butter. I'm getting frantic with excitement as I type this, no joke. My heart is racing. I know, it's such silly business to get this worked up over a cookie.
My kitchen has been by salvation these last 856 days. If the joy, and healing, I get from being in there makes your life easier, then it makes me feel like I have a purpose in this world. I've been struggling with that a lot lately.
What is my purpose?
What is my next step?
Until I figure that out, I say we bake cookies. 'Tis the season.
Crispy Chewy Gingersnap Cookies
makes 30 cookies
Look no further for the easiest, and best, chewy gingersnap cookie recipe. Last time I made these, I added a handful of toffee pieces. Next time I'm thinking of trying some chopped white chocolate. No worries if you have neither on hand. The cookies are incredible "as-is".
Music Pairing: 2,000 Miles by The Pretenders
1 stick (4 ounces) butter, melted and slightly cooled
3/4 cup (150 grams) granulated natural cane sugar
1 large egg (50 grams)
2 tablespoons (45 grams) molasses (I use Steen's)
1 cup (145 grams) plus 2 tablespoons (16 grams) whole wheat pastry flour
1/4 teaspoon (1 grams) baking soda
1/4 teaspoon (1 grams) fleur de sel
1/2 teaspoon (2 grams) ground cinnamon
1/2 teaspoon (2 grams) ground cloves
3/4 teaspoon (2 grams) ground ginger
Preheat the oven to 375ºF. Line two baking sheets with parchment paper; set aside.
Add the butter, sugar, molasses and egg to a deep bowl. Whisk vigorously until well combined, and a bit fluffy, about 1 to 2 minutes.
Add the flour, baking soda, fleur de sel ans spices to the bowl. Using a wooden spoon, stir until the flour is completely mixed in.
Drop mounds of the dough, 2 teaspoonsful each, onto the prepared baking sheets. (Note: you should be able to fit 12 per sheet I use this OXO cookie scoop for even, uniform-sized cookies.). Bake for 10 minutes, until the edges are golden and the bottoms are lightly browned. Remove sheet from the oven and let the cookies cool on the pan for 2 minutes. For extra chewy cookies, bake them for only 8 minutes. Using a spatula, transfer the cookies to a wire rack to finish cooling completely.