When I first met M, I was struck by the fact that he didn't wear a watch. I can honestly say he was the first adult I'd ever met that didn't wear one. Isn't keeping track of time, and plotting every moment, what it means to be an adult? He often laughed at the obsessive nature with which I checked the time, too. Early on he suggested I read Harlan Ellison's short story "Repent Harlequin!' Said the Ticktockman". Without revealing too much, the Harlequin is the voice inside of us all, rebelling against the carefully calculated structure of life. A structure that is exceedingly harder to shake as we progress further into a technological age. Why do we feel the need to plan everything to a "T"? What is so wrong with trusting our internal clocks, and letting them find a natural sync with our wants and needs? 
Sometimes, no plans are the best plans.
That said, if you do feel like planning, then let it be something fun, like these homemade orecchiette. I've always wanted to make them, but oddly enough was intimidated for years since they're formed by hand, using a butter knife or your thumb. It seemed like a whole lot of work compared to making basic egg pasta. In my mind, my Atlas pasta machine did all the work, rolling out and cutting thin strands of spaghetti or fettuccine. Really, though, it's a manual hand crank, so, so much for logic.
Making homemade orecchiette takes about the same amount of time, from start to finish. The dough is eggless, a bonus for anyone with an allergy. It's made with just flour, semolina, salt and water. Getting down the technique for forming them can be a bit of challenge, but once you do a few test pieces (okay, maybe a few dozen test pieces is more like it), you fall into a rhythm. In a world that's so driven by technology, there's something so soothing knowing all you need is four ingredients and your own two hands to create something. No machinery. No gadgets, or gizmos.
Just time, on your own terms.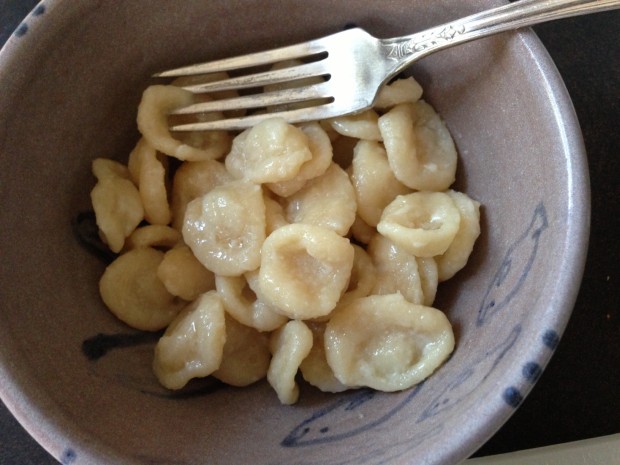 Makes one pound of uncooked pasta
Music Pairing: Turn! Turn! Turn! (To Everything There is a Season) by The Byrds
1 cup (150 grams) all-purpose flour
1 cup (185 grams) semolina flour, plus more for shaping the pasta
Generous pinch (3 grams) fleur de sel
1/2 cup (125 ml) to 3/4 cup (187 ml) warm water
Add the flour and salt to a deep bowl. Use the tips of your fingers to whisk them together until combined. Pour in 1/2 cup of the water, and stir with a fork to bring the mixture together into a dough. If it seems dry, which is very likely at this point, add more water 1 tablespoon at a time, until all of the flour mixture has been absorbed into the dough. Depending on the weather, you may need to use all of the water (on cooler, dryer days) or less than the full 3/4 of a cup (on warmer, more humid days). Remember dough of any sort absorbs moisture from the air.
Keeping the dough in the bowl, gently knead it a few times until it becomes a smooth ball. You can alternately turn it onto a counter or cutting board, but that means one more thing to clean up (and less is best for me when it come to washing dishes). Wrap the dough in plastic wrap, and set it on the counter to rest for 10 minutes.
Set up two stations, next to each other, to begin forming the pasta. You'll need a small section of unfloured counter space to roll out the dough, and a textured surface (I use a plastic cutting board) with a light sprinkling of semolina flour.
Unwrap the dough, and cut off a 3/4-inch thick slab. Loosely cover the dough so it doesn't dry out until you're ready to cut another slab off. Roll the slab of dough into a 1/2-inch thick rope on the unfloured counter top. Transfer the rope to the floured board, and cut off 1/2-inch thick coins. Arrange the bits of dough cut side up. Place the tip of a butter knife at the edge of the dough, and use a quick motion, pull the butter knife towards you. Use the tip of your forefinger to mold the pasta into shape, creating a "little ear", which is the literal translation of orecchiette. In reality, I think it looks like a sombrero, just with a not-so-wide rim. Transfer the formed orecchiette to a rimmed sheet sprinkled with semolina flour, making sure to keep them single layer so they don't stick together.
Repeat with the remaining pasta dough. Let the pasta sit for at least 20 minutes so the shape can set. At this point, you can freeze them. Once frozen, transfer to ziptop bags, and store in the freezer for up to two months. Cook directly from the freezer (do not thaw).  If you want to eat them immediately, cook in a salted pot of boiling water until the desired doneness, about 8 minutes for al dente.
I posted some photos to Flickr, so you can see what the pasta looks in various stages, from making the dough, to shaping it. You can look at them here.
This YouTube video of someone's nonna make orecchiette by hand is mesmerizing.