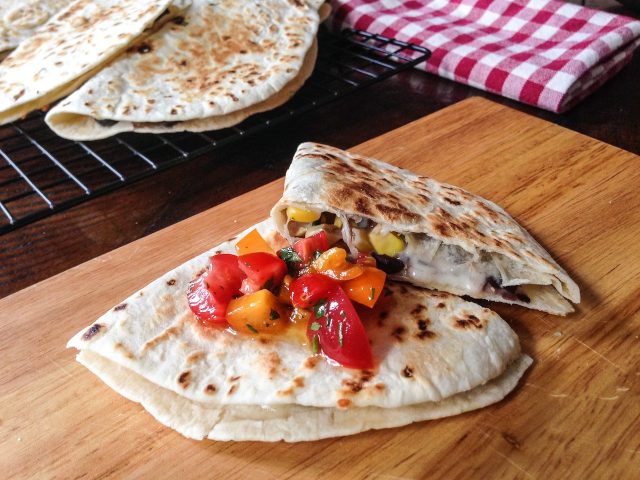 Lately, time has been a hungry monster, digesting every second of my days before I've had a chance to comprehend the passing hours. There are a few posts in my drafts, studded with snippets of recipes, and random thoughts trying to find a thread. Truth is even my journal writing has been a rambling of words, spilling from my mind to the pages of my powder blue notebook.
Still, I wanted to pop in here quickly to mention two things. You'll see there's a new sign-up there in the top right-hand corner. I've been wanting to create a newsletter for a while now (as in years), and the first one is finally ready to go (almost). It's timely for anyone planning a Paris trip this summer. Go ahead and enter your email address, as the newsletter will contain essays, recipes, and more stuff you won't see on the blog.
My other news is a project that has been in the works for a while now, and one I'm very excited about. My new series, Twice as Nice, launched yesterday on Food Network's FN Dish blog. Head on over and see my take on what to do with leftovers. Here's a peek at the recipes you'll find in this week's post, perfect for using up leftover grilled, roasted or even boiled corn on the cob.
Corn  & Black Bean Quesadilla (my girls LOVED this recipe)
Corn & Jalapeno Griddle Cakes (perfect for breakfast, lunch AND dinner)
Corn, Roasted Red Pepper & Cilantro Salad (best friend approved!)
Homemade Corn Broth (an easy, inexpensive vegetable stock)
Sweet Corn Chowder (it's a vegan and gluten-free recipe, too!)
I'm running off to bed now. Busy work day ahead tomorrow, testing recipes for the next Twice as Nice package, and I need to fit in some packing, too. The moving truck comes in 29 days. But who's counting, right? I hope to pop back in this weekend with a more thoughtful post. There's so much I've been wanting to share with all of you.
p.s. I mowed the lawn for the first time at the house last weekend! I was so proud of this seemingly minor accomplishment. Who knew my wrists would still hurt five days later?
p.p.s. This week's music pairing is a peek at the song Virginia's class will be singing at her kindergarten graduation in two weeks. We've been singing it as we walk all over the neighborhood, and even dancing down the sidewalk to it, too. I just can't help but smile, and tap my toes as I listen to it.
Music Pairing: Les Champs-Élysées by Joe Dassin