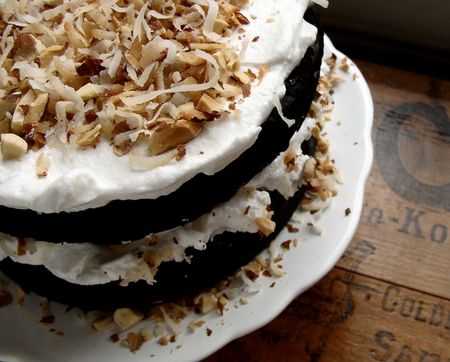 This cake was a joint effort, of sorts. Last week Virginia and I went to the market before I dropped her at daycare. As we strolled the aisles, she asked me to make a chocolate cake. I'd already had my heart set on a coconut one. Somehow thoughts led to one of my favorite candies and I set out to make an Almond Joy Cake.
The candy itself holds no lustre anymore. I pilfered one from the kids' trick or treat bags last Halloween, you know for quality assurance. The taste didn't live up to the memory, but I was sure I could make a cake that would.
And I almost did. It's 90% there. The missing link right now is the frosting. On it's own, the almond marshmallow meringue is wonderful. Fluffy tufts of goodness, indeed. It will be perfect for frosting cupcakes, and even work on a single layer cake.
A two layer cake, though, is just too heavy for this delicate, airy frosting. So back to the drawing board.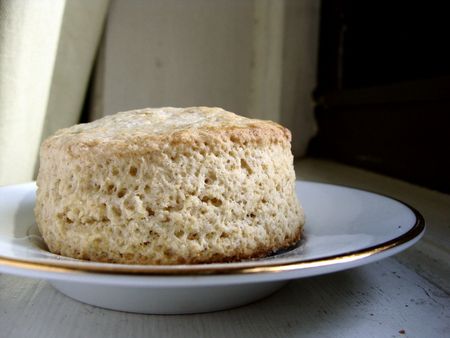 That scone is the result of years of recipe testing. It hasn't really taken me that long to perfect a basic recipe. It just took me years to realize a scone could be thoroughly enjoyable without any fuss. Sure, dried fruits and nuts, even lemon zest are nice, but I recently learned those additions are blasphemous to some of my Brit friends.
So I went back to basic training, and as I said to the Mr. last night, traditional English scones are just a sweeter, denser version of southern biscuits. I'm guessing the recipe's roots are steeped deeper in British cooking history, and wonder if southern biscuits were inspired by them, and perhaps less sugar used because it was too expensive. Do let me know if you have any thoughts on this theory.
This is my ricotta. The current contest on Food 52 got me thinking about recipe I considered most valuable in my cooking legacy. That sounds so grown-up, when truth is I still feel like a 15 year old girl at heart. The last year has taught me a lot about making ricotta at home, so the recipe I posted at Food 52 will look a bit updated from the one on this site. A new post is coming soon on that, and with a video too.
That is a watermelon radish. It's one of the four vegetables in the Love Your Veggies Great Veggie Adventure. I'm part of the Mom Panel, a paid spokesperson to be clear, working with some wonderful women who care as much as I do about educating kids and on healthier eating.
And not just our own children. The work Jean Marie Gunner has done in her local community, makes me feel like slacker. She's too sweet for me to be snarky, so instead I'll just look up to her, and cross my fingers when I start my watermelon radish seedlings (I may be behind on this, I should go read that email).
A big thank you goes to Hidden Valley Ranch too—they're the company behind the Love Your Veggies campaign which has awarded almost a million dollars in grants to help build school and community gardens. My first thought when I went on a press trip a few years back was "what's in it for them". Two days later I emerged realizing not every company cares about just the bottom-line. There are some that use their profits for good, and Clorox, Hidden Valley's parent company is one of them. They also own Glad, which is a major donor to Cookies for Kids' Cancer. So companies can care and still prosper.
And that my friends, is just a small peek into my life the last week. I'll pop back in before Friday and share the scone recipe with you. I hear there's a big wedding happening, and figure you might want something to go with your tea or coffee.