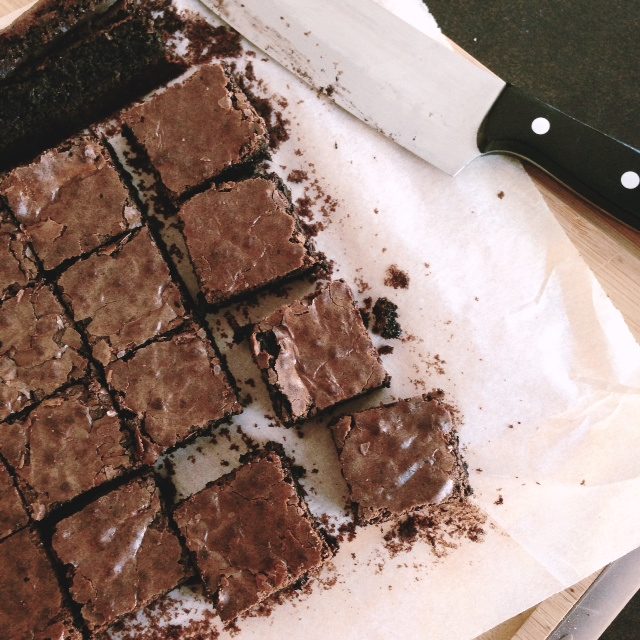 There's no shortage of chocolate recipes floating around the internet, especially this week with it being Valentine's Day and all. A more organized person who writes a food blog would've even planned such a thing out. I always chuckle when I get a PR pitch about my upcoming editorial calendar. This little space of the internet is about as organized as my daughters' room. This is one place in my life where no plans are actually comforting. I can be who I want, when I want. It just so happens that my craving last week coincided with a holiday where chocolate plays so prominently. Why is that exactly?
Well, you know those bittersweet brownies I shared the recipe for last week? I let out an audible gasp when I first tasted them. Two of my best friends, and their kids, told me they were the best brownies they'd ever eaten. Can you guess who didn't like them? I'll give you a clue. They share my DNA. Yes, my daughters are only milk chocolate fans. I really thought those brownies would change their mind, but it was a no-go. Thankfully I don't rely on just their critique for all my recipes. Based on Virginia's eating habits lately, I'd only be writing about bowl after bowl of Cheerios. It seems my once incredible eater, who loved pretty much anything, has become a fuss pot. I'm not worried, at all.
But back to these brownies. These milk chocolate brownies. I was determined to make a brownie the girls would like. What I didn't expect was to come up with a recipe that would make me moan from the first bite. If the bittersweet brownies made me gasp, well, these milk chocolate brownies and I were going to need a room, and a cold glass of milk to finish things off.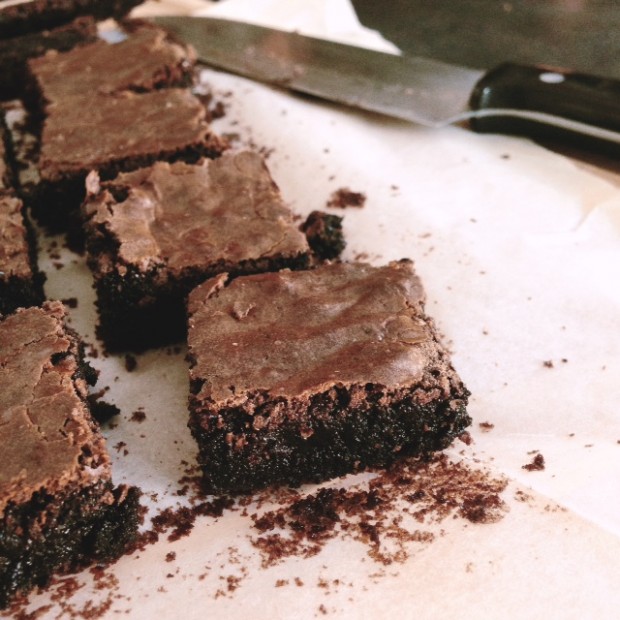 See what everyone else is making as part of this week's Food Network Comfort Food Feast:
Jeanette's Healthy Living: Quinoa Fudge Brownies
Feed Me Phoebe: Salted Caramel Budino with Whipped Cream
Big Girls, Small Kitchen: A Chocolate Fondue Party
Elephants and the Coconut Trees: Blood Orange Bars
Dishing with Divya: Carrot Halwa
Virtually Homemade: Raspberry Grand Marnier Mascarpone Hand Pies
Devour: 5 Bread Pudding Recipes for Valentine's Day
Weelicious: Puff Pastry Berry Hearts
Red or Green: Hot Chocolate, New Mexican Style
Napa Farmhouse 1885: Chocolate Cake Brownies (Refined Sugar-Free)
The Sensitive Epicure: Nutella Panna Cotta
Haute Apple Pie: Valentine Cake Pops
FN Dish: DIY Chocolate Desserts for Valentine's Day
Food for 7 Stages of Life: S'mores on a Stick
Tasting With The Eyes: Puff au Chocolat avec Fraises, Basilic, Fleur de Sel
Milk Chocolate Brownies
makes 16 – 2-inch pieces
Music Pairing: Afternoon Delight by Starland Vocal Band

It's taken me years, but finally, at a moment when I wasn't even really trying, I created a homemade brownie recipe that tastes as chewy and milk chocolatey as the ones that come from a boxed mix. As with my bittersweet brownies, you need to exercise patience and let these cool to get to the right chewy consistency. It will be worth it, I promise, although Alex's idea of topping them with ice cream to speed up the cooling process is very tempting.
6 ounces (168 grams) milk chocolate chips (I use these)
1/3 cup (50 grams) whole wheat pastry flour
1/4 cup (25 grams) good quality dark cocoa powder
1/2 teaspoon (2 grams) kosher salt
1 stick (112 grams) butter, cut into pieces
1 teaspoon (5 ml) vanilla extract
2 large eggs (100 grams)
3/4 cup plus 2 tablespoons (175 grams) granulated natural cane sugar
Preheat the oven to 350ºF. Cut a piece of parchment paper large enough to cover the bottom and sides of an 8-inch square  baking pan. Grease one side of the parchment, and fit it (ungreased side down) into the pan.
Add the chocolate to a medium, microwave-safe bowl with the butter. Cook on high power in the microwave in 30 second intervals, stirring in between each cycle, until the chocolate and butter are melted. Be careful not to burn the chocolate. The timing depends on the wattage of your microwave. Add the vanilla extract, and stir to combine; set aside to cool slightly.
In a small bowl, whisk together the flour, cocoa, and salt; set aside.
Add the eggs and sugar to a clean, large bowl. Whisk until they become thick and pale yellow, 1 to 2 minutes. Whisk in the melted chocolate mixture. Using a rubber spatula, fold in the flour mixture.
Pour the batter into the prepared pan, spreading it evenly to the sides. You can give the pan a tap on the counter to help it settle, too. Bake for 30 minutes until the center is set and the edges gently pull slightly away from the sides of the pan. Let cool completely before cutting.