I'm sitting here, pounding away at the keyboard when I should be sleeping. It's not too late, just shy of 11:00pm, but I had two back-to-back baking flops, and don't take defeat lightly.
I've also had muesli on my mind, and figured I could go out on a high note with a no-cook recipe before showering and tucking in.
But then I decided to toast the muesli, so there went the no-cook idea. Truth is I tried to like muesli a year ago, last January in fact. I decided to start 2011 on a healthy note. It was more about listening to my body—it was in need of a makeover. I decided to get more daring with whole grains thanks to inspiration from galleys of Heidi's Super Natural Everyday (that cookbook, by the way, is a must own). I began with an oat soda bread, wet my feet more using whole wheat pastry flour in these brown butter pear and meyer lemon muffins, oat ricotta pancakes, and cheddar rye muffins. I even started an affair with kale which is going strong to this day (this soup is still one of my favorites, and the girls love it too).
I spent the first quarter of 2011 eating vegetarian. I simply no longer craved meat, and lord did it drive Isabella crazy. The girl's first love, next to her daddy, is bacon. I still cooked meat, and bacon, for Mikey and the girls, I just made sure to include lots of vegetables and sides to satisfy my own tastes.
I also started waking up early to meditate and go running. In order to do that daily, it meant going to bed early, long before my night owl Mikey lay his head to rest beside me. I felt really good then, I remember it so clearly. It's as though someone had stuck a bobby pin into the reset button hidden in the recesses of my mind and body.
I've had this nagging feeling lately, and I know I need a jumpstart like that again.
Except everything is different now.
And yet I can still stay in control, right? I just have to shed the "all or nothing" attitude. I need to accept just because things are fundamentally different, I don't have to give up on that energizing, centering feeling I captured a year ago, albeit with a much heavier heart.
I know the meditation will be good for me. My nerves are a mess these days, and I often feel like I will burst at the seams. There is a lot going on right now, more than I want to share or burden your thoughts with. Some of it not so great, but the truth is some of it is really amazing. The only way I can manage it all is to take deep breaths—it's meditation my body is craving. My inner core needs to find a place of peacefulness since it was plunged into the unimaginable on August 7th.
For now, I'm not going to beat myself up for staying up too late, again. I'm going to give myself a break because writing here offers me so much peace and solace. You may not realize it, but if I had more hours in the day I would answer every one of your emails and comments personally. It pains me to see how you all take the time to care and check in, yet I don't have the moments needed to say two simple words personally: thank you.
I can see a glimmer of my old self peeking out in this post, as I've completely digressed from I what I set out to do—share a new recipe, so back to the muesli!
Tried as I might last January, I couldn't fall hard and fast for muesli—it was meh, compared to granola or poached eggs. But still, it's been on my mind, and as I was reading through some of Heidi's older posts, I came across one with a recipe for toasted muesli. The recipe was from Michele Cranston's The Essential Guide to the Kitchen, and while it sounded intriguing it had too many ingredients.
I need simple right now, and my mind needs easy. The recipe did give me an idea, though, on how I could change my muesli from meh to magical—toast the oats and nuts, well seeds in this case. It was an easy step, but I had a very good feeling about it.
Hard to believe, but my pantry is in need of restocking, so there was no fancy dried fruit to use. My choices were a pitiful amount of dried cherries, which would've been my first choice, cranberries or raisins. Since I love a bowl of hot oatmeal with plump raisins, I figured they'd make a nice pairing with my muesli—I fully intended to add some steamed milk to it in the morning.
On first glance, this seems like a humble bowl of oats, pumpkin seeds and raisins, an oddball combination really. A little flare in the form of vanilla bean, cinnamon and fleur de sel, give this muesli street cred, though, and in my book it's a good first step for finding the old me under the new circumstances.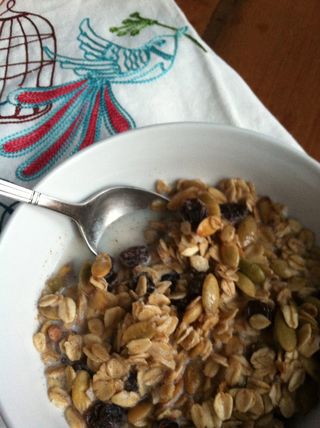 Toasted Vanilla Bean Muesli
makes 4 cups
made on Tuesday, January 3, 2011—day 148
Feel free to make this based on what you have on hand or like. Swap in an equal amount of your favorite nut or seed for the pumpkin seeds, and same goes for the raisins. Next time, I plan on adding a tablespoon of flax seed too, and sesame seeds would no doubt add a nice crunch.
Oh, if you wondering how muesli is different from granola, it wasn't obvious to me at first either. Then I realized a key difference is sweetener. Granola is usually sweetened with syrup, honey or sugar. Muesli relies on the sweetness from the dried fruit and a little drizzle of maple syrup or honey when you serve it, usually with milk or yogurt. Most muesli recipes don't toast the oats either, but we already know how I feel about that approach.
One last note, if you want to make this dairy free or vegan, then try swapping in canola or grapeseed oil for the butter, and skip the melting step. While I haven't tried it this way, I'm pretty confident it'll work well (and leave a comment if you do, so we can all learn together!).

4 tablespoons (2 ounces) unsalted butter
3 cups (319 grams) old fashioned oats (not quick cooking)
1 cup (141 grams) raw pumpkin seeds
1 vanilla bean, split lengthwise and seeds scraped
1/4 teaspoon (1 gram) fleur de sel
1/2 teaspoon (2 grams) ground cinnamon
1 cup (130 grams) raisins
Turn the oven on to 300ºF. Place the butter into an oven-safe ramekin or small pot and place in the oven to melt while it preheats; remove and set aside.
In a deep bowl, combine the oats, pumpkin seeds, vanilla bean seeds, fleur de sel and cinnamon. Stir to mix well. Pour the melted butter over the mixture, and stir until well coated. Spread the oat mixture onto an 11" X 17" rimmed baking sheet.
Bake for 25 minutes, stirring once halfway through. Remove from oven, stir in the raisins, and set pan on a wire rack until completely cooled. Store in a tightly sealed jar for up to one week.