I lost my maraschino virginity about seven years ago.
I remember the day, as any girl would one that changes her life forever. I'd been browsing through Barnes & Noble when I saw a new cocktail book, and immediately recognized the name. It was by Nick Mautone, the guy who gave me my break in the New York City restaurant scene. I saw an ad in the New York Times back in 1999 for a hostess and reservationist opening at Gramercy Tavern. I'd been personal cheffing for a year, and decided it would be a good idea to learn some front of house skills to roundout my knowledge of what it takes to feed people.
Restaurant experiences are about so much more than the meal. I appreciate this now even more when a sitter is on the hook for $15 an hour.
But I digress.
Gramercy Tavern, GT as everyone who works there comes to call it, holds so many special memories for me. I've worked with some of the best chefs and restaurateurs NYC the world has to offer, and no other restaurant has replicated the feeling of being part of that team.
It was there that I also came to appreciate the art of cocktail making. Back then Nick was the General Manager and always had an amazing twist to add. The Ginger Tonic started with a homemade base of ginger-steeped simple syrup. Bloody Mary's—Mikey's favorite brunch drink, was reinvented as a Pickle Mary with housemade bread and butter pickles chopped up, and swirled in.
By time Nick's book came out, I was onto working with Drew Nieporent for a brief stint running his now-shuttered bakery in Tribeca. But those cocktails left a lasting impression, and I bought the book so I could start making them at home.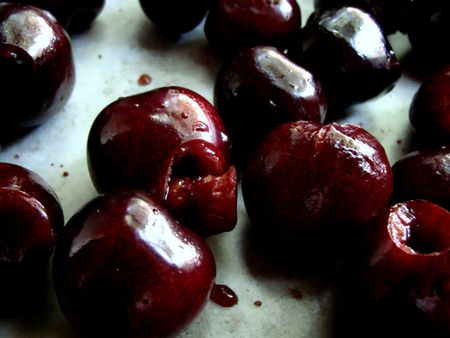 As I flipped through the pages, his recipe for maraschino cherries stopped me in my tracks. In all the years I'd been going to GT, even after I stopped working there, I never remembered ordering a cocktail with those cherries.There was clearly a lot of lost time to make up for here.
I've pretty much stuck with his recipe as written, with a tweak here and there. I nixed the star anise, wanting to keep my flavors a little less exotic. Recently, I came across pure black cherry juice at my local supermarket, it's this one from R.W. Knudsen, and decided to swap it in for the grape juice in Nick's recipe for a more intense cherry flavor. Although Nick calls for frozen bing cherries, I've been using this recipe to preserve the fresh bing one's coming in from the Pacific Northwest right now. If you planned ahead and already pitted and froze some cherries like I mentioned in my last post, then just add 2 to 3 more minutes to the cooking time.
Speaking of cooking time, if you're planning to can these using a hot water bath, then I suspect you should undercook the cherries since the boiling water will cook them a bit inside the glass jars.
More things to do with your cherries: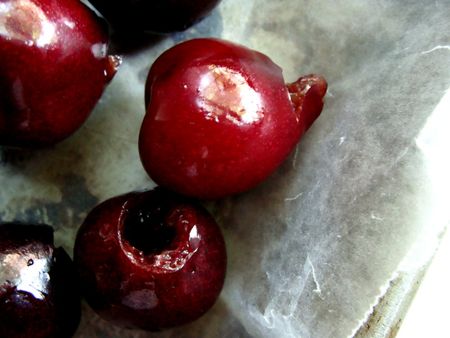 homemade maraschino cherries
makes one quart
adapted from Nick Mautone's book Raising the Bar
1/2 cup (125 ml) water
1/2 cup (125 ml) black cherry or concord grape juice
1/2 cup (4 ounces) natural cane sugar
Freshly juice (3 tablespoons/1 1/2 ounces/50 ml) of 1 lemon
1/2 teaspoon pure almond extract
2 cups (9 1/2 ounces/266 grams) sweet bing cherries, pitted
Add the water, cherry or grape juice and sugar to a 2-quart pot. Bring to a boil over high heat and let cook 1 to 2 minutes until the sugar is completely dissolved. Reduce the heat to medium-low. Add the lemon juice, extract and cherries. Cook 5 minutes to let the cherries absorb the flavors, then remove the pot from the heat.
Transfer to a clean sterilized jar and process in a hot water bath for 10 minutes for long-term storage, or just pop the jar in the fridge if you plan on using them within one month.