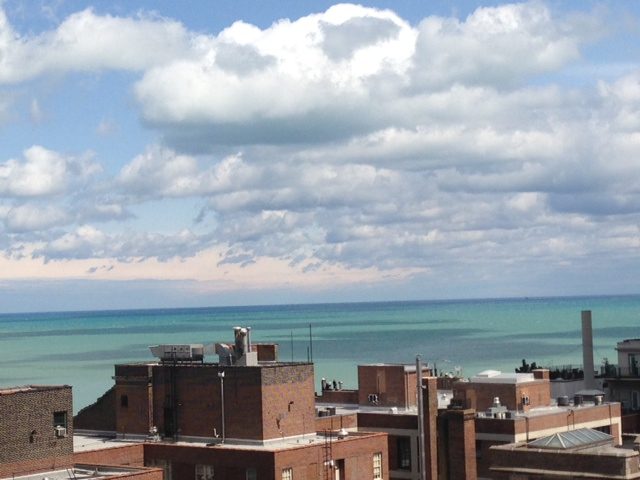 I spent 12 hours traveling home today. No, I didn't go to Paris. Nor did I venture to the west coast. I was simply trying to get back to NYC from Chicago. The details of my travel aren't important, though if you follow me on twitter, you likely saw my heated exchange with American Airlines.
And now here I am at my laptop, clacking away when I should be going to bed. Alas, sleep will have to wait until mid-May when the book publicity settles down. But I had to pop in here and share something. Before coming upstairs to my office to start the night shift, I made a blueberry spritzer. I had some blueberry syrup in the fridge from this event last week, and simply mixed it with some Pellegrino. As I took the last sip and looked down in my glass, six tiny wild blueberries had settled to the bottom of it, all in a row, forming a smile. At that moment, my cup wasn't half empty or full. It was simply smiling at me, reminding me that happiness is a choice as long as you keep yourself focused on it at all times.
I'm adding a few links for your reading and viewing pleasure below. Hope everyone is having a great week, and be back in a bit. À bientôt.
Music Pairing: The 59th Street Bridge Song (Feelin' Groovy) by Simon & Garfunkel
***
My cooking segment on Good Day Chicago.
A peek into the NYC launch event for Homemade with Love.
Some reviews of Homemade with Love from Edible Brooklyn and The Washington Post. Plus a few of my friends hosted a virtual potluck this week to celebrate the book's publication. Go see what Gina, Ilina, Jodi, Amy, and Kim cooked from the book.  I've also started a Pinterest board to gather all the reviews of the book in one place.
p.s. if you ever find yourself traveling with the kids to Chicago, or just want the ability to cook a meal in your hotel room, I highly recommend the Residence Inn on East Walton Place. The suite didn't break the bank, and the staff was incredible.