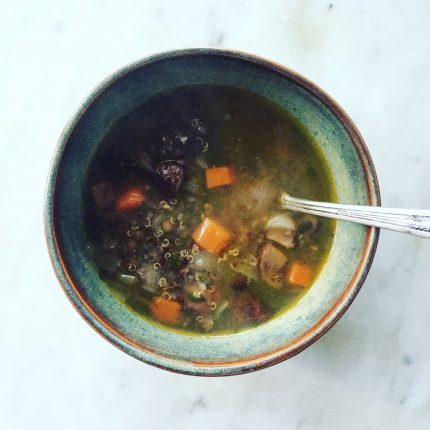 Quinoa, Lentil & Mushroom Soup
I used what I had in the crisper bin to pull this very comforting soup together. This soup can probably be set up in a slow cooker, too, so do let me know if you give it a try that way.
Chopped onion

about 1/2 of a medium one

Carrots

2 diced

Mushroom

2 handfuls, quartered (I used crimini but shiitakes would've been my first choice)

Sea salt

Quinoa

uncooked, a handful or two

Dry lentil

a handful or two

1

bay leaf

Handful of fresh parsley

if you have any on hand

Broth or water

4 cups, plus more as needed
Sauté some chopped onion, diced carrots & quartered mushrooms in olive oil in a deep pot. Be sure to salt them. Add a handful or two of dry quinoa & dry lentils. A bayleaf is great, too, if you have one, as well as a healthy handful of chopped fresh parsley. Stir in 4 cups of liquid (water or broth of choice). Bring it to a boil, then let simmer until lentils & carrots are tender, adding more liquid as needed if the soup gets too thick. Whole things cooks up in about 40 minutes.