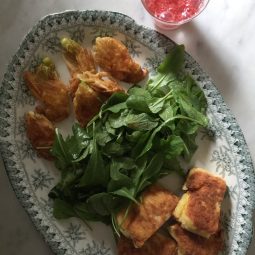 Mozzarella in Carozza
After seeing a photo of mozzarella in carozza on Instagram, I couldn't get it out of my mind. My mother never made them growing up but we always ordered them when we went out to eat, and for the record, you can never order enough to satiate an entire Italian-American family. So, what is it? Imagine a grilled mozzarella cheese sandwich coated in batter then lightly fried. Yeah, pretty much makes every other grilled cheese seem inferior. Soft, squishy bread is essential. My homemade challah was perfect for it. Some people dip it in breadcrumbs, but I prefer dipping the sandwiches in some beaten egg-milk, then lightly coating in flour. And don't forget to pinch the edges closed or you'll end up with a cheesy mess in the pan. This is more of a guide than a recipe, per se. There are no exact ingredients, so you have to trust your instincts when making this. It's one of those simple meals I love dearly.
Soft

squishy bread, crust removed (I save these to make breadcrumbs)

Fresh mozzarella

Lightly beaten egg with a splash of milk

Flour

Grapeseed or sunflower oil

for frying
Assemble as many sandwiches as you like, filling slices of mozzrella between two pieces of bread. Squeeze all the sides shut so the cheese doesn't spill out while cooking.

Heat a shallow pan with a bit of oil.

Dip the sandwiches into the beaten egg mixture, shaking off any excess. The amount of eggs and milk you need depends on how many sandwiches you're making.

Press the sandwiches into the flour, gently shaking off any excess.

Fry until golden underneath. Flip and fry until golden on the other side. Serve hot.