I know, I go silent for almost a month, and then share three recipes in four days. This is the upside to my cold. All of the little projects I've been meaning to do, the bills I've planning to pay, life is what I think we call it—I suddenly find there's time to get things done when I'm relegated to the sofa, trying to get better. Actually, the sofa has just become my temporary workspace. Too tired to walk up and down the stairs, and not willing to put my cooking habits on hold, my laptop has found a permanent place in the living room, just about 20 paces from the kitchen counter.
I can't seem to sit still, let alone nap during the day. My lack of voice is the main culprit responsible for my house arrest, forcing me to cancel all meetings for a few days. My hands work fine, though, and they've been busying making stock, chicken soup, this incredible cabbage dish, gingersnaps, and a gingerbread cake.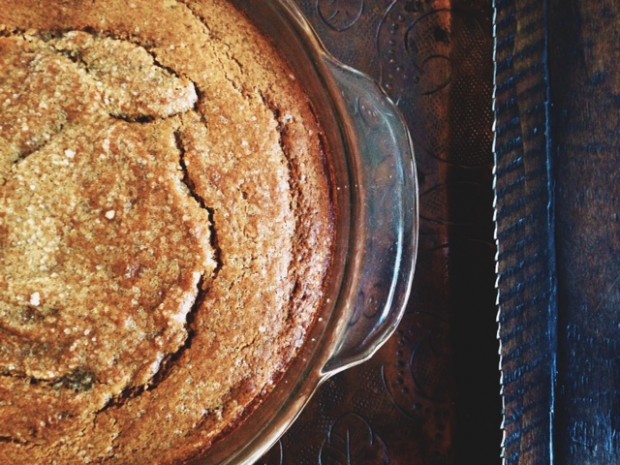 These gingerbread muffins I make during the holidays were on my mind a few days ago. One thought led to another, and I decided to try and make a one bowl gingerbread cake (should it just be called gingerbread?). I'm talking about a truly one bowl recipe, where you essentially dump ingredients in stages, mixing in between. No whisking the flour and spices separately. There was a bit of blind faith as I added in everything; I wondered if the flavors would blend together thoroughly. My fears were squelched with the first bite.
And so, my gift to you is a super easy, really one bowl recipe for gingerbread—or should it be called  gingerbread cake? Perhaps I should eat one more slice to try and decide.
Serves 10 to 12
Music Pairing: A Wonderful Christmas Time by Paul McCartney
If you don't have an 8-inch round cake pan, I think an 8-inch square pan would be fine. I haven't tried it, though, so please do let us know how it works if you give it a try.
I served this cake as-is, the crunch from the coarse sugar being all the "topping" we needed. I did have thoughts of making an eggnog glaze, so that's one idea. A dollop of fresh whipped cream would be nice, too. In case you're wondering about using this as cake layers, I think it's too dense for a double layer cake. It would certainly work as a single layer cake, with a slather of frosting on top. Lastly, if you do intend to add a glaze or icing, I'd omit the coarse sugar sprinkling on top of the cake, so you have a smoother surface and texture.

p.s. This would be perfect with a cup of eggnog. Here's my homemade recipe!
p.p.s. I've gone on about this being a dessert recipe, but it would make a lovely addition to your Christmas brunch table, too!
6 tablespoons (84 grams) butter, softened
1/2 cup (100 grams) granulated natural cane sugar
1 large egg
1/4 cup (90 grams) molasses (I use Steen's)
1 1/2 cups (225 grams) whole wheat pastry flour
2 teaspoons (10 grams) baking powder
1/2 teaspoon (2 grams) sea salt
1 teaspoon (4 grams) ground cinnamon
Scant teaspoon (3 grams) ground cloves
1 1/2 teaspoons (4 grams) ground ginger
3/4 cup (187 ml) milk
2 teaspoons (10 grams) coarse sugar, for sprinkling on top (optional)
Preheat the oven to 350F/180C. Coat an 8-inch round cake pan with butter. I love breaking out my vintage glass Fire King dish for this, as it doubles as a pretty serving dish, too.
Add the butter and granulated sugar to a deep bowl, and beat on high, until creamy, and sugar is mixed in well. You can do this with a hand mixer (which is what I did), or use a stand mixer. Add the egg and molasses, and beat on high until light and fluffy.
Add the flour, baking powder, salt and spices to the bowl. Pour in the milk. With the mixer on the lowest speed, work in the dry ingredients (you can do this by hand, too, with a wooden spoon if you're worried about flour tipping out of the bowl). Increase the speed to medium-high, and beat for 30 seconds.
Pour the batter into the prepared pan. Sprinkle the top of the cake with the coarse sugar. Bake for 35 to 38 minutes, until the top is a bit crackled, the sides pull away from the pan a bit. and a metal skewer inserted in the center comes out clean (a few dry crumbs are okay). Set cake on a wire rack, and let cool completely before serving.