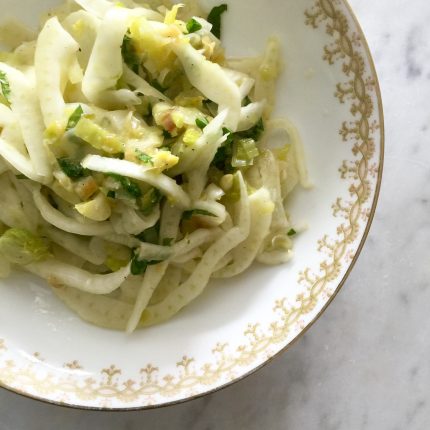 Fennel & Mint Slaw
I mention this can be made up to 4 hours in advance, but really, you could even make it the night before, if say, you're planning a picnic for the next day. The acidic ingredients (vinegar and lemon juice) will slightly pickle the fennel as it sits overnight, transforming it into a fennel relish of sorts. In fact, if your intent to is to make a relish of it, you might want to consider using a box grater to prepare the fennel, instead of thinly slicing it. I imagine it would taste quite amazing on grilled sausages.
3

tablespoons

45 ml extra virgin olive oil, plus more for frying leeks

1

leek

thinly sliced

Fine sea salt

2

tablespoon

30 ml cider vinegar

1 1/2

teaspoons

10 grams honey

1/2

teaspoon

Dijon

2 grams

Freshly squeezed juice of 1 lemon

Freshly ground black pepper

15

mint leaves

chopped

1

bulb

12 ounces of fennel, thinly sliced
Add a swirl of oil to a small skillet, just enough to coat the bottom. Add the leeks, and season with salt. Cook gently, over medium-low heat, until the leeks are tender and translucent, 7 to 8 minutes.

Meanwhile, prepare the dressing. Add 3 tablespoons of oil, the vinegar, honey, Dijon, and lemon juice to a deep bowl. Whisk until well blended. Season with salt and pepper.

Add the leeks, mint, and fennel to the bowl with the dressing. Toss until well coated. Serve immediately, or store in a covered container in the fridge for up to 4 hours.