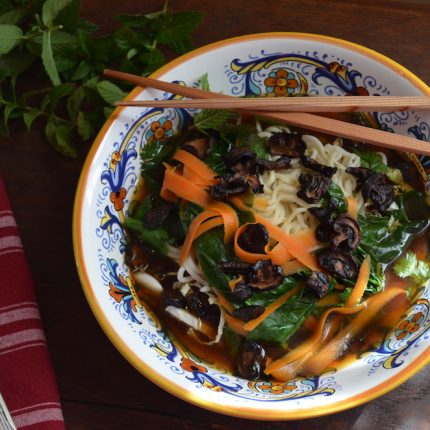 Asian Vegetable Noodle Soup
Asian Vegetable Noodle Soup - a faux pho Prep time: 5 mins Cook time: 7 mins Total time: 12 mins Serves: 4 I usually cook the whole package of noodles, and store leftovers in a covered container in the fridge. This way I can prepare my next pot of soup in less than 10 minutes. The leftover noodles also make a great school or work lunch, tossed with shredded spinach, cabbage, julienned carrots, and a dressing of soy sauce, sesame oil, rice wine vinegar, and a drop of simple syrup.
2

carrots

6

cups

Rich Mushroom Stock

recipe here

Generous handful baby spinach

Splash of rice wine vinegar

3 1/2

ounces

98 grams Chinese noodles (such as chukka soba), prepared according to package directions

1/4

small head of green cabbage

thinly sliced

Handful fresh cilantro

Handful fresh mint leaves

Fresh red chili pepper

chopped fine (optional)

Slow-Roasted Crispy Mushrooms

recipe here
Using a vegetable peeler, create ribbons with the carrots (store the cores in a container, and use to make vegetable stock, but truthfully my girls love eating them as-is).

Combine the stock, carrots, spinach, and rice wine vinegar in a medium pot. Bring to a boil, and then reduce heat to a simmer. Cook for 5 to 7 minutes, until the carrots are tender.

Divide the cabbage and noodles amongst four deep soup bowls. Ladle the soup into the bowls. Top with the herbs, chili pepper, and mushrooms. Serve hot.