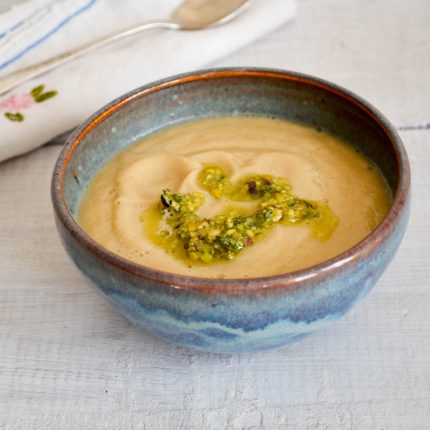 Roasted Cauliflower, Ginger & Pear Soup
This would be a wonderful appetizer to serve at holiday cocktail parties. A light counterpart to the sweet, and often rich food of December. You can serve it in shot glasses which is what I used to do back in my former catering life. A simple dollop of crème fraîche can be used in place of the pistachio garnish, too.
For the Soup

2

cups

200 grams Roasted Cauliflower (store bought, or use this recipe)

1

pear

peeled, cored & diced

1/2

inch

thick slice of fresh ginger

peeled (or larger if you want a strong ginger flavor)

2

cups

.5L broth (vegetable, chicken, or even this healing brothwould be great)

To Finish

1/4

cup

31 grams toasted pistachios

4

sprigs of lemon thyme

Pinch

of sea salt

Freshly grated zest from 1/4 to 1/2 a lemon
Combine the cauliflower, pear, ginger, and broth in a medium pot. Bring to a boil, then reduce heat to simmer. Cook for 5 minutes.

Meanwhile, work on the garnish for the soup. Place the pistachios and lemon thyme on a cutting board. Sprinkle the salt and zest over them. Chop it until it forms a fine mixture. Add to a small bowl, and drizzle in some olive oil, stirring until it forms a loose paste. You can also do this whole process in a mortar and pestle if you have one.

Remove the soup from the heat. Ladle half of into a blender bowl. Blend until smooth. Repeat with the remaining soup. Return it all to the pot, and heat again, if needed. Spoon a bit of the pistachio paste on top before serving.