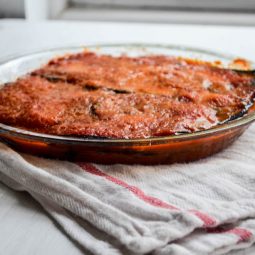 Eggplant Parmigiana
This is one of those no recipe recipes. Forgive me if you prefer more structure, but I trust once you read the recipe, you'll also trust your instinct on make this. To make the grilled eggplant slices, brush both sides of the slices with olive oil, and grill until softened and cooked through but still slightly firm. You can also use a cast iron skillet on the stovetop to do this.
Preheat the oven to 375ºF.

Spread a thin layer of sauce into the bottom of an 8-inch pie plate.

Arrange a few pieces of eggplant over the sauce, enough to cover the bottom of the pie plate.

Spread another thin layer of sauce, enough to completely cover the eggplant.

Top with a few slices of mozzarella and sprinkle some Pecorino on top.

Repeat until you reach the rim of the pie plate, making sure your last layer is a coating of just sauce and Pecorino (no mozzarella).

Bake for 25 minutes, until bubbly, and the mozzarella that's peeked through to the top is golden.