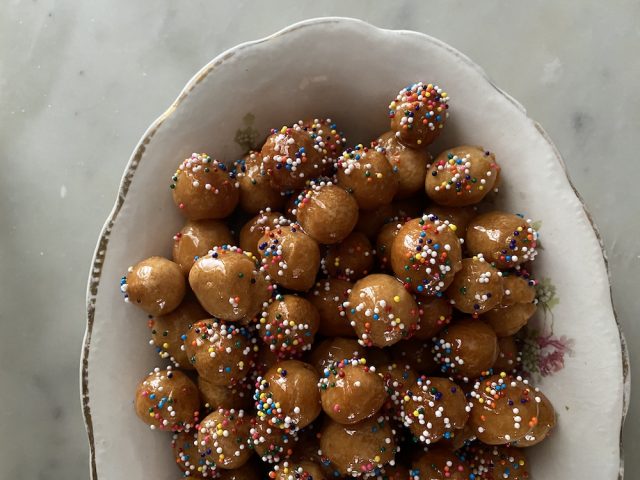 December marks the arrival of struffoli at Italian pastry shops in Brooklyn, and I imagine in all Italian-American neighborhoods. Sometimes struffoli appear as early as Thanksgiving. In our family, struffoli appeared just one day of the year—New Year's Day. My aunt Barbara doled out bowls of them as a parting gift after we ate our weight in her lasagna. So, with these last remaining days of 2020 I decided it was finally time to share my struffoli recipe.
I've no idea how close this is to my aunt's recipe, and not even sure anyone knows her recipe. Aunt Barbara passed away earlier this year but it's actually been almost 15 years since we've had her struffoli. She suffered a stroke in 2005, or it might've been 2006, and was wheelchair bound. New Year's Day at her house was always a much-anticipated event because in addition to struffoli, it was the only the day of the entire year in which she made lasagna.
For years, I kept a container of her gravy—Italian-American speak for tomato sauce simmered with whole cuts of meat and meatballs, in my freezer, a relic found while cleaning out her apartment. It traveled to two apartments and when I made the move from Brooklyn to Olivebridge, I decided it was time to finally let go. I always think of Karen's ziti from The Sopranos when I think of this story.
What are struffoli?
For those unfamiliar, struffoli are tiny fried balls of dough scented with lemon and orange zest and coated in honey and decorated with nonpareils. While my aunt served them in bowls, it's common to shape them into a wreath. I've heard some people shape them as cones to resemble trees but have never seen them presented that way.
What kind of honey do you use in your struffoli recipe?
I prefer clover honey but you can use wild flower if that's what you like. I wouldn't use buckwheat, personally, since it's a strong flavor. Warming the honey slightly makes coating the struffoli a little easier but it's not totally necessary. My aunt never heated it and I can assure you there were never any struffoli leftover.
Is this struffoli recipe easy to make?
Well, that all depends. Easy is relative depending on your skills in the kitchen. If frying isn't your thing, you might want to choose a different recipe. I know air fryers are popular but don't have one, and not sure if they'd work in there. If anyone reading has made them in the air fryer, please share your results.
Why are struffoli served on New year's Day?
While it was common for our family to enjoy struffoli on New Year's Day, I'm not sure anyone really knew the reason why. Being Italian-American can be interesting, as my experience has been we often do things "because that's the way it's always been done" without knowing the reason why. My guess is the meaning gets lost as generations pass. It turns out eating honey-drenched stuffoli is a symbol of prosperity and the hope for it in the year ahead. Perhaps my family knew this and just never mentioned it.
What I do know is that I continue to be eternally thankful for the way the kitchen connects me to my past and keeps the people I love alive long after they're gone. I hope you all find quiet moments of joy as the year that felt like a decade ends. My wish is for 2021 to arrive gently with renewed hope for our collective future.
On the Sweet Side
On the Savory Side
Struffoli Recipe
Ingredients
3

eggs

1 ½

tablespoons

15 grams olive oil

2

teaspoons

10 grams sugar

Freshly grated zest of 1 lemon

Freshly grated zest of ½ orange or 1 clementine

2

cups

260 grams flour

¼

teaspoon

salt

½

teaspoon

baking powder

Neutral oil for frying

canola or sunflower

Honey

heated until warm, if desired

Colored nonpareils
Instructions
Add the eggs, olive oil, sugar, lemon and orange zest to a deep bowl and whisk until frothy.

Add the flour, salt, and baking powder. Sir with a fork until mixture forms a soft dough.

Scrape dough onto a lightly floured surface. Knead for a few minutes until dough is smooth. Divide dough into 8 pieces.

Roll each piece into a ¼-inch thick rope. Cut off pea-sized pieces of dough. Using the palm of your hands, roll bits of dough into rough balls (they don't have to be perfect). Arrange in a single layer on a floured sheet pan.

Heat ½-inch oil in a shallow skillet until it reaches 360ºF (180ºC). Fry a few pieces of dough at a time, stirring constantly for even cooking, until golden all over and they float up to the surface of the oil. Use a slotted spoon to transfer to a paper towel lined plate and let drain. Repeat with remaining dough.

Cooked, drained & cooled balls of dough may be stored in an airtight tin for up to 1 week.

At least 4 hours before ready to serve (and up to 1 day I advance), add the struffoli and honey to a bowl. Mix until struffoli are well coated. Spoon into a serving dish and sprinkle nonpareils on top. It's also traditional to form these in the shape of a wreath to serve.