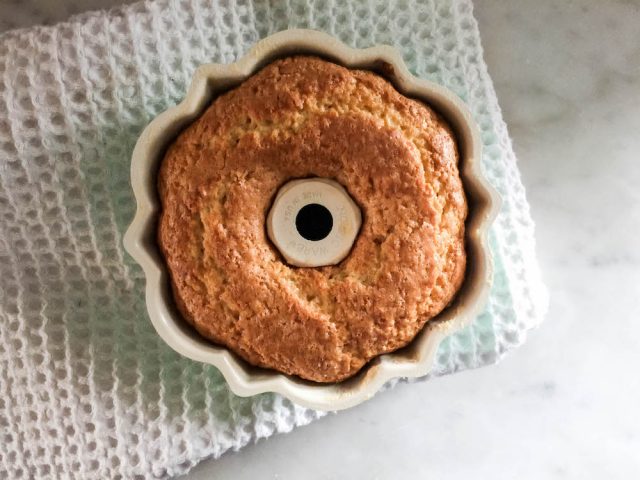 Last night, while flipping through photos on my phone, I was reminded of this perfectly wonderful, and incredibly easy Simple Cream Cake I baked a few weeks ago. I've been scaling down a lot of my recipes to fit the smaller needs of our family, so when I came across a rather adorable looking, mini 3-cup bundt pan while shopping at a kitchen supply shop up in Rhinebeck, I just had to buy it.
Jump straight to the recipe for Simple Cream Cake
The pan is made by NordicWare, so I felt mostly confident in my purchase, but the lightweight design of it left me wondering if a pan so stinking cute could also be reliable. The idea of baking in bundt pans either gets you excited for the beautiful design, or leaves you anxious, praying you've greased and floured it enough for the cake to slide out with ease. There was only way to find out, and my inner, impatient child had to know immediately.
The day faded away quickly, and come 5:00pm, I still hadn't had a chance to bake anything. Not one to let a clock thwart my baking habits, I decided it needed to be something quick & simple that could bake while I cooked dinner. I knew exactly where to go, and perused my vintage cookbook collection. Unlike so many of the modern day tomes, I find older cookbooks from the 40s and 50s to be economical and practical when it comes to time and ingredients. Funny when you think about it since cooks, okay let's face it—women, most likely had a lot more time to spend in the kitchen than we do today (present company excluded since it's what I do professionally).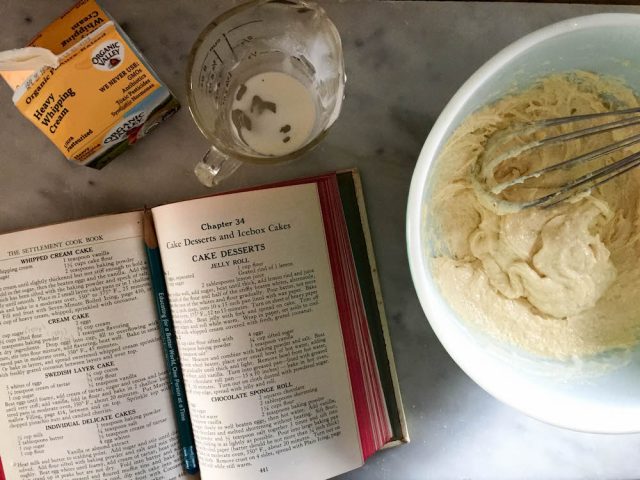 The winning recipe was simply titled cream cake from The Settlement Cookbook (1944). It's a brilliant recipe, the cream serving purpose as both the liquid and fat component in this cake (as opposed to using both milk and butter). All you need are six ingredients, which if you're an avid baker and cook, you likely already have in your cupboards: sugar, flour, baking powder, eggs, heavy cream, and vanilla extract. The recipe actually calls for "flavoring" so you can use any extract you like in place of the vanilla.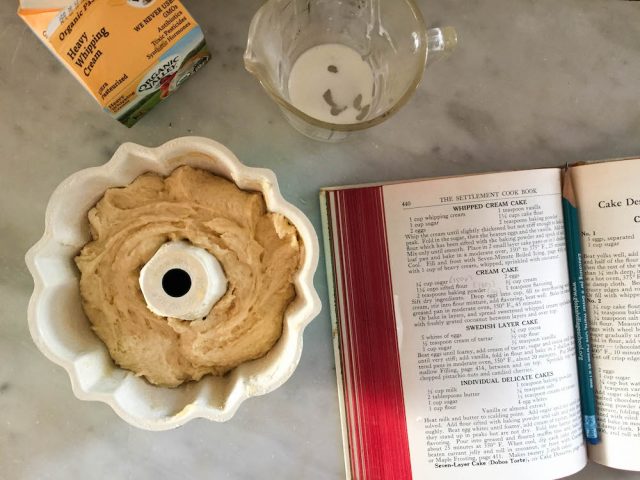 Another reason to love this recipe? It's mixed up in one bowl with just a whisk—no machinery needed. It annoys me to no end that every baking recipe nowadays is written with stand mixer instructions, especially recipes that can easily be done with a whisk and some elbow grease.
It almost took longer to grease and flour the pan than it did to mix up the cake batter. The directions called for using a small cake pan, so I had a hunch my teeny 3-cup bundt would be perfect, and it was indeed. I held my breath until the last second, just as I readied myself to flip the pan upside down and invert the cake. All worry was for naught as it plopped out of the pan with no resistance at all. Of course, wait until the cake is completely cooled to do this. Thankfully, my back porch isn't insulated, and aided greatly in quick-cooling the cake so we could enjoy it in time for dinner.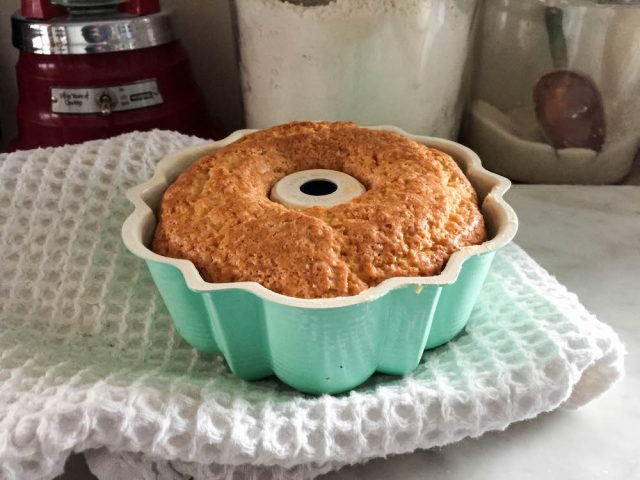 The cake is a cross between a pound cake and layer cake consistency. Sturdy but light, if that makes sense. The crumb is incredibly tender, too. You can certainly serve it plain, or with a dusting of confectioners' sugar, but I wanted to satisfy a chocolate craving, too. A thick glaze of dark chocolate ganache was the perfect way to do so. I sprinkled on some chopped homemade candied orange for an extra wow factor, which both my girls promptly picked off their slices. I bet a lemon glaze would be lovely, too.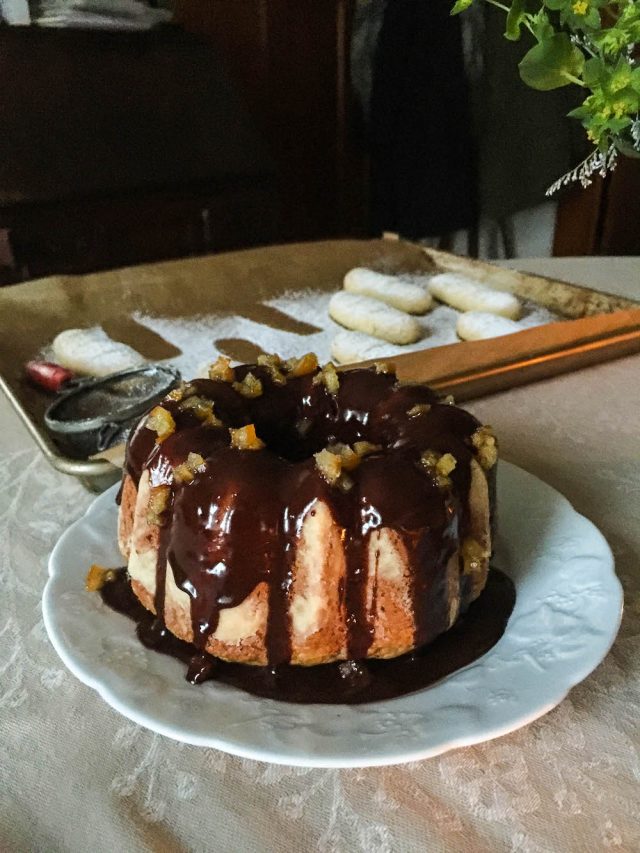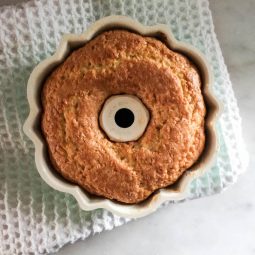 Simple Cream Cake
Ingredients
¾

cup

150 grams granulated natural cane sugar

1 ½

cups

180 grams flour

2

teaspoons

10 grams baking powder

2

eggs

at room temperature

2/3

cup

160 ml heavy cream

1

teaspoon

5 ml vanilla extract
Instructions
Preheat the oven to 350ºF (180ºC). Generously grease and flour a 6-inch (3-cup) bundt tin.

Add the sugar, flour, and baking powder to a deep bowl. Whisk to blend.

Add the eggs, cream, and vanilla. Whisk until well blended.

Scrape the batter into the prepared tin. Gently tap the pan on the counter to smooth out the batter. Bake until deep golden and a toothpick inserted in the center comes out clean, about 45 minutes.
SaveSave
SaveSave
SaveSave
SaveSave
SaveSave
SaveSave