Tahini, Date & Chocolate Truffles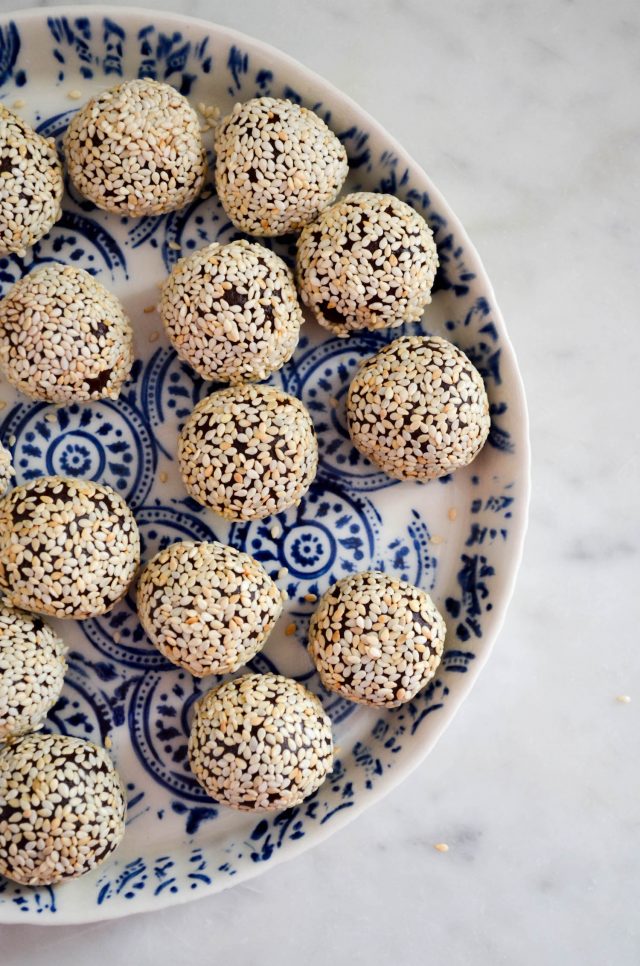 These are forever known as magic balls to me. Yes, I realize this leaves a lot of room for interpretation, and lord knows what kind of keyword traffic that's going to lead to In Jennie's Kitchen. Once you learn why, you'll understand the beauty and well, magic, of these Tahini, Date & Chocolate Truffles.
I should preface this by saying I wrote this post before the apocalypse, also known as the election of 2016. Actually, I wrote this that morning, with so much hope, so much optimism. For everyone saying that's what we need now, and to give him a chance—I say nope, nada, zilch. Every last effort needs to go into not accepting, not being complacent. This article from the Times of Israel is a great example of why we need to stay energized, and committed to the opposite of complacency.
I'm not saying we should all abandon the U.S. I love America, and chastised my little one today when she said it was an awful country. I explained that it's a place that guarantees freedoms and equality for all. And now I'm terrified for them, my half Jewish children. Girls, who may one day be told they have no control over their inherent reproductive rights. And we're just one tiny bit of the equation in the Republican party's plan to erase freedoms and inalienable rights. I told her now is the time to work at Making America Great Again since a bunch of people drank the crazy juice one week ago.
Back to the balls, though. The true mystery of them lies within the adaptability of our palate, and taste buds. Before setting out on this new eating journey two months ago, I was a full-on sweetaholic. When faced with the prospect of a doughnut, or losing a dress size, I always felt life was short, eat the doughnut (I've wanted a LOT of doughnuts the last seven days). Losing weight (19 pounds and counting!) has been a very pleasant side effect of being highly selective of what I eat now, and never the goal. It's so hard to phrase that in a way sounds anything less than limiting, or denying myself the foods I love.
The truth, though, is that with a little effort, you can retrain your mind and body to like, even crave, certain foods. I quit so many foods cold turkey, it's too many to list, but if you're wondering: coffee, sugar (even unrefined), wheat, nightshades (tomatoes, eggplant, potatoes, bell peppers), eggs, dairy, alcohol, and meat are the heavy hitters. I feel incredibly fortunate that I wasn't burdened with headaches or withdrawal of any kind. And I'm not recommending that this is what you should do. It's just what worked for me, and my approach to getting my body back to feeling amazing.
Two months later, the food choices I make are vastly different now. Quinoa and I have a lovely relationship, and I never thought I'd say this, but I hunger for it if more than a day or two passes since I've had it. I know, it's crazy, to me most of all. I finally figured how to cook it perfectly, and will share that with you soon.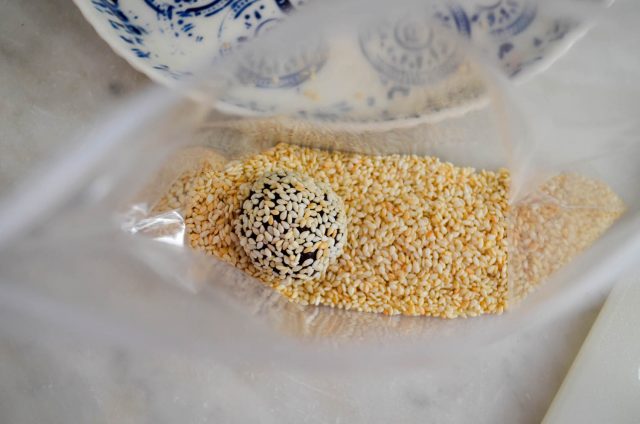 As for sweets? Well, I really don't want more than a few bites of anything dessert like these days, and if it's too sugary, then just about a bite will do. Once I made the decision to quit it all, I was able to make the connection that my proclivity for sweets was more about my mood, and unhappiness with other parts in my life. Cakes, cookies, candy on a daily basis weren't making me happier. They were just filling a void I was ignoring. Still, they'd been such a part of my life, the in-between weeks before I came to this new crossroads were tough (tougher than giving up coffee and fresh mozzarella cheese!).
When I was in Hudson, NY, and popped into Talbot & Harding to check it out, these Tahini, Date & Chocolate Truffles caught my eye immediately.
They actually called them balls, and I just chuckled to myself that no one could figure out a better name for them. For the sake of writing about them here, we're going with truffles. I bought one single, solitary ball truffle to try, and took it in piece of paper to go. One bite, and I was weak in the knees.
I know, I'm with you again here. How can a former sugar addict be brought to her knees by a truffle that's made withe dates, tahini, and cocoa? Okay, there's a pinch of sea salt and some vanilla extract in there, too. It sounds impossible. But it's not.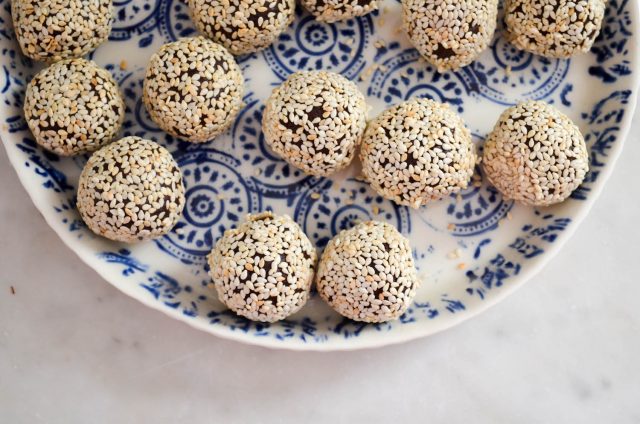 My newly recalibrated palate was satiated by the earthy, natural sweetness from the dates. I've been in a love affair with anything sesame since as long as I can remember. And the cocoa added just enough chocolatey taste to seal the deal.
I went home that night and started tinkering in the kitchen. I suppose I could've just called the store to ask for the recipe, but I geek out on reconstructing a recipe. It only took two passes to get the consistency and flavor I wanted. I snack on them once or twice a day, guilt-free, knowing I'm satisfying my new sweet tooth with better for me food.
You can play around a bit with the extracts if you like. Swap in almond or orange for the vanilla. Try rolling the shaped truffles in finely ground almond meal, shredded coconut, or cocoa powder, if you like, too. These would be lovely hostess gifts for the holidays, and great to put out with a buffet if you're hosting any parties.
p.s. As we turn our thoughts to Thanksgiving, and some of you settle down to contentious family dinners (never been so happy for a quiet dinner with my tribe of 3!), there are countless other who can use a helping hand. Buy an extra bag of groceries, and donate it to a local food pantry. Sign up to help serve Thanksgiving dinner (great way to avoid the crazy uncle), and most of all, remember that help is needed year round. Kindness costs nothing, so sprinkle that stuff like fairy dust every moment you can.
Have you signed the petition, urging President Obama to appoint Merrick Garland to the SCOTUS? Click here. You can also call the White House at (202)-456-1111, and leave your request with a live operator (I was on hold less than 10 minutes!).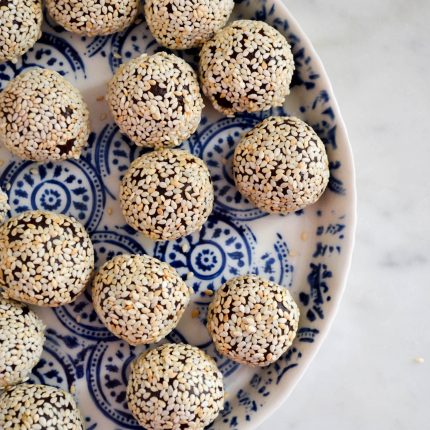 Tahini, Date & Chocolate Truffles
I prefer to buy hulled, raw sesame seeds, and toast them as needed. If you prefer bite-sized truffles, use a smaller scoop, and you should get about 20. If you're doubling the recipe, then a food processor might work fine. Otherwise, I find my mini chopper does a better job. And be patient, just when it looks like this won't work, it all comes together. Promise. I sweat bullets every time, and yet it always works out!
Ingredients
6

Medjool dates

pitted

5

tablespoons

47 grams tahini

¼

cup

25 grams cocoa powder

½

teaspoon

vanilla extract

Pinch

of fleur de sel

Hulled sesame seeds

toasted
Instructions
Add the dates, tahini, cocoa, vanilla, and fleur de sel to a mini chopper. Pulse until the mixture form a smooth paste. Be patient, as this takes a few minutes; let's say 5, or so.

Using a small cookie scoop (2 teaspoons), portion out the truffles. Roll them into balls. Pour some sesame seeds in a zip top bag, or container. Add a few truffles at a time, and give it a shake to coat them all over.

Store truffles in an airtight container at room temperature for up to 2 weeks.