Arugula, Fennel & Mandarin Orange Salad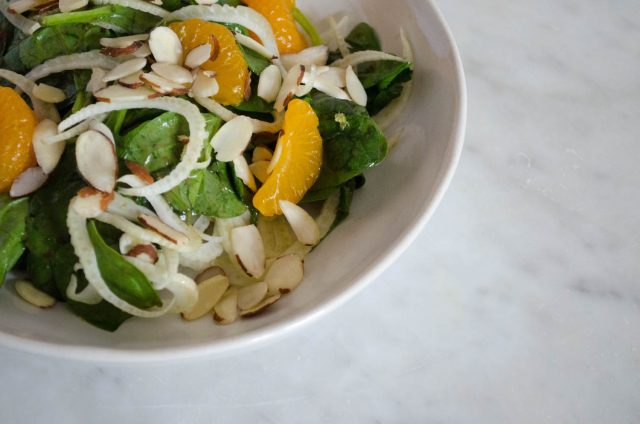 There's not much fanfare to share for this Arugula, Fennel & Mandarin Orange Salad, except that it's crazy good. Did that last sentence even make sense? Probably not. I need to do a better job of selling this salad. What I meant to say is that it's not even my recipe (which is why I'm posting the link for it here). This salad came into my kitchen by way of a friend of Sophia, the owner of the salad dressing company I work with, Dress It Up Dressing.
Sophia's friend hosted a big birthday bash recently. It was a catered affair, but she requested the caterer use Dress It Up Dressing on the salad. Now, talk about friendship (and amazing unintentional publicity). What better endorsement can you ask for than dozens of people gobbling up a salad so good, the caterer had to replenish it three times?
Admittedly, it didn't seem revolutionary to me. All the usual suspects, except I'd never quite combined them in this way. And the mandarin oranges were a real eye opener for me. I don't use canned fruit all that much, if ever, except for the fruit I preserve myself. I picked up some from Trader Joe's to test and shoot this recipe for work.
Wow.
It really was an amazing salad, once again proving that sometimes the best recipes are the least complicated. Five ingredients, that's all you need to make dinner (or lunch) feel a little extra special.
Some more salad inspiration.
Shredded Cabbage, Apple & Toasted Sesame Seed Salad
Wilted Kale Salad & Warm Shallot Vinaigrette
And because brownies are always a good idea (even if they have nothing to do with salad).