Handle With Care: How To Ship Cookies & Other Sweet Treats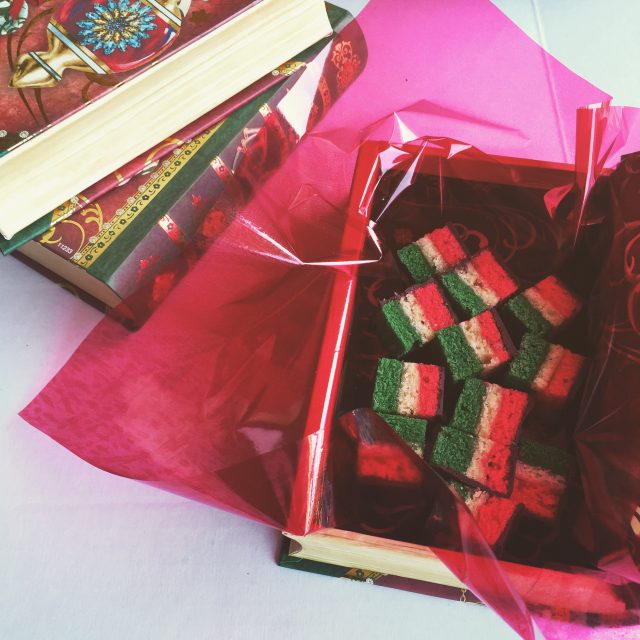 If you're planning on sending sweet treats to friends far away, now is the time to start thinking about how to ship cookies and baked goods so they get there in one piece. I had a trial run mid-November, when sending my Italian Rainbow Cookies to my Food Blogger Cookie Swap matches (more on that, and the recipe for the cookies next week). Even though it's only been a year since I last shipped edible Christmas gifts, I forgot how fun it is shopping for packaging. My pick this year was cardboard boxes that look like books I found at Michael's. You open them to find a secret compartment that I filled with cookies—delightful, sweet intrigue, indeed. Let's break this down, since you'll need to give some thought to each step when it comes to baking and shipping your homemade goods.
What to Make
Packaging is important, but the first step is choosing a treat that can weather the journey. Ask yourself these 3 questions before settling on a recipe.
Can it stay fresh for up to 5 days? Plan on at least 2 to 3 days for shipping, and then a couple of more days for the lucky recipient to enjoy their treats. Choosing a non-perishable recipe, like candied nuts, a really sturdy cookie (like this one), or homemade jam is best the way to go for International gifts, as they take longer to arrive, even with Express Mail, due to customs checks.
How detailed do you want to get with your packaging? What you make affects what you will need to pack it up. Candied nuts, homemade candies and jams, and loaf cakes are pretty forgiving. Decorated sugar cookies need to be wrapped and secured with extra care. Maybe those heirloom cookies are best given as gifts only a car ride away, instead of a plane ride.
Do you have a shipping budget? Again, those candied nuts can go regular standard or first class mail, offsetting the cost of mailing. Your signature brown butter banana bread deserves priority mail treatment, this way your friends and family can enjoy it at maximum freshness.
How to Pack It
Tins do a great job of protecting outside forces, and are my preferred packaging for candied nuts. When it comes go cookies, boxes and tins both work well. Just be sure to choose a snug fitting container. Bake loaf cakes in disposable pans (aluminum or parchment paper), or choose a keepsake pan that your recipient can use for years to come.
Bubble wrap is your BFF. Remember to add a layer inside the cookie box or tin before closing, and packing it up for shipping. If you're sending ornate sugar cookies, going the extra mile, and individually wrapping each one is something you might want to consider. I like to tuck jars of jam inside a ziptop bag, in addition to wrapping in bubble wrap, to protect the other contents of the box in case of any breakage.
Dazzle does wonders. Sure, the sweet treats are the main event, but some window dressing is a nice touch. Gussy up kitchen twine with a keepsake ornament, or break out the scissors to make festive curls out of ribbon. Wrapping loaf cakes in a keepsake kitchen towel is a favorite of mine.
Ready to Ship
Filler is your friend, much like bubble wrap. Shredding used gift wrap is a brilliant idea I read about on Martha Stewart's website I also use scrunched up newspaper and magazine pages—this is a great way to reuse all the magazines taking up space on your coffee table (guilty as charged).
Standard and First Class mail are fine for non-perishable items like nuts and jams. My experience has been that packages arrive within 3 to 4 business days, but the post office doesn't guarantee anything. For more perishable baked goods, go the extra mile and pony up the bucks for Priority Mail. Your gifts will arrive within 2 business days from the mailing date, and you get a free tracking number to monitor the delivery status. USPS also offers flat-rate boxes in three different sizes if you're sending multiple items to one address.
The post office will be busy regardless of time or day during this month, but you should still be mindful about when you mail your package for perishable items. Remember, Sunday is not a business day, so Priority Mail items shipped on a Friday actually take 1 extra day to arrive. An important note for International shipments. Once your package gets into the country, it has to pass through customs. There's no real way to track it at that point, so you'll have to wait for a thank you note/call/email to arrive.
I hope these tips from my own years of experience mailing sweet love around the world (I've shipped as far as France and Morocco). Here are some of my annual favorites for shipping (and a few new hits, too). Now time to go plan my own holiday baking schedule.
{Standard & First Class }
Candied Pecans (dairy free, gluten free)
Sweet & Savory Candied Walnuts (gluten free)
Hot Cocoa Mix (dairy free, vegan)
Meyer Lemon, Ginger & Mint Marmalade (dairy free, gluten free, vegan)
Mom's Gingerbread (dairy free)
Clementine Rosemary Marmalade (dairy free, gluten free, vegan)
Grain-Free Chocolate Chip Cookies (dairy free, grain free)
Homemade Pancake Mix (dairy free, egg free options)
{Priority Mail }
Chewy Fudge Brownies (dairy free)
Deep Chocolate Cherry Cashew Cookies 
Music Pairing: Christmas Wrapping by The Waitress