the best cornbread recipe, ever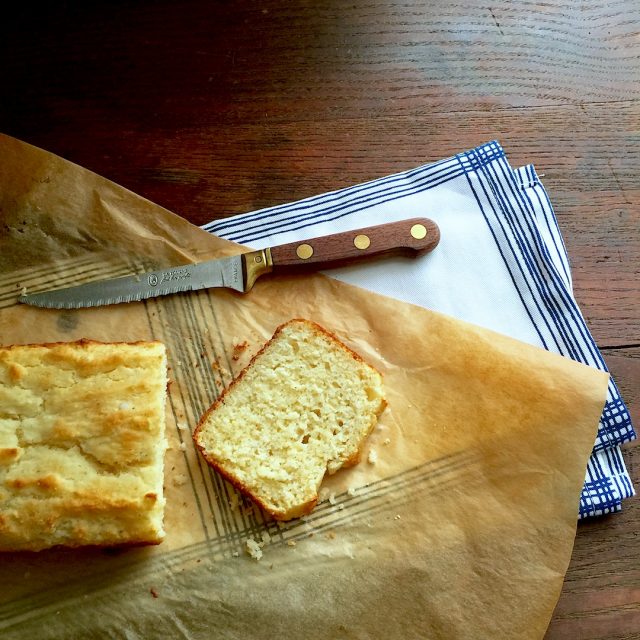 I've attempted cornbread and corn muffins many times over the last couple of decades. None have wowed me enough to make them a second time. The thing is, I love corn muffins. Back in 1994, just before I met Mikey, I had a job as a bank teller at Manufacters Hanover Trust on 14th street. It was a good part-time gig while I was in college. I would go across the street to a diner on Sixth Avenue, and have a bowl of chicken soup and a toasted corn muffin with butter for lunch. I know, a meal fit for an 80 year old, and I was all of 20, but it was pretty cheap, comforting, and most importantly good.
Flash forward some 20 years, and what does one of my best friends bring me back from a recent trip to Washington, D.C.? A sack of white cornmeal from the George and Martha Washington House, located in Mount Vernon, VA. I looked at the sack, and thought "gee, I'm never going to use this before it goes rancid". My experience with cornmeal is that its highly perishable, and this one was simply in the sack. Plus, it was white cornmeal; I usually only use yellow. Marina also gave me a sheet of recipes that came with the sack. I normally never pay attention to those recipes, but I figured "hey, why not".
And then I was schooled in baking cornbread. Not just any cornbread. The best cornbread I've ever made. I'm very aware that it could be the cornmeal itself, and haven't yet tried this recipe with regular, ol' supermarket cornmeal. I have a hunch that while the cornmeal makes a marked difference, it really comes down to the recipe. It has the right ratio of wet to dry ingredients, and just enough butter to add flavor and keep the quick bread from being dry. I've made this using Silvana's multi-purpose flour, too, with great success.
Speaking of cornbread, mine just came out of the oven. I mixed one up before starting this post (it's that easy, and fast!), and now it's cooling on the counter for tomorrow morning's breakfast. And now it's time for me to tuck in. A busy week awaits, as I get ready to ship the spring issue of the magazine to the printer. Here's a peek at some of the recipes you'll see in there.
One Year Ago: 18 Hours in Philly
Two Years Ago: The Gift of Nothing
Three Years Ago: Avocado Bruschetta
Four Years Ago: Bumps in the Night
Five Years Ago: Smoky Cannellini Bean & Red Kale Soup
The Best Cornbread, Ever
Makes one 9-inch loaf
The original recipe called for baking this in an 8-inch square pan. I decided to use one of my loaf pans from Paris. Keep that in mind when it comes to the baking time if you decide to use a different pan size, too.
3/4 cup (117 grams) cornmeal, white or yellow
1 cup (150 grams) flour
1 tablespoon (15 grams) baking powder
3/4 teaspoon (3 grams) kosher salt (I used Diamond Crystal)
1/3 cup (66 grams) granulated natural cane sugar
1 cup (237 ml) milk, whole or 2%
1 egg
2 tablespoons (28 grams) butter, melted
Preheat the oven to 425F. Line a 9-inch by 3-inch loaf pan with a sheet of parchment paper long enough to hang over the sides of the pan.
Add the cornmeal, flour, sugar, baking powder, and salt to a deep bowl. Whisk to combine.
Add the milk, egg, and melted butter to a measuring cup or small bowl. Beat with a fork until well mixed. Pour the milk mixture over the cornmeal mixture. Stir with a fork until just mixed, and there are no visible signs of flour.
Scrape the batter into the prepared pan. Bake for 20 minutes, until lightly golden on top (if using white cornmeal, it'll be barely golden), and the cornbread springs back when tapped with your finger. Let cool for at least 20 minutes before cutting. Wrap any uneaten cornbread in a clean piece of parchment paper, and store at room temperature for up to two days.