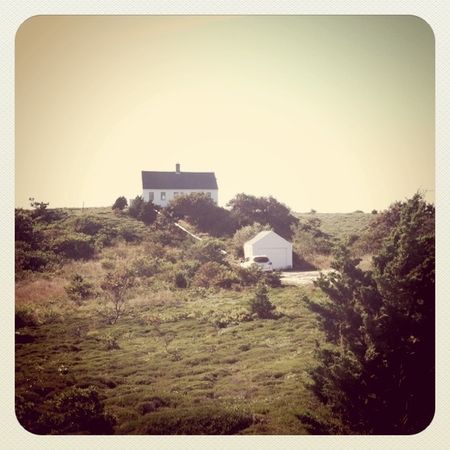 This is Edward Hopper's house. The one he used to escape city life during the summers with his wife Josephine. Mikey loved Hopper's work, and this was one of the reasons he was drawn to North Truro decades ago. The grand portrait glass window, which can't be seen in this photo, has a view of North Truro and Provincetown.  A landscape Hopper was often inspired by.
As with time, that landscape has changed. A horrid, contemporary-looking house has been constructed, obstructing the view Hopper once gazed upon. Mikey and I watched news of this closely, and I know it would've saddened him to see the building, as I did for the first time, yesterday.
Mikey's sudden death means there was no time for goodbyes. And if there had been, it wouldn't have felt like enough time anyway.
What we did have was one perfect last morning and afternoon that Sunday, August 7th. Both as husband and wife, friends and parents. Sundays were always my day to sleep in. I could tackle the busyness of Monday through Saturday, so long as I had one morning a week to be lazy. No alarms to rouse me, no lunches to pack or markets to visit. Just some extra sleep, and waking up to kisses was a fringe benefit too.
That last Sunday morning Mikey came into the room and rubbed every morsel of my skin. It's almost like he knew he needed to leave a lasting impression. I opened my sleepy eyes, and whispered for him to lock the bedroom door. The girls were watching cartoons.
We made love for the very last time. I didn't know it then. I had no idea he would be gone forever nine hours later. But what I did know is I was ready to say yes to something he'd been asking me. He'd been teasing about trying for "the boy". As he left the room to tend to the girls, leaving me with just a few more minutes of quiet peace, I decided to tell him that night that we should give it a try.
I've been hoping every day since he died that the condom broke. Wishing for a miracle, albeit it one that would send my world into overdrive. I was wishing for one last parting gift. A consolation prize, of sorts.
My period came, much to my sadness, and with it another flood of tears and reminder that the life I wanted is not available to me anymore.