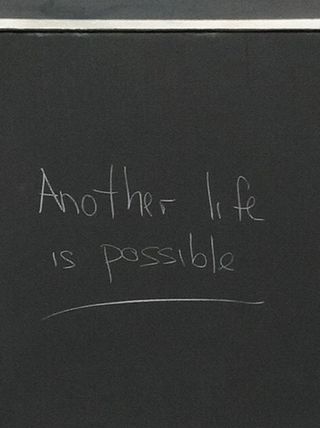 I took this picture a few months back when Mikey, the girls and I were at Socrates Sculpture Park in Queens. The park is filled with art installations, and this saying was scrawled on one that reminded of the top of a lighthouse. Something about those four words jumped out at me, beckoning me to take a picture. Almost as if I would need this reminder down the road.
I've been thinking it would be therapeutic to write a book about what not to say to a grieving widow. While it's true most of it is well-intentioned, some of it leaves me flat out bewildered. I especially get a kick out of the ones that say God has a plan. Um, more like a twisted sense of humor is how I'd see it if I considered myself a religious person.
Really, I'd love to know your plan for me God.
Was last week's earthquake that shook NYC for 30 seconds on your checklist?
How about the hurricane two days ago—you know the one that had me leave the Cape in haste, to keep my children out of harm's way.
Oh, and there's that little bit about my husband.
I'm laying on the sarcasm thick, and for those of you who are faithful folks, please understand he's your God these days—not mine. He hasn't been mine since 7th grade when I came home from Catholic school and told my mother I didn't want to make my confirmation. I appreciate the encouragement and support, but please the whole He has a plan for Me just doesn't cut it these days.
The piece of advice that left me feeling the most bitter, though, was when someone told me I'd never recover—the best I could hope for is to function again one day. That's flat out the worst advice you can give to anyone who's life has come crashing in like high tide during a hurricane.
Functioning isn't an option.
Functioning isn't a way to live.
Functioning is not going to be what I settle for in this lifetime.
Happiness is my goal. I know it's a long way off. I know the first year is going to suck more than it will bring joy.
The first anniversary.
The first birthday, mine.
The first Halloween.
The first parent-teacher conference.
The first Thanksgiving.
The first school recital.
The first Christmas.
The first New Year.
The first snowfall.
The first Valentine's Day.
The first birthday, his.
The first day of spring.
The first birthday, the girls.
I have a year of firsts ahead of me, but I will not simply "function" through them. I will live them. Every single moment. And from each one, I will rebuild myself into a whole person. A woman who one day will dream that she can be loved again, held again, and made to feel like the most special person on earth.
So God, you may want to wait before shopping around the book proposal on my life—I've got first dibs on those rights.