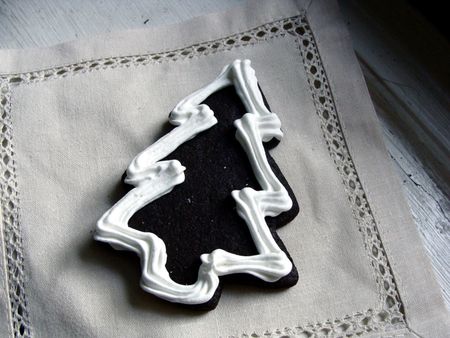 I've only recently started making royal icing.
Like, I'm talking about yesterday was my first time. Ever.
My mother wasn't a baker, but come Christmas, she was legendary for her gingerbread houses. The money she earned from selling them is what made presents under our tree possible.
I always remember her going in search of meringue powder to make the icing. She'd stock up when she found it at a good price because it was so darn expensive. For decades, I'd written it off as too bothersome to make from scratch, so last year when I made gingerbread houses, I did what many do (Gail, this is where you'll want to turn away)—I used the powdered royal icing mix.
It was just a cement of sorts anyway, right?
Wrong. The stuff is chalky and just not worth it. I'll go so far as to say it defeats the edible purpose of the gingerbread house itself.
This year I succumbed to peer pressure and decided royal icing was one phobia I had to get over. And when I did some searching, I felt quite foolish.
Do you know what ingredients go into homemade royal icing?
Egg whites, vanilla extract, lemon juice and confectioner's sugar—at least in the recipe I settled on. I kept looking for the magic ingredient, but there were no pixie wings or elf eyelashes needed.
Just a kick ass mixer that could beat the icing for five minutes while I wolfed down some French onion soup for lunch.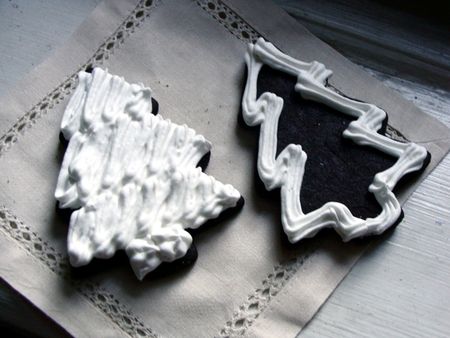 Homemade Royal Icing
makes about 2 1/2 cups
Need another good reason to get making your own royal icing from scratch? If you have celiac disease, a dairy allergy or are allergic to nuts, the store bought stuff is usually manufactured in facilities that also process nuts, wheat and dairy. Provided you stock your pantry with gluten free vanilla extract, you can be assured the homemade stuff is gluten-free, nut-free and dairy-free.
3 large egg whites (save yolks for another use)
1 teaspoon vanilla extract
1 teaspoon freshly squeezed lemon juice
1 pound Confectioner's sugar
Add the egg whites, extract and lemon juice to the bowl of a stand mixer. Beat until foamy, about 30 seconds. Add the sugar, and starting on low speed, mix until the sugar is mostly incorporated. Increase speed to high and beat until stiff, glossy peaks form, about five minutes.
Dampen a cloth kitchen towel, and drape it completely over bowl to keep icing from drying out as you decorate your cookies. Leftover icing can be stored in a tightly sealed zip top bag, and stored in the refrigerator—for how long, I'm not sure yet, but sure Gail can chime in here and let us all know. In fact, I had no idea I could even store leftover icing until I coincidentally read her post today.
p.s. Mom does make one great point about why she started using meringue powder—all those egg yolks. My recent love of homemade doughnuts has left me with a surplus of whites to use up, so look at this recipe as yet one more reason to make doughnuts too!
Disclaimer: Yes, these are raw eggs, so while I'm totally fine with my kids eating cookies iced with this, please do not take this recipe or post as the word of God or the CDC. It's just one woman's take on conquering her fears of making royal icing from scratch.