homemade buttermilk pancake mix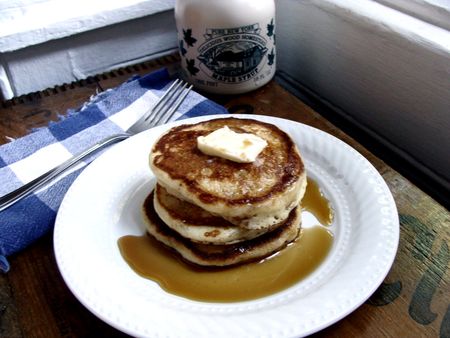 To think, just a few weeks ago the Mr. and I were settling in for our vacation in North Truro with the girls. The first four days were rainy, but that didn't matter. We were in Cape Cod, and a rainy day there rivals a sunny day here.
By day four, though, we were all feeling a little lazy, and had indulged in an afternoon of the boob tube. Watching both Giada and Ina Garten scoop and sweep cup after cup of flour—with their fingertips, left me scratching my head. Very early on in my baking follies, I remember being told to spoon and sweep. As I've evolved as a baker, I now rely on weights. Not all cups are created equal, so that alone can mean the difference of an ounce or two.
Scooping vs. sweeping is a whole other ballpark. Using one set of my measuring cups, the difference is just under an ounce.
Ounces matter in baking.
A lot.
To be even more precise, grams matter in baking, and there are 28 of them in an ounce, so a recipe with a variance of 2 ounces either way, will certainly affect your end result.
Baking really is easy, and not something to fear. It is a science, though, and it requires precision. It requires accurate measurements to achieve the intended outcome.
But what about the majority of people buying cookbooks? How are they measuring flour? Turns out many of you are scoop and sweepers. Many are also moving towards weighing.
While weighing is my rule of thumb, there is one recipe I never weigh. Well, until I recorded this recipe for you, that is. In fact, I don't spoon and sweep for it either. I dip the measuring cup in my bucket of flour and sweep with the back of a butter knife.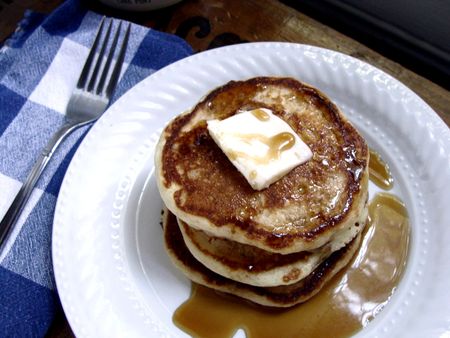 Pancakes are my exception to the rule. The only good reason I can figure is that I need breakfast uncomplicated. Scooping and sweeping seems uncomplicated. At least at 6:00am.
Last year I decided to test out making a mix in advance with all the pre-measured ingredients, figuring it would make for an even easier morning routine. I was right, and decided to make package homemade pancake mix for our friends as a holiday present. I added two scoops of mix to a clear cellophane bag, slapped on a pretty ribbon and included directions for adding the wet ingredients and cooking instructions. I didn't mention if they should scoop and sweep, but suspect they did.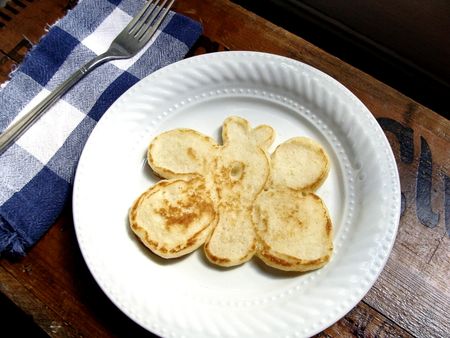 Like everything in life there is a margin of error. Pancakes are forgiving. Souffles are not. But it's Monday, so let's ease into the week.
Start with this basic pancake mix. It's stage one in the metamorphosis of becoming a baker. Before you know, you'll be fluttering through the kitchen, weighing, wondering why you ever scooped and swept in the past.
And about that science degree. You don't need one to make these cute butterfly pancakes. I'll show you in this 45 second video how easy they are to do with just a spoon and hot griddle. 
Need one more reason to welcome Monday? I'm starting a Mystery Cookbook Mondays series over on the Facebook fan page. It's the proverbial icing on the (pan)cake.
Homemade Buttermilk Pancake Mix
Serves four

Somehow this little pancake post became a mini-novel as I began typing the recipe. I wanted to included an egg-free version, using Greek yogurt, that I'd created a couple of years ago. Then I remembered the dairy-free pancakes I made with Isabella's class last year to accommodate a cow's milk allergy. How could I not share these with all of you?

Last note, for now. You can double, triple, quadruple this recipe. Just be sure to shake the container before scooping and sweeping to re-mix the dry ingredients.

Easy Tips to Make the Best Pancakes
Testing grill readiness is easy with this trick. Sprinkle a few drops of water in the pan. When they "dance" across the surface, the pan is properly heated.
Pancakes are ready to be flipped when the edges are set and air bubbles have formed on top. The actual cooking time for each side obviously varies depending on the size.
Wonder if pancakes reheat well? The answer is yes. For really quick mornings, make a double batch on the weekend
and store in a resealable bag or container in the refrigerator. Add one pancake to each slot on your toaster and warm using the next to lowest setting.
For the Mix
1 cup (5.2 ounces) flour
1 tablespoon (16 grams) sugar
1 teaspoon (5 grams) baking powder
1/2 teaspoon (2 grams) baking soda
1/2 teaspoon (2 grams) sea salt
1/2 teaspoon (1 gram) vanilla powder, optional
To Cook the Pancakes
2 tablespoons (1 ounce) butter, melted plus more to coat the griddle
1 cup (8 ounces/225 ml) buttermilk, plus 1 tablespoon more if you like a thinner pancake
1 large egg
Add the mix ingredients to a medium bowl; whisk to combine. May be prepared up to one month in advance and stored in an airtight container.
To prepare the pancakes, whisk the ingredients together to make sure ingredients are thoroughly combined again. Add to a medium bowl.
In a clean separate bowl, add the melted butter, buttermilk and egg. Whisk together to combine. Pour over dry ingredients. Using a wooden spoon, stir together just until batter has formed and there are no visible streaks of flour—it's okay if there are lumps.
Heat a griddle or skillet over medium heat. Coat with a pat of butter. Add generous tablespoons of batter to the pan. Cook 2 to 3 minutes, until the edges look set and sir bubbles form on top. Flip and cook 1 to 2 more minutes until done.
Serve with fresh preserves, fruit compote or warm maple syrup.
Egg-Free Buttermilk Pancakes
Follow the directions for making buttermilk pancakes, except omit the egg and add 1/4 cup Greek yogurt in its place.
Dairy-Free Pancakes
Omit the baking soda and increase the baking powder to 2 teaspoons.
Substitute 6 ounces (3/4 cup) almond milk for the buttermilk.
Substitute 2 tablespoons of vegetable or canola oil for the butter.
Coat the griddle pan with vegetable or canola oil to cook the pancakes.