my best chocolate chip cookies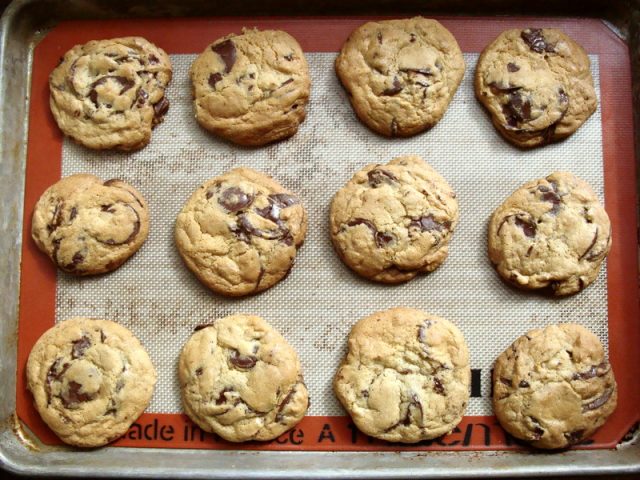 The perfect chocolate chip cookie. Is there anything left that hasn't been said about it? Whether it's your grandmother's or David Leite's, every day someone claims to have the best chocolate chip cookie recipe you'll ever need. I've literally worked on this one for years.
I kid you, not.
I'd been making chocolate chip cookie dough and storing it in the freezer for over a decade and always wondered why it tasted so much better when I baked it after the fact, instead of when the dough was fresh made. Well, unless you've been living under a rock, you probably know why having read David's article. And if you just came to from an extended sleep, the reason makes absolute sense. Spoiler alert: A chill time in the fridge allows the flour time to absorb all the flavors and moisture.
I like to call it marinating time, which always illicits a chuckle or two. Gail prefers "dry aging", and that's why I adore her.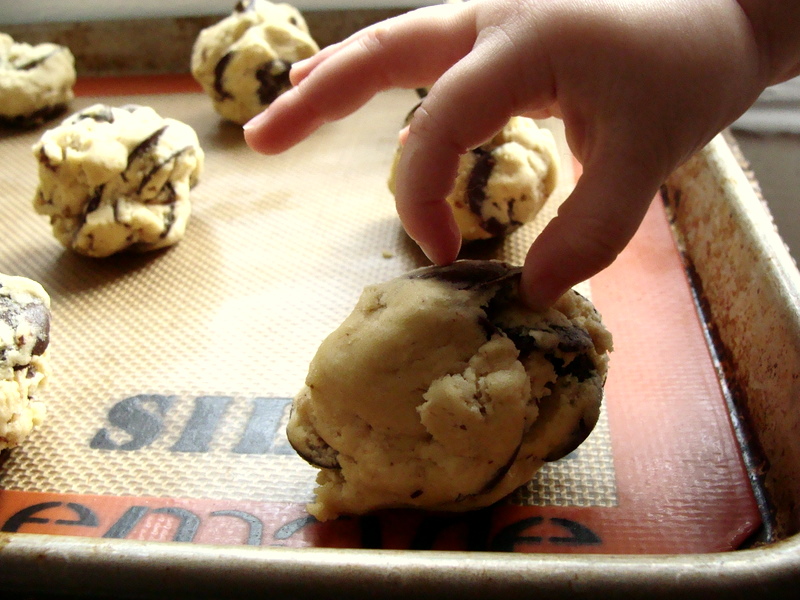 I swear this was not a posed picture. It's the hazard of juggling a cookie shoot and watching a 22-month old at the same time.
So back to this best of the best cookie slug out. It's like the wild west in food blogging. What makes my recipe so different, you ask? Well, I don't claim it to be the best and only recipe you'll ever want or need. Life is too short for definitives, don't you think?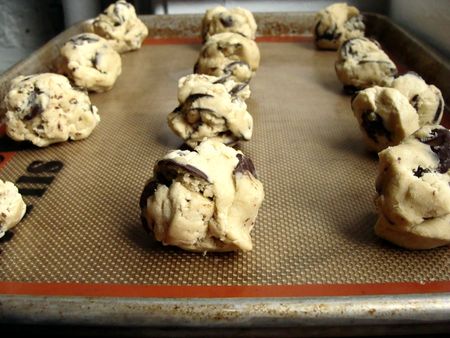 After years of making variations of this recipe, it is my best chocolate chip cookie.  An original recipe that has been in the works for years. And while I'm happy to share some credit with Mr. Leite, whom I immensely respect, I'd been doing that marinating thing for over a decade. He just helped understand why it made such a difference.
Oh, and he also won me over with the chocolate discs. They lovingly spread as they melt, leaving you with a bit of chocolate in each bite. I'm not going to tell you these are the only type of chocolate you can use, though. That's too fussy for a cookie of this simple nature. I'm lucky enough to live near a store that sells Guittard 55% chocolate discs for only $4.20 a pound. Take that Fresh Direct and Whole Foods with your hoity toity prices.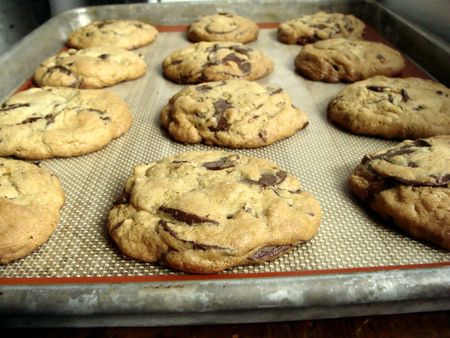 No, rather than dictate what type of cookie you should eat, I want to help you find the right cookie for you. So, if you like regular chips, don't worry about the cookie police. I'll throw them off your scent. Frankly, Ghiradelli and Scharffen Berger make great quality chips that I've happily enjoyed in past incarnations of these cookies.
One thing I will urge, though, is to stick to the baking time as noted. The'll look undercooked when you first take them from the oven. You'll be tempted to put them back in for another minute, or even two. I've been guilty of said "crime" and my punishment was a too crisp cookie with nary a chewy center. The reward is in the inner-chewiness of the cookie, so trust me. The two minute cooling period on a rack will finish the "cooking process".
Most recipes I create are inspired for or by someone else. I was a bit selfish in this one. These are my cookies. I created the taste and texture just for moi. But I'm not too selfish to share the recipe with you. In fact, I'm going to be quite generous and share lots of these cookies at Annie's Blue Ribbon General Store on Saturday, March 27th for my friend Alison's book party. Come join us from 3:00 to 5:00pm for some of these cookies and a sneak preview of my deep chocolate cherry cashew ones. And, yes, there'll be plenty of cold milk for dunking.
Post Note (added 11/15/2010): Wondering how to adjust this recipe is baking a high altitude? Thanfully Barbara at Vino Luci took the guesswork out for you! Her testing yielded the following directions: Add 1/8 teaspoon less baking soda, and bake in a preheated 360ºF oven for only 10 minutes. For more details on high altitude baking, take a look at this post on Barbara's website.
my best chocolate chip cookies
makes 36 three-inch cookies
Perhaps one of my favorite things about this cookie is they're stress free. Rather than planning on time to make the dough and bake it right away, it's done in stages. The dough takes all of 5 minutes to make—10 minutes if you decide to nix your stand mixer and do it all with a wooden spoon. Then just sit back and let the dough transform in the fridge, and bake as you need them.

You can even form the balls and freeze them on a lined cookie sheet. Once set, store them in an air-tight plastic bag and you'll be ready for surprise company or a last-minute treat at a moment's notice.

4 cups flour (18 ounces)
1 teaspoon baking soda
1 teaspoon salt
2 sticks butter, softened (8 ounces)
2 cups sugar (15 ounces)
2 tablespoons molasses
3 large eggs, at room temperature
1 1/2 teaspoons pure vanilla extract
12 ounces bittersweet chocolate discs
In a large bowl whisk together the flour, baking soda and salt. Beat butter, sugar and molasses until light and fluffy. Add the eggs and vanilla extract. Beat until well mixed. Add the flour mixture and mix until just combined. Stir in the chocolate discs. Let sit in refrigerator overnight before baking, and may be stored this way for up to two days. Yes, I realize this is the very hard part.
When ready to bake, preheat oven to 350ºF. Line baking sheets with silicon mats or parchment paper. Gently form dough into 1 1/2 to 2-inch balls and place 2 to 3 inches apart on prepared baking sheet. Bake for 15 minutes on middle rack. Remove from oven and let cool on pan for 2 more minutes. Transfer cookies to a rack to cool completely if you have any will power left.
Note: I've also tested these cookies using that "half-white" flour I wrote about recently. They were wonderful, and while I wouldn't sell them as a healthy cookies, it's nice to know the universal uses of this locally produced flour. Also, I'm incorporating weight measurements in each of my recipes. This one has some dry ingredients as weight and others by measure. Eventually all the recipes will have both so my international friends can enjoy these recipes hassle-free.