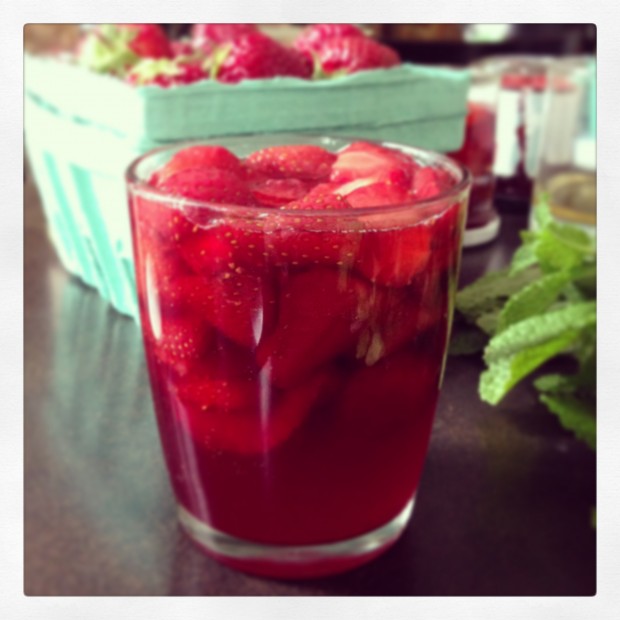 Oh dear May, your exit feels as abrupt as your entry. Time feels like a treadmill full speed ahead. Much as I try to keep up, I always seems to fall behind. In some ways it's a good salve. One day you pluck your head from the fog and realize in just two months, it'll be two years since a jagged gap was suddenly inserted into your life.
How did that happen? How is it I've managed to live almost two years since that moment? I suppose it's resilience and determination. But mostly, it's the fact that I learned very early that bad things happen to good people. Life is fickle, and the same day that brings immense joy and happiness can also wield deep heartache.
But still I keep going because deep down I do want to be happy. I'm an incredibly independent, headstrong woman, but oh did I love being part of a couple. Michael and I were about as opposite as two people could be. The fact that we spent almost 17 years together is often perplexing. As I read his journals, though, what I'm beginning to understand is we weathered all of our differences because we were both hopeless romantics deep down. We believed in love, longed for it, and intrinsically understood that love is a living, breathing thing that requires respect and care. Love is susceptible to the elements, and left unattended it will simply wither and die.
Having said this, what I'm about to admit next may seem contrary. Yesterday I resumed my weekly date nights with myself. My recent Paris trip reminded me that I need that weekly outlet to nourish my mind and soul. I'm not good when I'm forced into any one role 24/7. I never just identified as being a wife, mother, or even writer. Before I can be any of those, I need to first be Jennifer. She is the foundation upon which all those characters are built.
I've wandered far from my goal of sharing a few things that I've really been enjoying lately, so before I lose you all together, here it goes…
— I saw this on my recent date night…Before Midnight. I hate movie spoilers, so I won't say anything more than if you loved the first two movies, you will not be disappointed in this last installment.
— I read Let's Talk About Owls with Diabetes during my trip to Paris, and like every David Sedaris novel it was the perfect cure when laughter is on short supply.
—I started reading The Forgotten Gift: An Interrupted Novel a couple of moths ago, and only turned my attention away because it's on my kindle. Sometimes, most times actually, I just want a real book to hold and read, to feel the pages turn between my fingers. Well, that's a silly excuse once you start reading this compelling novel. The back story is it was written by a friend's sister-in-law while she was dying of cancer. It's a captivating story, and the proceeds go towards helping her son come to terms with the loss of his mother. Good news is it's now available in paperback too. Definitely add this to your summer reading list.
—This video I captured while strolling through Paris.
—Of all the interviews I did for the book, this one is perhaps my favorite. After a month of being on the road, and doing dozens of radio, print and TV interviews, I finally felt like I hit my stride.
—These muffins Luisa wrote about recently. Once this heatwave breaks next week, I'm so making them.
—Spring and summer means the farmers' market brings back some old friends…strawberries, asparagus, and peas, oh my! I've linked to a few of my favorite recipes, and here's an oldie but goodie below to nudge you into the kitchen.
Strawberry Rhubarb Crumble
serves 8 to 10
For the Topping:
1 cup (125 grams) old-fashioned oats
1/2 cup (45 grams) toasted hazelnuts
1/4 cup (49 grams) coarse natural cane sugar (like Sugar in the Raw)
1/4 teaspoon (1 gram)  fine sea salt
Leaves only from 3 sprigs of lemon thyme
Dash of ground cinnamon
4 tablespoons (2 ounces) butter, melted
For the filling:
1 pint (10 ounces) strawberries, stems removed
4 stalks (12 ounces) rhubarb, cut into 3/4-inch pieces
1 tablespoon (10 grams) cornstarch
3/4 cup (150 grams) granulated natural cane sugar
Preheat the oven to 375ºF.
To make the topping, add the oats, hazelnuts, coarse sugar, salt, lemon thyme and cinnamon to the bowl of a food processor. Pulse until it forms a coarse, sandy mixture. Pour in the butter and pulse 3 to 4 more times until the mixture comes together into little clumps. Set bowl in the refrigerator to chill while you prepare the filling.
Cut the strawberries into quarters and place in a deep bowl. Add the rhubarb, sugar and cornstarch to the bowl. Using a spoon to stir together until well coated. Scrape fruit mixture into a 10-inch deep ceramic pie plate or 8-inch square glass baking dish.
Sprinkle the oat topping evenly over the fruit and bake for 35 minutes, until the juices bubble and the topping is a deep golden color. Remove from oven and let sit on a wire rack until cooled, about 2 hours. May be prepared and baked the night before—just cover the top with plastic wrap and let sit on the counter until ready to serve the next day.
***
Dairy-Free Strawberry Rhubarb Crumble
Omit the butter in the crumble topping. In its place, add 1 tablespoon olive oil and 2 tablespoons (30 ml) pure maple syrup.
***
Serving Suggestion:
I love a few generous spoons of this over thick, creamy yogurt, especially for breakfast when I'm feeling a little decadent.
Storing Leftovers:
The crumble is fine covered with plastic wrap overnight at room temperature. Anything longer than that, I suggest popping it into the fridge.