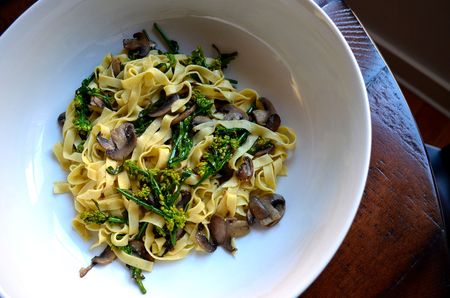 Navigating life without my sidekick is lonely. There's no one who gets my Seinfeld references. I often feel alone in a crowded room. It's easy to let this get me down, but I work minute-by-minute to temper my sad feelings with the memories of all the good ones.
Making pasta is one of those good memories. I'd never made it until I met Mikey. For a single guy, he had a relatively good collection of kitchen equipment. A blender, an assortment of pots and pans, a demitasse coffee maker, and an Atlas pasta maker. I don't remember if he had ever attempted making it before we met. In fact, I don't remember the first time I even made it. I do remember shedding many tears over the years of failed attempts though, mostly from not enough liquid in the dough.
Over my 16 years of making fresh pasta, I've learned three key things. First, room temperature eggs make a difference. They blend more easily with the flour. Pasta dough needs to nap, so once it's kneaded, wrap it in plastic wrap and let it rest on the counter, at room temperature, for at least 20 minutes, and up to an hour if you have the time. My last trick is using some semolina flour. It helps add elasticity to the dough, making it easier to roll out.