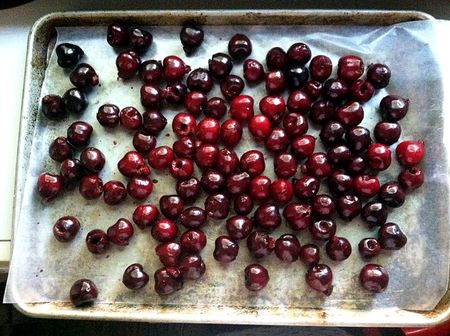 This blasted heatwave has me worried, and not for the reasons any sane individual would think. Frankly, it's cramping by canning schedule. Who wants to boil pots of water to properly seal jars?
Not me.
Next week we'll talk about making maraschino cherries and an irresistable cherry conserve, which is the base for making homemade cherry slushies. Today calls for something that doesn't require adding more heat to fan the flames of the sun's rays.
Thankfully there's more than one way to preserve a cherry (and strawberries, blueberries, raspberries, really the list goes on and on). When I remodeled the kitchen a few years back, I purposely sought out a fridge and freezer that could hold my half sheet pans. I'm really glad I thought ahead, because right now chances are you'll find a tray in my freezer, similar to the one you see above, at any given moment.