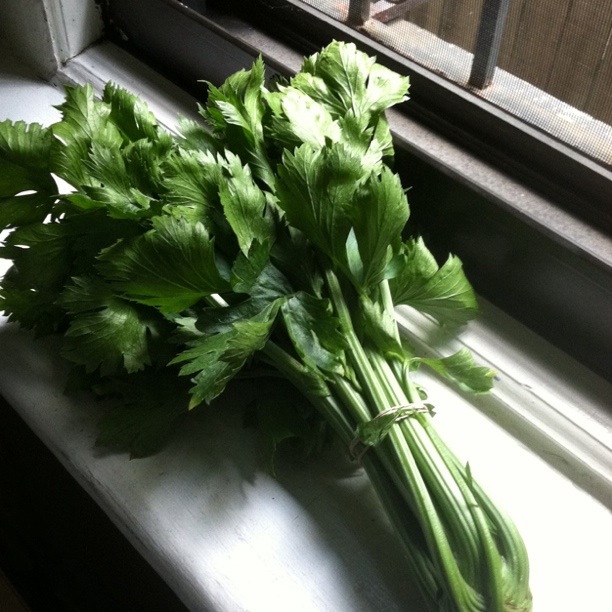 To the rest of the world, this simply looks like a bunch of celery. Albeit an incredibly gorgeous, delicate bundle, with a flavor only celery from the farmers' market could possibly capture. That bunch in particular probably came from Maxwell's Farmstand at the Grand Army Plaza farmers' market.
I feel the lump welling up in my throat as I write this, and yet I can't pull my fingers away from the keyboard. I feel crazy even going "there", but that celery is the last bunch of celery I bought while Michael was alive. It's celery for heaven's sake, and it's capable of reducing me to tears. At moments like this I want to bury my face into a pillow and collapse into a pool of tears. I bought that celery the day before Mikey died. I came across it while looking through my photo archives for a recipe of the Broccoli Rabe & Fresh Ricotta Frittata from Homemade with Love, and suddenly found myself frozen as I inched closer to the photos I took in the days leading up to his death.
It's not just a bunch of celery, just like these aren't just a box of matches.
It's a bunch of celery on the windowsill of our old apartment…in the kids' old room, which was actually our bedroom before we even had kids.
That celery represents something I can never have again. That celery represents a routine I so loved, and have struggled to get back into the last 20 months. See, before Mikey died, I woke up every Saturday morning at 7:00am, got dressed quietly and snuck out of the house to go to the farmers' market at Grand Army Plaza. I would beat the crowds, and get the best of whatever was in season before most people had rubbed the sleep from their eyes. Continue reading »