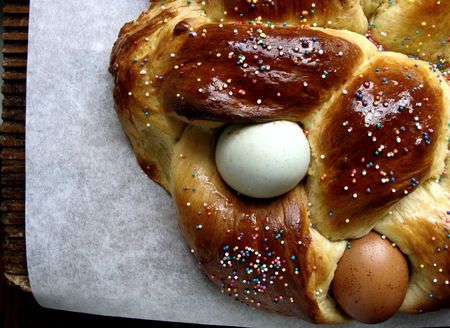 It's hard to believe that just a year ago we felt complete and normal. I've tried to find the words to start this post for a week now. Nothing flows freely from my fingertips, but I wanted to share this recipe for Easter Bread with you. I hadn't realized how close we were to Easter until I went to the local pastry shop with Virginia last week. Lamb-shaped cakes and rounds of sweet bread filled with colored eggs adorned the counter tops.
Last year our house was overflowing with homemade Easter Bread, as I was testing it to be featured in the Washington Post. I read the old post I wrote back then, with tears dripping from the corners of my eyes. How was that my life just one year ago?
Then there's this picture I have of Virginia kneading the dough with Mikey. People constantly tell me she's too young to be as deeply affected by his death as Isabella, and it's infuriating. She may be barely four years old, but she's not stupid. One day she had the most loving, caring, involved daddy, and then he disappeared as quickly as flipping a light switch.