I looked in the mirror a few days ago and thought "holy shit" you're going to turn 39 any day now. Then I glanced back, this time with a smile, and reminded myself I have survived 39 years on this planet. Sometimes the canvas of our lives seems like a Jackson Pollock painting. A spattering of events that require careful introspection so as to not miss the meaning in all those moments.
Yes, my 39 years thus far have had their share of doubt, uncertainty, and sadness. But, they have also been filled with more love than some people experience in a lifetime (and I'm counting on being here for at least 39 more, fingers crossed). The tough times etch their way into our souls like a branding iron fresh from the flames. At moments, I have felt tired and weary, quite sure I was ready to throw in the towel. The last 16 months have been particularly exhausting. It has felt like dog years in terms of my growing process, but I am still standing. I wake each morning with resolve, ready to do it all over again…ready to keep this promise to myself.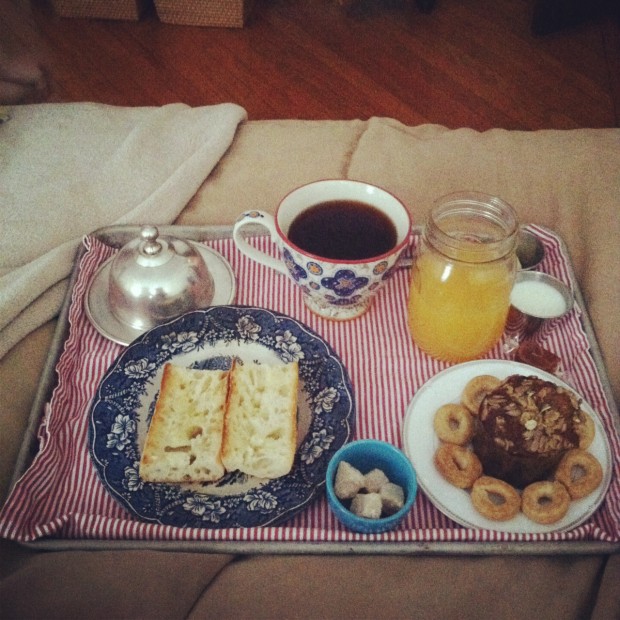 My determination to always look on the sunny side of life is fueled by many things. A deep sense of gratitude for the love I've had, the love I've lost, and the love that continues to cast a glow in my life. Waking up on your birthday to a lovingly prepared breakfast by your nine-year-old is perhaps the brightest kind of moment. Yes, my Bella learned to make coffee thanks to this lovely lady. They also squeezed oranges and tangerines the night before to fill that mason jar. The real gift, though, was seeing how she beamed with pride over having pulled the whole thing off. Seeing your children filled with a moment of complete confidence is the happiest feeling ever.
I spent the rest of the morning puttering around the house until I decided to do what I'd been trying to find the time for all week—time to make a coconut custard pie.  I used to make them all the time for my uncle. It was his favorite, and back then I used to make a healthy version using egg beaters and skim milk because he had a quadruple bypass, and the thought of not eating his favorite pie at Thanksgiving made him quite sad. So one year I made a heart-healthy version without telling him the ingredients. He would've surely turned his nose up to it, but after the first bite I knew I'd won him over, and confessed.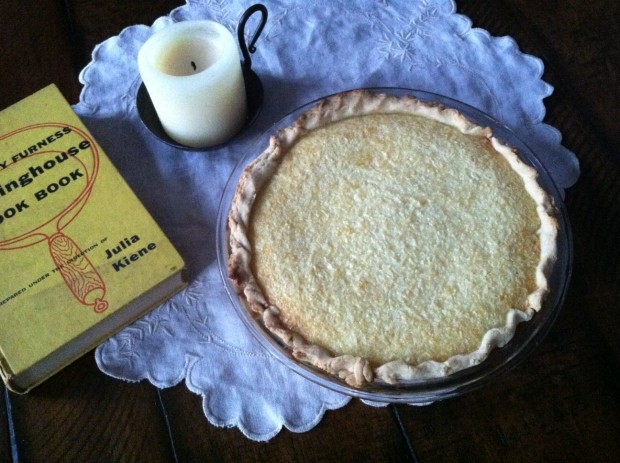 The pie I'm sharing with you today is not that healthy makeover at all. In fact, I don't even know where the recipe is anymore. After my uncle died 12 years ago, I stopped making coconut custard pies. I was ready to finally make the leap again, and since there was no imminent need for egg substitutes or skim milk, and this is after all for a special holiday meal, I went with my usual suspects of ingredients. Well, not really usual. See, after much research, I grew dissatisfied with many of the coconut custard pie recipes out there. Most call for cooking the milk with flour or cornstarch to thicken the filling before baking it. I like easy, as few steps as possible, and didn't remember needing to do the milk-flour thing all those years ago.
So, I decided it was time to let age and wisdom lend a hand, and took my Betty Furness Westinghouse Cook Book off the shelf. I love collecting old cookbooks, and this book was my first, found at a flea market in Cape Cod some years ago. Some of the recipes are alarming, calling for a can of this, and can of that. When it comes to desserts and baked goods, though, there's no messing around. I knew I would find a no-fuss recipe to get my creative juices bubbling. The recipe I used as a springboard was for a custard pie, adding shredded coconut to the filling was a no-brainer.
The big change came with the kinds of milk I opted to use. When I was shopping for ingredients the other day, I tossed a few cans of sweetened condensed milk in my cart. I figured it's 'tis the season for extra calories, right? I swapped in some sweetened condensed milk for part of the milk in the recipe, and nixed the sugar all together. The pie comes together incredibly fast—about 45 minutes from start to finish. This is a definite bonus when cooking an epic meal like Thanksgiving dinner. Apples, consider yourself warned this holiday season.
As I settle down to dinner with friends this week, I will do something I practice and preach to my daughters every day. I will reflect on everything I have to be thankful for in my life. I wish you and your families the most blessed, happy day this coming Thursday. In fact, I wish that for all of you every day of the year, not just the third Thursday of November.
p.s. In just a few hours, Homemade with Love goes off to the printer (it's available for pre-order now)! I'm still in a bit of a fog, mainly because I can't believe a four year-long dream is finally coming to fruition. I want to say an extra special thank you to all of you for the virtual cheerleading, and for letting me have a place at your table every time you share one of my recipes with your friends and family. 
Hugs,
Jennie
Jennie's Coconut Custard Pie
makes one 9-inch pie
Music Pairing: What a Wonderful World by Joey Ramone
After years of using a variety of brands, I finally came across an organic unsweetened shredded coconut that I love. Most tend to be too fine, and don't give that texture we all grew up loving. I'm happy to never need a bag of the highly sweetened stuff anymore.
While I haven't done any testing to make this a heart healthy recipe, I'd love to hear if any of you do give it a go. Remember, 1/4 cup of egg substitute is equal to one large egg, so you'll need a total of one cup if you decide to try it out. The sweetness level of this pie is just right, at least to my liking. So I'd be cautious if you try swapping out any of the sweetened condensed milk [tip: one can is about 1 1/4 cups (312 ml)]. And if you really dislike whole milk (it comes from the cow that way!), then I don't foresee any problem with swapping in skim for it in this recipe, but remember I didn't test it that so can't vouch for the final flavor.
One single pie crust (here's my homemade version, with a brown butter apple pie recipe too!)
4 large eggs
1 (14 ounce/397 gram) can sweetened condensed milk
1 cup (250 ml) whole milk
1/2 teaspoon pure vanilla extract
Generous pinch of freshly grated nutmeg
2 cups (146 grams) unsweetened shredded coconut ( I use this one from Woodstock Farms)
Preheat the oven to 450F.
Roll your piecrust out large enough to drape over the edges of a 9-inch pie plate (regular, not deep dish). Fit the piecrust into the dish, and crimp the edges.
Add the eggs to a deep bowl, and beat them lightly. Add the milks, extract and nutmeg. Whisk vigorously until well mixed. Stir in the coconut. Pour the filling into the prepared piecrust.
Bake for 10 minutes, then reduce the oven temperature to 325F. Bake for another 20 to 25 minutes, until the filling is set and no longer jiggles. Place the pie on a wire rack and let cool for at least one hour before serving (it tastes great warm, or at room temperature). You can also cover it, store in the fridge overnight, and serve it the next day.