A big part of being in a healthy relationship is learning to say two things: 1) I'm sorry and 2) I was wrong. They're all but five words when combined, but the inherent feelings of inadequacy that are intertwined with admitting them makes them difficult to utter. In a good relationship, where trust and love is both solid and reciprocated, there is no fear in saying them.
But what about the solitary relationship we share with ourselves? There is no one to hug us when we admit them, or to make a joke and break the tension of the moment. It is so easy to intellectualize how I need to be easier, more gentle to myself, yet so hard to actually implement it in the moment.
I'm exacting, precise, determined—perhaps this is why baking is something I love. I respect the rigidness of the variables involved in making a cake. Yet, I'm forgiving of my foibles in the kitchen, and harsh of the others that happen in my every day life. Go figure.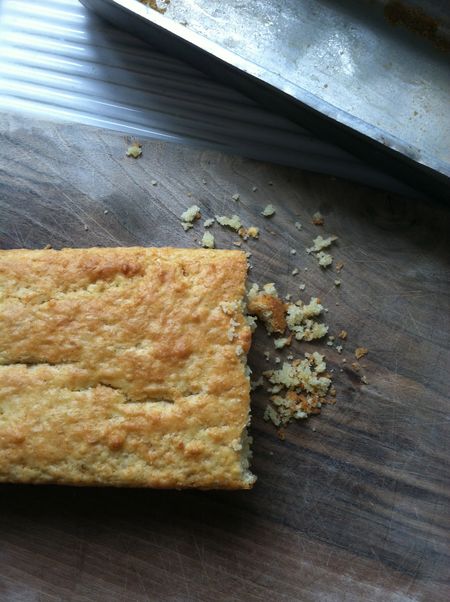 I'm taking this moment to admit my feelings that perhaps I made a mistake in choosing Paris for an entire month. The last eleven months have been a constant flow of change, trying to figure out my path in life without Michael. Going to a city where I don't speak the language, across an an ocean from all my friends and the people I love for an entire month wasn't exactly the right choice for what I intended to be a relaxing, peaceful way to wind down this first year.
I chose Paris because it was his promise to Isabella. For a fleeting moment I considered Italy because that is where I would've been more comfortable. My Italian, though rusty, is considerably better than my French, and the Italians are much friendlier (even the monsieur in the SFR store said so!). Not to mention a house in the countryside would've been a better choice than being dropped into the middle of a bustling city like Paris. I live in New York City, for heaven's sake. What the hell made me cross an ocean to escape to another loud, busy city where I so clearly do not have the upper hand?
Oh yes, it was Mikey's promise I was trying to fulfill.
This is where I admit I was wrong to myself, for not realizing that his dreams no longer have to be mine. It is where I whisper a silent "I'm sorry" for moving forward, and hope he knows wherever he is that I have to because I was the one left alone on that horrible day last summer. For better or worse, our worlds have diverged.
Now that I've admitted my anxieties and frustrations about this time in Paris, I can begin to move forward with my time here. It would be silly to not make the best of it, and sulking because I feel "stuck" in Paris is just plain stupid.
What plunged me into this melancholia was the not-so-simple act of buying fruit and vegetables my second day here. The day we arrived, to say we were tired was putting it mildly. After settling into our apartment, I set out to get provisions. A neighbor told me about the Monoprix a short walk away. Monoprix is like Target, only better because it's French—oui? You can get everything there, from panties to prawns.
Back home, I wouldn't dream of buying fruits and vegetables at a Target, but here it actually looked good—and since we were tired and hungry, Monoprix would be my first food shopping experience. I read the signs as usual, and stuck with stuff that was labeled of French origin in hopes of it being fresher and local. I was keen enough to observe shoppers bagging their produce and bringing it to a scale, where there's an employee stationed just to weigh them—I'm not joking. As I rounded the corner to the butter section, I heard the angels sing from above. I'm already addicted to the crunchy bits of fleur de sel laced throughout the one I chose. It was a seamless experience, and my Brooklyn accented bonjours, mercis and au revoirs made me feel less nervous about being in a foreign city.
Then I ventured out the next day in search of a smaller shop to buy more fruit and vegetables. There was no layer of thick skin that prepared me for what I was about to encounter. See the Monoprix adventure the day before set me up for failure. I walked around that day, thinking "gee France, is just like New York, only the whispers overheard are in a different language". After all, the sounds of city life were the same—people bustling to work, kids en route to school, trash being picked up and streets being cleaned.
Do you remember Mr. Whipple? Well, the French Tourism Board should produce a PSA for Americans along these lines as a crash course on buying produce. Monoprix encourages you to serve yourself, but if you try that at any other produce stand get ready for a tongue lashing that even the most apologetic "je suis désolé" won't get you out of—at least if you're shopping at the market on rue de Bourgogne off of rue de Grenelle. I broke the rules picking my own fava beans and tomatoes, and it meant open season on the silly American had commenced. Once I realized my faux pas, I apologized but the line had been crossed and there was no turning back in monsieur shopkeeper's mind.
I carried my bounty home, feeling so upset and beaten. I had learned a lesson at least—do not touch anything at a French fruit and vegetable stand. Accept that they will put every item in a separate paper or plastic bag, and hope it counts towards their environmental karma and not yours. In just three days, I've accumulated more plastic bags, and little brown paper ones they neatly pack the berries into, than I normally use in the U.S. in a year. Carrying a canvas bag obviously means nothing, and when I try to say I have a bag, eyebrows raise and remind me "they know what's best".
Thankfully I found a closer produce stand just this morning, and the monsieur at the helm was incredibly sweet. His welcoming smile didn't chastise me as I absentmindely picked up a container of raspberries—old habits die hard. As soon as I remembered the protocol, I kindly asked "je voudrais un framboise s'il vous plaît", then rattled off "deux bluets, un framboises, deux pommes, deux citrons". We ended the transaction with a "merci et au revoir", and the pep had returned to my step as I walked home to make crepes for breakfast.
Had I not had the first awful experience, though, this lemon cake I'm about to share might not have come to be. See before I found the market with the friendly Frenchman, I was in an awful state, worried I wouldn't be able to properly buy ingredients while here for the next 24 days. As I sat down to work on the book, I needed to prove I wasn't a total idiot to myself. I went into the kitchen, and scanned the meager ingredients I had left. There was flour, butter, salt, milk, eggs and a lemon, along with the baking powder and baking soda I'd brought from my home pantry. Okay, maybe they weren't so meager. I also packed my scale, measuring cups and measuring spoons. I had clearly come prepared for battle.
I rummaged through the cabinets and found an acceptable loaf pan. My mission was clear. In order to redeem myself in my own eyes, I needed to bake a cake. There have been many changes in my life the last eleven months, but baking is one variable I can wield some control over.
With no mixer available, I decided to use my biscuit and scone technique to "cut" the butter into the flour. The flour I bought had a finer, talc-like consistency, resulting in a heavier weight when measuring by the cup. One cup equaled 165 grams, which I knew was about 2 tablespoons more than the all purpose flour I buy back home. For the sake of trying to share the recipe, I went with 290 grams of the French flour, knowing it would be about 2 cups of all purpose flour for my American friends to replicate.
35 minutes later, a fragrant, buttery lemon cake emerged from the oven. I may not have known the rules for buying fruit and vegetables, and my mastery of the language may be lacking, but I can find my way around a French kitchen—and that is a universal skill that has kept me grounded the last 334 days. The kitchen is my road to independence no matter where life takes me.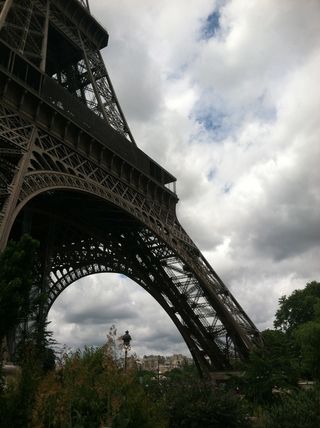 rustic lemon cake
serves 10 to 12
I should preface this recipe by reiterating that I've only made this with flour available to me in France. That said, this is one case where using a kitchen scale most defintely helps. I suspect the consistency of the cake should be spot on when using U.S. available ingredients, and perhaps try using a butter like Kerrygold or Plugra to replicate the flavor too since French butter is much richer than it's American counterpart.
2 cups (290 grams) all purpose flour
1/2 cup (100 grams) granulated natural cane sugar
1/4 teaspoon (2 grams) fine sea salt
1 tablespoon (15 grams) baking powder
1/4 teaspoon (2 grams) baking soda
1 vanilla bean, split & seeds removed
Freshly grated zest of 1 lemon
4 ounces (1 stick) cold butter, cut into 16 pieces
1 large egg (50 grams)
1 cup (250 ml) milk
Freshly squeezed juice of 1 lemon
Preheat the oven to 350F (180C). Butter and flour a 3-inch by 9-inch loaf pan; set aside.
Add the flours, sugar, sal, baking powder, baking soda, vanilla bean seeds and lemon zest to a deep bowl. Use a fork to stir together until well mixed. Scatter the butter pieces on top, and rub together with your fingers until it forms a sandy mixture with some larger pebble-sized pieces; set aside.
In a small bowl, lightly beat together the egg, milk and lemon juice. Pour over the flour-butter mixture, and use a wooden spoon to stir until just combined and there are no visible traces of flour.
Scrape the batter into the prepared pan. Bake for 35 minutes, or until a metal skewer inserted in the center comes out clean. Remove from the oven and set on a wire rack to cool completely before slicing.