My mind feels about as soft as the cookie dough I've been obsessed with the last two days. It is a swirl of activity, and some days focusing feels so out of reach.
January 25th, this Wednesday, marks 14 years since my father died. 1998—what an intense year it turned out to be. I hadn't even thought of my real dreams until that fateful year. Nothing like your dad dying rather suddenly at the age of 49 to rock your core.
He was a Michael too, and all these years later the image of him taking his very last breath is still engraved in my memory.
I was 24 back then, and couldn't have imagined the domino effect his death would have on my life. It was the push I needed to follow my dreams, but that's a story is for another time and place. After he died, I decided some personal housekeeping was in order. Mikey and I had been together three years at that point. It had been a roller coaster ride, in many ways because he was 35 when we started dating—I was only 21, still in college, in fact.
We broke up a few months after my dad's death, but stayed very close friends. I knew I loved him from our first date, but I was still very skeptical about the benefits of love. Growing up, I only saw the detrimental, sometimes harmful effects love can have on a person and a relationship. So, I walked away.
I was supposed to go to Italy that year, having been wooed by a friend's George Clooney doppelganger cousin to go visit him in Turin. The temptation continued with a trip to Sardinia. I spent that summer on the phone, trying to remember if Italy was six hours ahead, or six hours behind.
All the while, Michael and I remained in constant contact, He knew I loved him, I knew he loved me. But after three years of battling about our differences in just about everything, the puzzle pieces felt like we were forcing them to fit.
He was a punk rocker, I grew up with 80s music.
He read contemporary fiction, I'm more a Tolstoy and Chekhov gal.
He loved Indian food—I'm not a fan of curry.
On paper we didn't make sense, so I booked my plane ticket to Italy. All the while we continued to talk and see each other. We were supposed to go to Napa Valley for a wedding the same time of my trip, and in the eleventh hour, Mikey called me to ask if we I would consider cancelling Italy. He couldn't imagine his life without me.
It took three years, a death and a break up, but he finally realized all those differences were nothing compared to what we had in common. This would be the first of many hurdles our love would have to soar past, yet it was a monumental baby step.
Hell, it was a leap. A leap of faith that love didn't have to be the same kind my parents shared. It didn't have to hurt all the time. It would never be perfect, but it would be real, genuine.
That summer feels so long ago, and yet like yesterday. Time can be kind when you're counting the years pass together, then swift-handed and cruel when you're watching the days float away since you last held each other.
The picture above is from a walk I took over the Brooklyn Bridge a month or so after Mikey died. I'd been admiring the bright moon, full in the deep blue night. As I neared the Brooklyn side of the bridge, I looked up, and there it was, life summed up perfectly in just 19 characters "Uneven Surface Ahead".
It was uneven then, it's uneven now, and it's sure to be uneven again, even after this year of firsts is far behind me. And yet, I remind myself every day it has to get better. I remind myself I want to be happy, and even if I'm not today, I will be again someday.
Until then, I'll settle for what I do know—how to make cookies. I was at one of my best friend's houses this weekend, and walked in to find her making a batch of my favorite—chocolate chip. Can you believe it's been months since I made a batch myself? The last time is when Penny arrived in New York, back in September.
I watched Erin mix the dough with her wooden spoon, and the thought of warm chocolate chip cookies was akin to curling up in a comfy blanket and fuzzy slippers. It only felt natural to make them myself when I came home yesterday feeling blue. All the Perillo Girls were blue, having experienced the first snow fall without Mikey.
And how our moods all changed as I took out the chocolate chips. Virginia squealed, Isabella jumped up and down, and my heart fluttered a bit, feeling like it was alive, not just beating because it had no choice.
All that emotion from a humble cookie.
Tomorrow I'm visiting Mikey's old office for one last time, before BET packs up and moves to the Times Square area. I went to say hello a couple of months ago, but couldn't bear to pack his office then. Now it's the eleventh hour, again, and while his boss has offered numerous times to pack his things and send them to me, this is something I need to do. It's slowly closing one more chapter to the amazing life he lived.
Tomorrow will be a chocolate chip cookie kind of day, no doubt.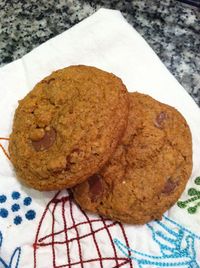 Whole Wheat Chocolate Chip Cookies
makes 48 three-inch cookies
I like to throw a generous amount of chopped nuts into my chocolate chip cookies, so feel free to toss a cup or two of toasted nuts into the batter with the chocolate chips. On this last batch, I decided to add walnuts and pecans. I was worried for a moment that this might be too much, but me and my little taste testers agreed that the combination was just right.
This is a riff on my original chocolate chip cookies, which has quite a devoted following in the twitterverse. I usually "dry-age" my cookie dough, you can read about the why and when in the original post, but desperate times call for cookies stat! I also swapped out all the white flour for whole wheat pastry flour and love the extra nutty-note it adds to the flavor. I'm even going to convince myself they're healthier so I can indulge in one or two extra.

4 cups (490 grams) whole wheat pastry flour
1 teaspoon baking soda
1 teaspoon fleur de sel
2 cups (400 grams) granulated natural cane sugar
2 sticks (8 ounces) unsalted butter, softened
2 tablespoons (30 ml) molasses
3 large eggs, at room temperature
1 1/2 teaspoons pure vanilla extract
12 ounces chocolate chips
Preheat the oven to 350º. Line baking sheets with parchment paper.
In a large bowl whisk together the flour, baking soda and fleur de sel.
In a separate, clean bowl, beat the butter, sugar and molasses until light and fluffy. Add the eggs and vanilla extract. Beat until well mixed. Add the flour mixture and mix on low speed until just combined. Stir in the chocolate chips.
Scoop or gently form dough into 1 1/2 to 2-inch balls and place 2 to 3 inches apart on prepared baking sheet. Bake for 15 minutes on the center rack of the oven. Remove from the oven and let cool on the pan for exactly 2 minutes. Transfer cookies to a rack to cool completely, or at least until cool enough to eat without burning your the roof of your mouth or tongue.
Pin It