I look at this photo of us, sharing a kiss during a Cape Cod sunset, and it reassures me he was happy. People have a way of losing themselves in parenthood. It's a constant juggle, and often one half of the couple is left feeling they have more than their fair share of balls to keep in the air.
We were no exception.
But the way his eyes are closed in this picture, the way his lids rest gently on his lower lashes, they tell me he found peace with me. The same deep brown eyes that, when open, spoke volumes when not a single word was being uttered—they do the same thing in this moment captured, but they are closed.
Months after Michael and I started dating, I remember snuggling my head in his chest, and saying it was my favorite place in the world. I continued to tell him that as days turned into years, and the other night I found myself burrowing my head into his pillow, in search of the warmth that crook of his chest gave me for 16 years.
A few days after this past Thanksgiving, an email came from my literary agent. The subject was simple, with just two words—"an offer". My breath stopped momentarily. Then a tingling sensation spread to my fingertips. I happened to be in our old apartment at the time, working while the sitter was at our new home with the girls.
It felt very fitting, and surreal to call Stacey back and talk about the offer. That kitchen was where it all started, the seedlings of an idea nurtured, Michael's words always encouraging me to dream big. Now, I have the chance to move forward on my terms.
For the next two years, as I write two books for Running Press, there will be an invisible tether between my two lives—the one with Mikey, and the one without. I think these two amazing projects will allow me to weave a bridge with words to eventually feel like a whole person again.
I've been working on the cookbook proposal for two years. It is a part of the life we shared together. Mikey is even the one who came up with the title City Girl, Country Kitchen. I racked my brains for countless hours, and then in one five minute conversation I explained my goal for the book to him and the words City Girl, Country Kitchen rolled off tongue with such ease, I was envious.
Mikey, this is what I would've had waiting for you when you walked in the door as a toast to this very big dream we both shared. I love you baby.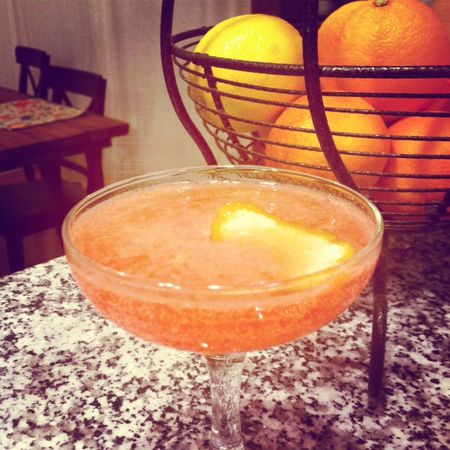 The Celebration
serves one
I've been on a non-alcholic cocktail spree for a week now. I love how a drink can be complex, and filled with layers of flavors but nary a drop of liquor. Go for "top shelf" ingredients here, as you would if making a boozy elixir.
Freshly squeezed juice of 1 blood orange
1/2 teaspoon good quality maple syrup
2 dashes of orange bitters
Seltzer, to top off the glass
Burnt orange peel, for garnish
Fill a cocktail shaker with ice. Add the juice, syrup and bitters. Seal the top and shake vigorously until beads of sweat form on the outside of the shaker. Pour into an old fashioned cocktail or martini glass, garnish with the burnt orange peel to serve.
How to make a burnt orange
Just before serving the cocktail, light a match, or use a lighter, to release the essential oils from the orange peel. Do this by holding the peel with the white, pith side up, and waving the flame underneath over the outer skin of the orange peel.