Mikey never guessed fatherhood was one of his destinies to be fulfilled. He was diagnosed with a medical condition in his early twenties, which required a form of chemotherapy treatment to help him heal. This was a decade before we met.
At the time, his doctor told him to put some of his "boys" on ice just in case he wanted to have kids one day. When I became pregnant, saying we were shocked is putting it mildly—I was on the pill too. You know that little disclaimer about using backup contraception if you're on antibiotics? Well, it wasn't there back in 2002.
And thank heavens it wasn't.
To think one simple sentence could've changed the course of our lives would've surprised me 130 days. Now, I know how one split-second can change a life forever.
The change that happened on August 7th sucked.
The one that occurred on one day in July of 2002—that was one of the best things that ever happened to both me and Mikey.
Are you listening to mommy Isabella? One day, if you're reading this when you grow up, I want to remind you that YOU are special.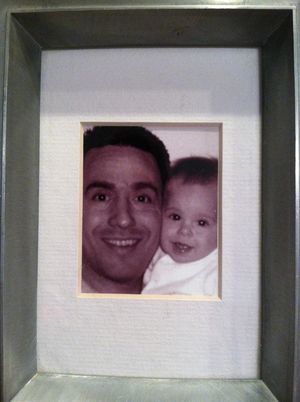 YOU were our miracle.
YOU were our gift.
YOU coming into our lives was the most defining moment in daddy's life.
Loving you helped daddy realize his full potential as a person. You opened his heart in ways I never could've. The love a father and daughter share is a bond that death can never take away.
Today, Isabella and I had to relive the day Mikey died. In watching her talk about the events of the day, and answering her questions, I learned something too—confronting the fear takes away its power. Yes, sadness will take its place, but the fear cannot rule you anymore.
My fears have been many. The last few days I've been forgetful. When I opened the pantry tonight to get some chocolate for a recipe, I couldn't remember where I placed it. This may not sound like a big deal, but it lead to me to start thinking I had a brain tumor and only months to live.
Maybe I'm being dramatic, but forgetting where something I use everyday was stored, unnerved me. It's all about a sense of control these days. The truth is, sleep is something that doesn't come easy this last week. As the holidays draw closer I miss Mikey so much.
I do my best to harness happiness every step of the way, but the quiet nights are not easy. So I retreat to the kitchen and bake at 10:00pm. Tonight I realized I need to confront my fear.
Sharing new recipes with you doesn't make his death permanent. A disease that affects one in a million—literally, is what ripped him from our lives.
One in a fucking million! (pretend you didn't see that if you're still reading Isabella)
My husband had to be the one millionth person in line for Good Pasture's Syndrome?
Are you kidding me?
Tonight I'm giving fear the middle finger. You won't own me.
Tonight I'm going to soak my pillow with tears.
Tonight I will let the sadness take hold, and hope as I always do that Mikey will come to me in my dreams.
But first, I'm going to do something that makes me happy. As I typed that last sentence the tears stopped flowing, and now cling gently to my eyelashes. Just the thought of sharing a new recipe with all of you made me stop and smile.
So many of you say I inspire you, but really it is all of you who give me hope, and for that gift I come bearing chocolate gingerbread cake doughnuts. Wrap your arms around yourself and hold on tight—that's me hugging you, wishing you a happy and merry. Here's to peace, love and happiness—and leaving fear behind as 2011 weaves into 2012.
Chocolate Gingerbread Cake Doughnuts
makes 18
These doughnuts are lovely to eat, and look at, with a simple sprinkling of conectioner's sugar. I couldn't stop there, though, and decided to dip them in some of this homemade caramel sauce I had in the fridge. The gold glitter is always a pretty touch, and can be found at most cake decorating stores.
1 1/4 cup (168 grams) flour
1/2 cup (45 grams) dark cocoa powder (I use Guittard or Valrhona)
1/2 cup (100 grams) natural cane sugar
2 teaspoons (10 grams) baking powder
1/4 teaspoon (1 gram) baking soda
1/2 teaspoon (2 grams) fine sea salt
1/4 teaspoon cloves
3/4 teaspoon (2 grams) ginger
1/4 teaspoon (1 gram) cinnamon
2/3 cup (175 ml) milk
1 large (50 grams) egg
4 tablespoons (2 ounces/60 ml) brewed coffee, cooled
2 tablespoons (28 grams) butter, melted & cooled
Preheat the oven to 425ºF with the rack adjusted to the center position. Coat three 6-doughtnut nonstick baking pan with cooking spray; set aside.
In a medium bowl, whisk together the flour, cocoa, sugar, baking powder, baking soda, salt and spices; set aside.
In a measuring cup or small bowl, use a fork to beat together the milk, egg, coffee and butter until well blended. Pour over the flour mixture and stir with a wooden spoon until just combined and there are no visible traces of flour. Evenly spoon batter into the prepared doughnut pans.
Bake one pan at a time on the center rack for 8 minutes, until the doughnuts spring back when touched*. Remove from oven and transfer to a wire rack to cool completely. Repeat with remaining filled doughnut pans.
* Really, don't try to bake two or three at once. They won't bake evenly, and since the cooking time is so brief, opening the door to alternate trays would throw off the oven temperature. The doughnuts cool enough to release from the pan after about 5 minutes, so you'll have the third tray ready by time the
Update 12/16/2011: A few people have mentioned they don't have doughnut pans and are wondering if they could bake this recipe in another type of pan. I can't 100% confirm baking times, but do think trying a smaller size pan, such as cupcakes, mini-loaves or even a mini-bundt pan, as one person suggested, would work. If you do try this out in a different pan, please feel free to leave a note in the comments with baking times and serving sizes. Thanks so much!