I wish I could tell you I baked that muffin up above. I did some time ago, two years to be precise. That's when I first developed the recipe. It's a good muffin, that much I promise you. I think it even has the power to break me from this malaise I feel every time I glance around the kitchen these days.
I wouldn't exactly call what I've been doing cooking lately. It's more surviving, making the same few things I can practically prepare with my eyes closed. It's all homemade stuff—marinara sauce and mac n' cheese have been staples. We've also been ordering-in once a week, which is huge considering before Mikey died, we barely had takeout once a month.
Right now it feels like I'm in limbo. The house is littered with moving boxes, each room a little done, but not quite complete. The first box was the hardest—it was our cds. Music was as vital to Mikey as oxygen, and knowing he wouldn't be listening to them anymore, or taking his guitar off the wall to play for us had me in tears almost instantly.
All these boxes piling up has me antsy, and are a reminder of the greatest gift Mikey ever gave me—a sense of home. A real home, one I could grow some roots in. I didn't have this as a kid. My parents moved every year or two, and by time I met Michael, at 21 years old, I'd already moved a dozen times.
This little nest we created here in Brooklyn, is the only place that ever felt like home.
And now it doesn't.
The surroundings look familiar, but the essence is gone. So as I pack, and wonder how I'm supposed to move forward, how I'm supposed to do this without him, I fight the lump that wells up in my throat. I try to stifle back the hot tears in the corner of my eyes. The hardest part of grief, for me at least, is the inexplicable pain and feeling that this hole in my heart will never heal. I'm a realist, and don't spend a lot of time on the "why".
I accepted a long time ago that certain things just are, but this one has me stumped. I know it's only Day 79, and honestly when people tell me to go easy on myself, it's drives me crazy. Unless you've experienced a loss like this you can't understand that missing someone so immensely is not being hard on yourself—it's simply grief, and going through it is not easy. My best advice for anyone trying to comfort someone grieving is just be there with a smile and shoulder, but wait for a cue.
Don't try to fix what is out of your control. It will only push the person further away.
But I'm here right now to talk about muffins, so let tell you what made me think of them. I went to the farmers' market for the first time in 17 days. Yes, 17 days folks. I couldn't believe it myself when I did the math.
I was on my way to the train station in Brooklyn Heights, and before I popped down into the subway, I remembered it was Tuesday and there was the market at Borough Hall. I wasn't going to visit at first. With the move in just nine days, I know there won't be a lot of cooking right now. Still, I was curious to see the fall bounty.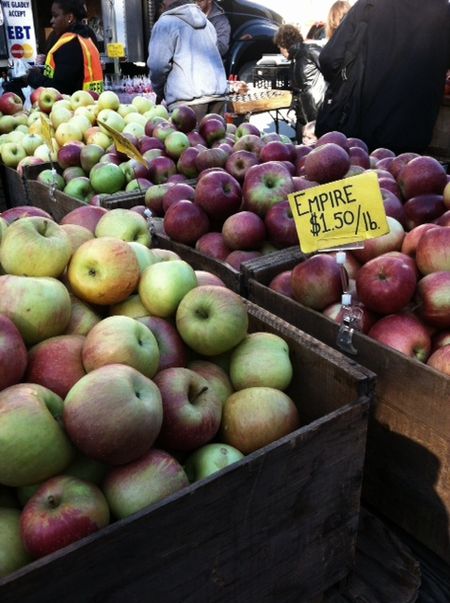 As I walked towards the Red Jacket Orchards stand, I felt the tears begin to trickle. The first apple season without Mikey. I almost turned and walked away. The thought of seeing all those apples was too overwhelming, a reminder of what used to be.
What will never be again.
Such emotion, over an apple. And that's when it hit me. Those apples could still bring me joy. Baking the recipes he loved eating and breathing in the warm spice scent as it fills the house could keep me connected to him. The memories are reminders of good times we shared together. So, as I prepare to celebrate our first Halloween without Mikey, I'm going to share a homemade treat he loved at Isabella and Virginia's class parties this week. I even scored some cute holiday muffin liners and toothpicks on sale at Sur La Table.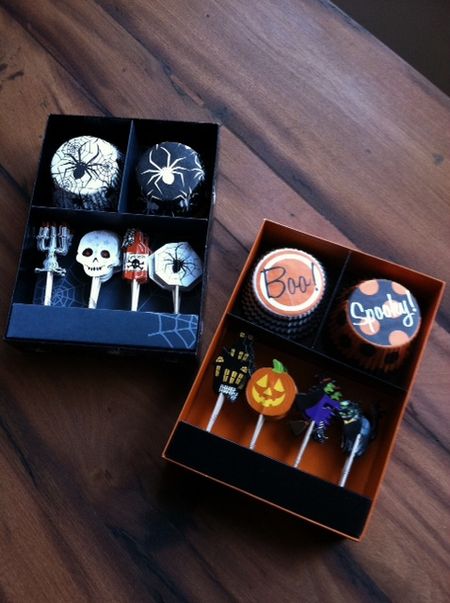 I'm not going to be afraid of any ghosts this year, In fact, I wouldn't mind if one of them came for a special visit.
Apple Allspice Muffins
makes 12
The original post gives some back story about this recipe. If you're curious why I choose to grate the apples, then it's definitely worth a read.

For the crumb topping:
2 tablespoons butter, melted
1 tablespoon granulated sugar
2 tablespoons brown sugar
1/2 cup all purpose flour
For the muffins:
1 tablespoon baking powder
8 tablespoons butter, softened
2 cups peeled, shredded apples
Preheat oven to 375º.  Grease or line a 12-cup muffin tin with liners.  For the topping, mix all the ingredients together in small bowl with a fork  until it forms a wet, sandy mixture; set aside.
For the muffins, mix the flour, baking powder, baking soda, salt and all pice in a medium bowl; set aside. In a separate medium-sized bowl, beat the butter and sugar on medium-high speed until light and fluffy, about three minutes.  Add the eggs one at a time, beating well after each one.

Beat in one third of the dry ingredients, then add one-third of the sour cream. Alternating between dry ingredients and sour cream, repeat until all ingredients have been incorporated.  Using a wooden spoon or rubber spatula, stir in the apples. 
Evenly spoon the batter into the prepared muffin tins.  Sprinkle each muffin even with en equal amount of the crumb topping.  Bake for 20 to 25 minutes, or until golden brown and a toothpick inserted comes out mostly clean—it's okay if there are a few dry crumbs.