I promise you we're getting closer to that cherry slushy I keep promising you. I must confess, this whole idea of posting a series on cherries seemed like a good idea when I first started out. The problem is I get easily distracted by all the new finds at the farmers' market each week. I'm also a little distracted after the past weekend's festivities. Those of you who made it to Big Summer Potluck this weekend know what I'm talking about, and if you didn't, then I've got some lovely people to introduce you to soon.
But back to the cherries, before the season ends.
This week's theme for Summer Fest 2011 is…drum roll please…cherries! So not only do you get the joy of making this conserve, but you get a whole list of links for more cherry recipes too. It's a win-win, when you think about it.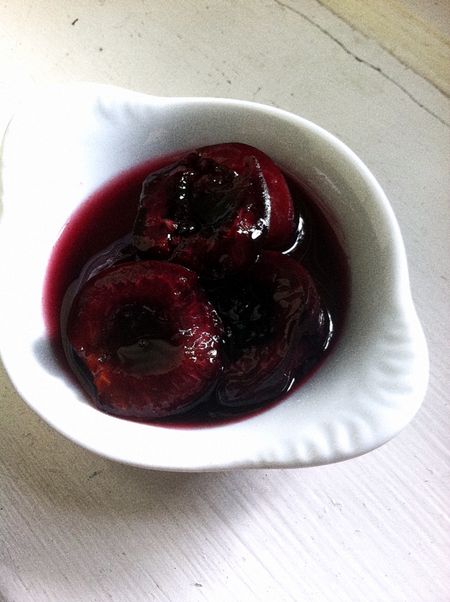 Oh, what is a conserve a few of you are asking, right? Don't worry I had no clear idea either until I came across this recipe for strawberry conserve from the Canal House Cooking folks in the June issue of Bon Appetit—you know, the one with Gwyneth on the cover (and while I know there are naysayers, I for one, really love the direction Bon Appetit is going in editorially).
Again, though, back to the beloved cherries.
I've been playing a lot with this method of making conserves. In fact, I haven't made a single jar of real jam since the start of strawberry season. The idea of simply slicing fruit, sprinkling it with sugar and letting it take a time out while the sugar slowly coaxes out the fruit's natural juices is just too easy for words. Why, I ask, would I want to deal with jam making when my time and attention can be better spent on great new things like this?
Okay, maybe I haven't abandoned my microwave jam method for good. Perhaps this is a just a phase, and I just need to get this obsession with making conserves out of my system. For now, there is no end in sight. I've put up jars of apricot-lemon thyme conserves, blueberry conserves, strawberry-rosemary conserves—and peaches are next in my path of conservation. Get it? Oh, nevermind. Just go buy some cherries, and make this conserve—slushies are in our future.
I promise.
p.s. a reader asked about methods for pitting cherries last week. I use this OXO cherry pitter, and think of Olga every time I do since she gave it to me. Does anyone have another technique to share?
p.p.s. The picture above is of those cherry slushies I keep talking about. Can you believe in all my busyness I haven't actually taken a picture of the conserves? I'll pop one into this post as soon as I have a chance. UPDATE 8/4/11—I made another batch of conserves today—it's the second picture in this post!

Cherry Conserves
makes 2 cups
Delicate fruits like apricots and strawberries surrender their juices in just 2 to 3 hours. Cherries are more stubborn, so this recipe is a good two-part project. Set the bowl up with the cherries to macerate before going to bed, and you'll be ready to finish the recipe when you wake up.
2 cups (9 1/2 ounces/269 grams) cherries, pitted
1/2 cup (4 ounces/100 grams) natural cane sugar
Two pieces (19 grams) of orange rind, each 3 1/2 inches long
1/4 teaspoon almond extract
Slice the cherries in half and add them to 2-quart pot. Sprinkle the sugar on top, then add the orange rind and extract. Stir with a spoon until the fruit is well-coated with the sugar.
Cover the bowl with a flat dish or piece of plastic wrap and let sit for 6 to 8 hours, until the cherries have slightly broken down and released their juices. Bring the mixture to a boil over medium heat, and cook for 2 minutes. Using a slotted spoon, transfer the cherries to clean, sterilized glass canning jars.
Reduce the heat to a steady simmer, with bubbles popping gently to the surface. Cook until the juices reduce into a thick syrup, 5 to 10 minutes depending on how much juice the cherries released. Evenly spoon the syrup over the cherries in the jars. Cover the jars with clean, sterilized lids and screw on the rings. Process them in a hot water bath for 10 minutes for long-term storage, or let them cool and store in the fridge for up to one month.
Summer Fest is a season long, bi-weekly event where Food Network editors team up with blogs to share tips and recipes about what's available at the market. Join in the tasty fun and share your favorite cherry recipe link in the comments below, and be sure to check out more cherry-inspired recipes from our Summer Fest friends.
 What's Gaby Cooking: Cherry Chocolate Truffle Ice Cream
Big Girls Small Kitchen: Cherry Cornmeal Cake
Cooking With Elise: Roasted Cherries with Lavender and Almond Panna Cotta
Daydreamer Desserts: Cherry Crumble Cake
Ingredient Challenge Monday: Black Forest Ice Cream Done Two Ways
Spices and Aroma: Dilkush with Cherries
And Love It Too: Cherry-Pecan Chicken Salad
FN Dish: The Ultimate Cherry Pie
Daily*Dishin: Simple French Cherry Clafouti
Glory Foods: Collard Greens and Cherry Reduction
Virtually Homemade: Dark Chocolate Cherry Kuchen
The Sensitive Epicure: Gluten-Free Cherry Almond Clafouti
Cooking Channel: Very Cherry Sangria
Napa Farmhouse 1885: Cherry Balsamic Vinegar
Mooshu Jenne: Rainier Cherry Panna Cotta
Food2: A Very Cherry Recipe Round-Up
Virtually Vegan Mamma: Fresh Cherry and Almond Scones
CIA Dropout: Italian Cherry Cake
Sweet Life Bake: Honey-Tequila Pickled Cherries
Cooking With Books: Cherry Cooler