Remember I said this would be a busy week? Well, as you can see from three posts in three days, I wasn't kidding. Take it all in now because come August 20th I'm off to the sandy shores of Cape Cod for our much needed annual family vacation. Two weeks of sunsets, the soothing sounds of the bay and skies so dark you can actually see the stars.
Until then, there's lots to take in at the farmers' market, and I'm already planning my canning strategy for when tomatoes become abundant. Before I get that far ahead of myself, though, let's talk about cucumbers—they're this week's theme for Summer Fest 2011.
Growing up, my only consistent exposure to cucumbers was in the form of pickles. I still love them, and will happily eat them straight from the jar. Back then it was Heinz, and as I grew up and moved out on my own, I was intrigued by Vlasic's claim of being the crunchiest. Now, the only jars you'll find in my cupboards or fridge are homemade pickles.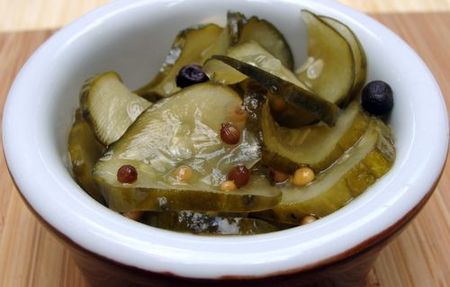 My favorite way to eat cucumbers, though, is simple and unadorned, save for olive oil, salt and pepper. Toss in some tomatoes, and it's summer at its best in my book. Virginia agrees with me on this one, but Isabella doesn't like either one. The kid doesn't even like pickles!
What I love most about food is the way I can still be surprised by simple ingredients. Last fall, I was inspired to pair radishes and cucumbers in a crostini. Slathering bread with butter and topping it with radishes is not a new phenomenon. I decided some thinly-sliced cucumbers would be a nice crisp, cooling counterpart to the peppery bite of the radishes. All it needed was some acidity to balance things out, so a squeeze of fresh lemon played pinch hitter to marry the creamy, peppery and refreshing characteristics of each ingredient.
When I first made this Isabella was curious and asked for a taste. She promptly spit it into a napkin, so maybe cucumbers will never be her vegetable of choice. There were no complaints from me. She tried it, and that's what matters. Let her be discerning for now—it won't stop me from serving this crostini as long as cucumber season is around.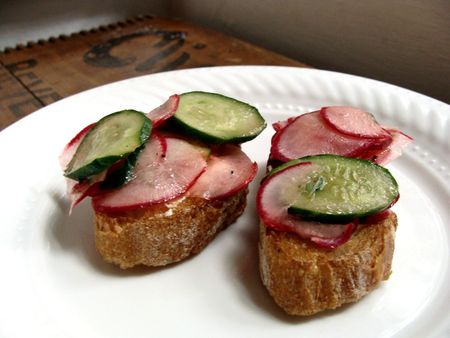 radish & cucumber crostini
serves 2 to 4
If I were making this for a party, then pulling out the mandoline would've been worth the effort, Instead, I found a hand-held vegetable peeler provided nicely shaved thin slivers of radish and a sharp pairing knife was all I needed to prepare the cucumber.
Freshly squeezed juice of half a lemon
1 teaspoon extra virgin olive oil
Sea salt and freshly ground pepper, to taste
drizzle of honey
4 radishes, cleaned & sliced paper thin
1 small seedless cucumber, thinly sliced
Eight 1/2-inch thick slices of baguette, toasted
In a small bowl, whisk together the lemon juice, olive oil, salt, pepper and honey until well combined. Add the radish and cucumber slices and toss to coat. Let sit for a few minutes so the flavors can marinate.
Meanwhile, spread a thin layer of butter on one side of each toasted baguette slice. Arrange pieces on a serving plate. Using tongs, top each buttered side with an even amount of the radish-cucumber mixture. Pour the juices over the crostini and let stand 1 minute before serving.
Summer Fest is a season long, bi-weekly event where Food Network editors team up with blogs to share tips and recipes about what's available at the market. Join in the tasty fun and share your cucumber recipe link in the comments below, and be sure to check out more cucumber-inspired recipes from our Summer Fest friends.
Pinch My Salt: Chilled Cucumber, Kefir and Avocado Soup
What's Gaby Cooking: Cucumber-Basil Gimlet
Big Girl Small Kitchen: Spicy Cucumber Salad with Shallot, Ginger and Mint
Grecian Kitchen: Summer Cucumber Salad
And Love It Too: Cucumber, Mint and Watermelon Salad
Napa Farmhouse 1885: Cucumbers Coolers with Agave Simple Syrup
Cooking With My Kid: Cucumber Limeade
FN Dish: Summer Fest: Cucumber Recipes
CIA Dropout: Relishing Cucumbers
Healthy Eats: Cool Cucumber Soup
Food for 7 Stages of Life: Cucumber Cherry Salsa
Cooking With Elise: Green Tea Cucumber Pops
Glory Foods: Cucumber and Shrimp Boat
Virtually Vegan Mama: Fire-Roasted Tomato and Cucumber Gazpacho
Food2: When Life Gives You Cucumbers, Make a Cucumber Cocktail
Cooking Channel: Cucumbers Stuffed with Crab-Mango Salad
Recipe Girl: Bread and Butter Pickles
Taste With the Eyes: Spicy Pickled Cucumbers with Wakame and Garlic Blossoms
Virtually Homemade: Cold Thai Cucumber-Mint Soup
Add a Pinch: Cucumber Tea Sandwiches
The Cultural Dish: Ahi Tuna with Cucumber Sauce and Salad
Daily*Dishin: Cool n' Zesty Cukes: 7 Minute Summer in a Jar
Daydreamer Desserts: Cubanita Margarita
Purple Cook: Cucumber Gazpacho with Indian Flavored Shrimp Relish
Indian Simmer: Cucumber at its Best with Chaat Masala
Big Apple Nosh: Quick and Easy Homemade Pickles
Sweet Life Bake: Agua de Pepino
The Sensitive Epicure: Tzatziki with Grilled Gluten-Free Pitas and Fresh Cucumbers and Peppers
Zaika Zabardast: Cucumber Gazpacho
A Way to Garden: Cucumber-Growing Q&A and the Best Pickles
Cooking with Books: Summer Fest: Cucumbers