I know, how much more can a Catholic Italian girl have to say about Hanukkah? Well, in the last two days I've fried close to eight dozen latkes, so I thought it would be unfair to not share some of them with you.
Please hold off on sending me your address. They are so easy to make, you can give them a go in your own kitchen. Until last year, I'd never met a latke that made the frying worth the calories. This seems a virtually impossible feat, living in NYC and all, but remember pasta and meatballs were our staples growing up.
Olga hooked me up with a genius idea from good ol' Martha last year, so it's time to pay it forward and keep spreading the gospel of crispy latkes. The secret here is reserving the potato's natural starch to add back into them. While Martha still includes some flour in her recipe, I've left it out all together, so my adaptation gets bonus points for being naturally gluten-free too. Olga and I both omitted the beer. I'd much rather have a cold pint with my latkes, not in them.
Lastly, I discovered swapping in shallots for regular onions was another nice change. Not required, but certainly worth entertaining the idea. I chuckle everytime I think of shallots now because in Julia Child's time there were considered an exotic ingredient here in the U.S. She even mailed some from Paris to her friend Avis DeVoto. As you might have guessed, I'm reading As Always, Julia and suggest you pick up a copy too, or add it to your holilday wish list.
And one more thing, I patted mine down gently in the skillet. This really makes a difference, and gives them a more formed "pancake" shape and consistency. Otherwise, you'll have little bundles of fried potatoes, more akin to nests, which are undoubtedly delicious, but not exactly a potato pancake, in my humble opinion.
So, off with you all now. Go grate, and save the food processor for another day. I'll give you a pass if you're serving a crowd of say a hundred or so, but for anything less, put in your dues and invest in a good box-style grater if you don't already own one.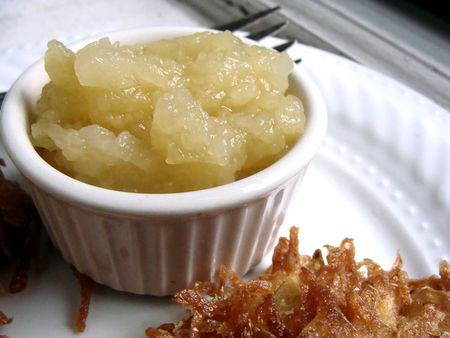 As for the toppings, I'm an apple sauce sort of girl, and it's so easy to make from scratch, so save your pennies for gift shopping. Then again, you can get crazy and even add dollops of brisket, like Melissa suggested in yesterday's New York Times.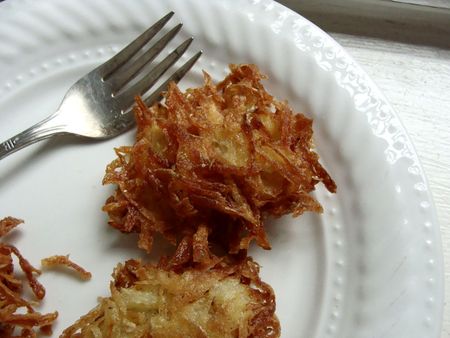 Potato Latkes
Adapted from Martha Stewart
makes about 18
These also heat well, so make extra for an easy weeknight side or fun addition to the kids' lunchboxes. Place on a baking sheet and warm in a preheated 350ºF oven for 5 to 7 minutes.
2 large russet potatoes, peeled
1 medium shallot, finely grated
1 large egg, lightly beaten
Salt and freshly ground black pepper, to taste
Vegetable oil, for frying
Fill a deep bowl with cold water and a few ice cubes. Using a hand grater, shred the potatoes into the bowl. Using a slotted spoon, transfer potatoes, reserving liquid, to another large bowl lined with a clean kitchen towel; gently squeeze dry.
Set reserved liquid aside for 10 minutes to allow starch to sink to the bottom; carefully pour liquid from the bowl, reserving milky residue, this is the potato starch. Transfer potatoes back to the bowl with potato starch. Add onions to bowl; stir in eggs, salt, and pepper.
Line a baking sheet with paper towels; set aside. In a heavy bottomed skillet, heat 1/4-inch of oil. Scoop a scant 1/4 cup of potato mixture using a fork and place  into skillet. Press down gently with the tip. Repeat, working in batches and taking care not to crowd the pan or else they will not cook properly.
Fry on both sides until golden brown, 4 to 6 minutes. Transfer to prepared baking sheet to drain; transfer to a 250ºF oven to keep warm. Repeat process with remaining potato mixture. Serve hot with applesauce,or toppings of your choice , if desired.
Visit my Cuisinart blog to get the recipe for homemade applesauce.