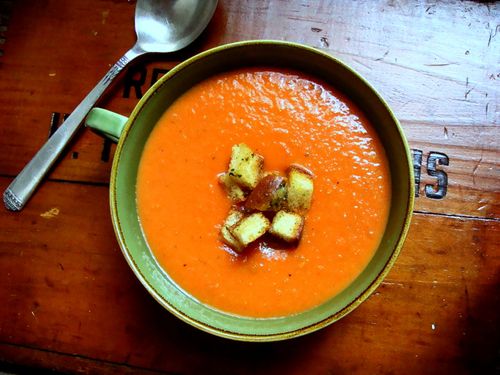 TGIF. The end of the work week. Well, a mother's work is never really done. That's something we all know from either experience, or watching our own. I'll be busy baking cakes for the Mr.'s big birthday this weekend. Oh, and making these amazing ribs (I can even say they're award winning). Did I mention he also requested fried chicken? So, 20 of our friends, kids in tow, will be helping us celebrate this very important birthday (it's a half century folks) on Super Bowl Sunday.
You, on the other hand have worked hard, right? I bet you deserve some rest and relaxation this weekend. So, it's only fitting to leave you with a recipe that doesn't require too much heavy lifting. Now if you've planned in advance, then you already have some homemade bouillon ready to go and hopefully haven't eaten all the parmesan skillet croutons (thankfully, they are quick and easy enough to make in case you did). You're ready to make the easiest, tastiest tomato soup.
My favorite part about this recipe is being able to enjoy tomatoes in the off-season. Start with a good-quality brand—I love San Marzano best, and lucky you if you canned your own at the end of last year's season. I will one day find the ability to grow a tomato. For now, herbs and collard greens will have to do.
But I digress, as usual. While the recipe I've included simply seasons the tomatoes with salt, pepper and olive oil, you can also add some fresh herbs—I like thyme best with this one. I just didn't have it on hand, and decided to keep the grocery bill in check, working with the ingredients I had in the pantry.
And, don't worry if the bouillon is on your to-make list. You can always put up a pot of homemade vegetable stock (I promise it's easy and not much work at all). One other thing. Psst. Come closer. I won't tell if you reach for the canned stuff. I understand life gets busy. What really matters is that you're getting in the kitchen and cooking—remember we started this mini-series of posts talking about baby steps. But, promise me you'll give it a try and I promise you won't be disappointed when you do.
Slow-Roasted Tomato Soup
serves four

While I love to finish this soup with a bit of cream, you can omit it all together for a healthier, vegan version for an equally delicious meal.
One 28-ounce can of whole, peeled tomatoes
salt and pepper, to taste
1 tablespoon brown sugar
drizzle of olive oil, about 2 teaspoons worth
1 1/2 cups reserved tomato juice
1 cup vegetable stock
1/4 cup heavy cream
Croutons, to garnish
Preheat oven to 300ºF. Line a baking sheet with heavy duty foil; set aside.
Drain tomatoes, saving the juices for preparing the soup (you should about 1 1/2 cups reserved). Slice the tomatoes in half and place cut-side up on the prepared baking sheet. Sprinkle with salt, pepper and brown sugar. Drizzle with olive oil and roast in the preheated oven for one hour. Remove tray from oven and let cool 10 minutes.
tomatoes before roasting (and see that seam in the foil? It's how I join two pieces together to fit my larger half-sheet pans)
and this is what emerges from the oven an hour later
Transfer cooled tomatoes to a blender. Add the vegetable stock, reserved tomato juice and blend until smooth. Pour soup into a 2-quart pot and heat until warmed, but not boiling. Stir in the cream and cook for one more minute. Serve garnished with croutons.
**Thanks to the very sweet reader who emailed me with a little edit. In case you were wondering, the reserved tomato juice is added to the blender with the tomatoes and stock. I've corrected the instructions in the post to include this important step, and my apologies for not catching it beforehand. Please make a note of it when printing out the recipe since that'll take me a few days to update. (updated February 9, 2010).