Apple Pie Pumpkin Cake + a serving of controversy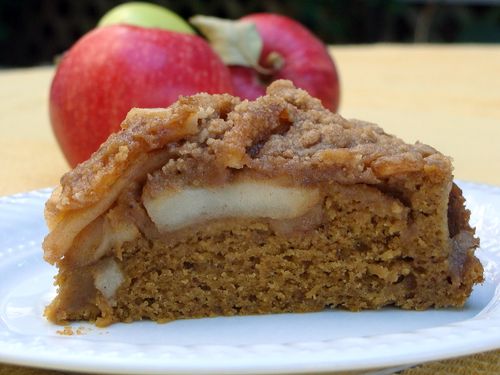 Can you believe this little 'ol cake caused a bit of controversy this week? Rather than rehash it, you can go here to read the thread. Well, I get by with a little help from my friends, and their words of encouragement were very uplifting. Perhaps it was tough to swallow because it's the first negative downright mean and ill-willed comment I've gotten. Anyone who's met me knows I'm as sweet and honest as that darn pie, so why would anyone be so vicious? And so is life in this virtual world. Some people hold their head high, and work hard, creating and sharing from their heart…and others, well, you know the rest.
My first thought was I'd never be able to make this cake again. What was created out of love and joy, was soured by another's lack of class and decorum, or was it? I'm taking advice from a close twitter friend, and holding my head high. Frankly, I've bounced back from much harsher things in this lifetime. So, Claire, this cake's for you and no one is going to take that away from us. It connects me to you, your past and the future I share with your son and granddaughters. I'm casting away the bitterness of this experience and holding hope for all the sweetness this New Year will bring. La'chaim!
Apple Pie Pumpkin Cake
Serves 8 to 10
Is it a pie? Is it a cake? The answer is both. It's also a celebration of fall's bounty and family. Now that my mother-in-law's almost 80, I've taken on the role of hosting the Jewish holidays (not a small task
for a gal raised Italian-Catholic). Apples and honey are two foods used to celebrate Rosh Hashanah. On the Jewish New Year apple slices are traditionally dipped in honey after a blessing is said for wishes of a sweet new year.
3 tablespoons plus 1/2 cup butter, divided

4 large apples, peeled, cored and thinly sliced

2 tablespoons honey

2 teaspoons ground cinnamon

1 1/2 cup flour

3/4 cups brown sugar

1/2 teaspoon salt

1/4 teaspoon allspice

1/4 teaspoon ground ginger

1/4 teaspoon freshly grated nutmeg

1 teaspoon baking soda

3/4 cups pumpkin puree

1/3 cup sour cream

2 large eggs

1/2 cup raisins, steeped in boiling water & well drained

Butter and flour a 9-inch, 3-inch-deep springform pan. Heat oven to 350F. Dice 1/2 cup of butter, and let it come to room temperature.
In a large sauté pan, melt the remaining 3 tablespoons of the butter, then sauté the apples over medium-high heat until softened and golden, about 5 minutes. Stir the honey and 1 teaspoon of the cinnamon into the apples and cook until the liquids are thick and bubbly.
In a stand mixer, combine the flour, brown sugar, salt and the remaining spices and mix. Toss in the diced butter and mix until the butter is broken into pea-sized pieces. Reserve 2/3 cup of the mixture for the streusel topping. Add the baking soda to the mixing bowl and mix; then add the pumpkin, sour cream, and eggs, beating until smooth. Stir in the raisins. Scrape the batter into the prepared pan.
Spread the sautéed apples over the batter, then sprinkle the streusel on top. Bake for 40 to 50 minutes, until a skewer inserted into the center of the cake comes out with no batter clinging to it. May be served warm or cooled to room temperature. Best served the same day.
This recipe was inspired by Robin Asbell's Apple Streusel-Topped Pumpkin Cake. Merrill Stubbs has a very good post at Food 52 on Making a Recipe Your Own.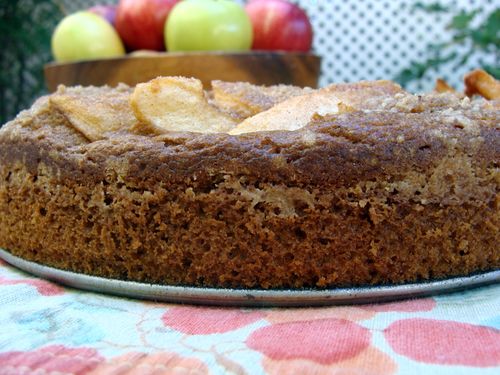 **This recipe has been added to the 12 Days of Sharing virtual cookie jar to help end childhood hunger. Get more details about Share Our Strength and the 12 Days of Sharing fundraiser here.**